Order the HPLHS Call of Cthulhu Classic Prop Set now and get pre-order perks
Posted by Michael O'Brien on 10th Mar 2022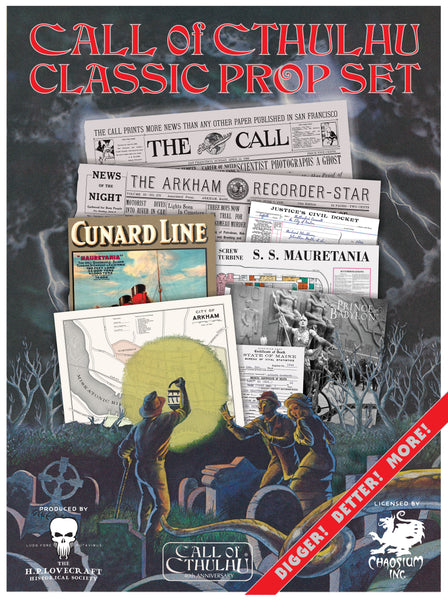 The H.P. Lovecraft Historical Society's Call of Cthulhu Classic Gamer Prop Set is open now for pre-orders - and if you order it now you get special pre-order perks.
The HPLHS's Masks of Nyarlathotep Gamer Prop Set won product of the year in the 2019 ENNIE Awards, and this one promises to be just as awesome, with "levels of detail and realism to enhance fun and test sanity".
Created to coincide with the release of our Call of Cthulhu Classic Kickstarter, what does the HPLHS Gamer Prop Set contain?
A sixteen-page broadsheet newspaper containing 42 different newspaper clippings, printed on real newsprint, complete with fronts and backs, easter eggs and bonus material
Large format maps, a nautical chart and other large items
Scads of handwritten letters, diaries and notes
Brochures & Photos
Police and other legal forms
Pages from horrifying books
and much more!
PLUS PRE-ORDER PERKS!
Order now and you'll get the HPLHS's special Pre-Order Bonus: large format period maps of Austria, Scotland and the Belgian Congo! And you'll get the whole set at a special awesome introductory price.
All told, you get 124 individual props in this set, all organized into handy folders with complete instructions.
Remember – if you missed the Kickstarter: we will have left-over copies of both of the Call of Cthulhu Classic boxed sets available for sale to the general public via Chaosium.com. These will go on sale directly after the Kickstarter fulfilment, tentatively scheduled for early May.