Next Tuesday (April 19) venture into 1920s Harlem as seen through the Cthulhu Mythos - Harlem Unbound actual play
Posted by Michael O'Brien on 13th Apr 2022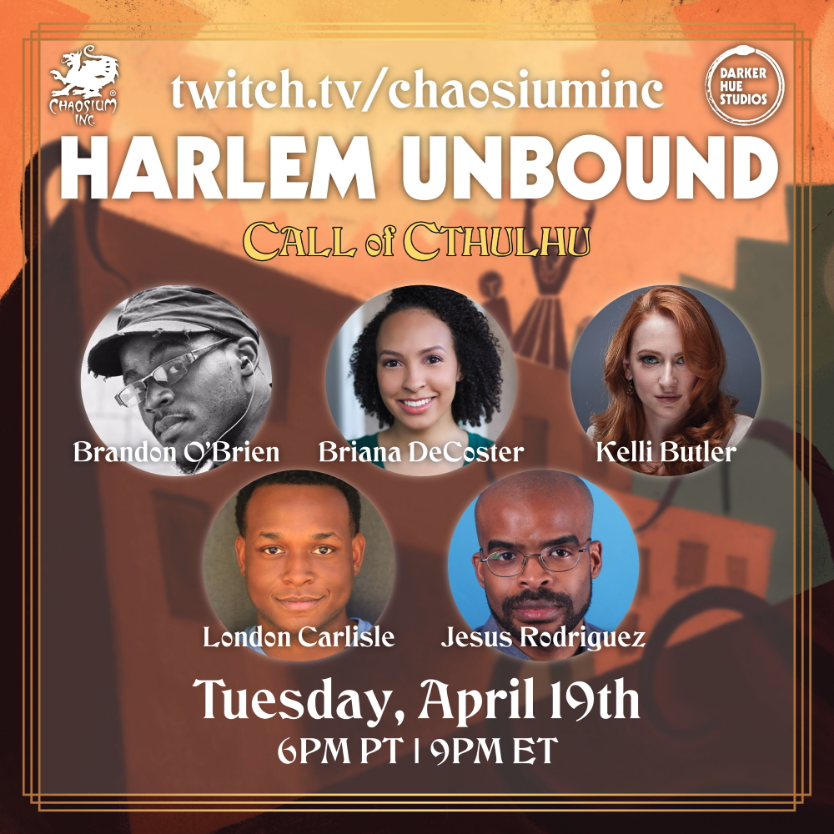 On Tuesday April 19th, we're showcasing the wonderful Harlem Unbound 2nd Edition by Chris Spivey!
Join London Carlisle, Briana DeCoster, Jesus Rodriguez, Kelli Butler, and Brandon O'Brien as they venture into 1920s Harlem as seen through the Cthulhu Mythos!
Live at 6pm PT / 9pm ET on twitch.tv/chaosiuminc
What the critics say about Harlem Unbound 2nd Edition
An essential Call of Cthulhu 1920s supplement, expanding not just the game we love, but how you view the entire genre and society itself." — Mark Morrison, Call of Cthulhu writer (Horror on the Orient Express, Reign of Terror, Terror Australis, etc)
"An expansion of Call of Cthulhu, Chaosium's wildly popular tabletop roleplaying game based on Lovecraftian lore... Spivey's critically lauded expansion of the game is a landmark for both the tabletop roleplaying world and for Lovecraftian literature... The book is an engrossing historical tome as well as a literal guidebook for meaningfully exploring racism in Lovecraftian fiction." — Consequence of Sound.
"Harlem Unbound takes the fight to New York City during the Harlem Renaissance of the 1920's. Not only does the book offer an excellent history of Harlem, how the Renaissance came to be and what caused its downfall, it also offers thoughtful discussion of the racism of the era and different ways in how to address the issue." — Forbes, Fight Cthulhu Across Time and Space on your Tabletop.
"A top tier supplement, which I think belongs in every Keeper's library... All in all, it is the best historical RPG sourcebook I've encountered. It is very high quality, and has material enough for multiple campaigns, and it will both educate and inspire you. I highly recommend it." — Mindlands, That Jazz Craze & Harlem Unbound: Review and Keeper Advice.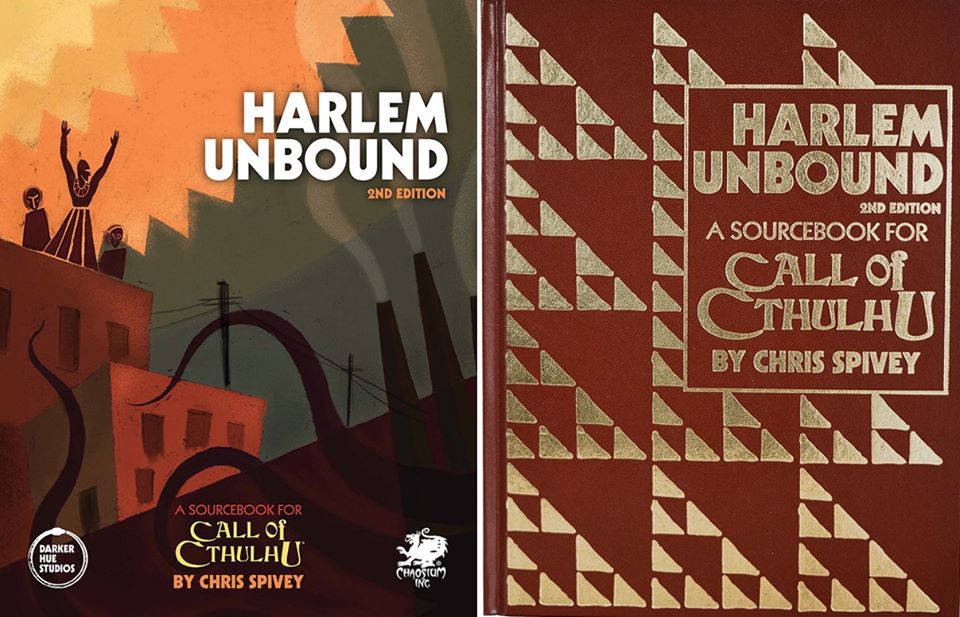 Harlem Unbound 2nd edition, 368 page full colour hardcover - $49.99, price inc PDF
Harlem Unbound 2nd edition special leatherette edition - $100.00, price inc PDF
Also available at DriveThruRPG and on Roll20