Miskatonic Monday #80: The Art of Hygge and other new community content releases for Call of Cthulhu
Posted by Michael O'Brien on 28th Aug 2023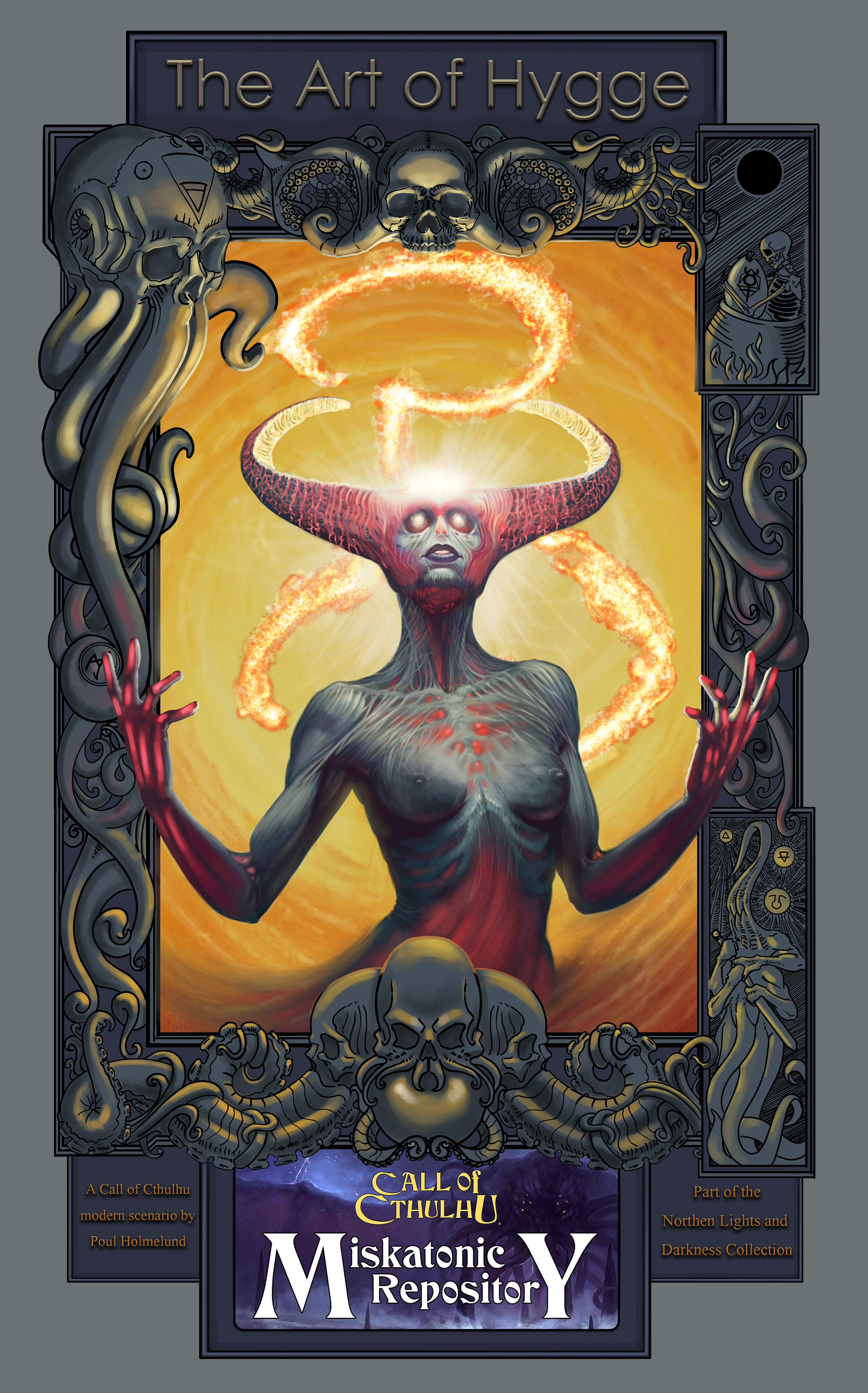 In addition to a beguilingly splendid cover, Poul Holmelund's modern Call of Cthulhu scenario The Art of Hygge features a Spotify playlist tailored to generate a thematic experience as you play it. It is just one of the many diverse and imaginative independent creations recently released in the Miskatonic Repository – do check them out!
The Art of Hygge
Poul Holmelund ($4.99, 27 page PDF)
Something is indeed rotten in the state of Denmark as four American exchange students are about to find out while they explore the Danish cultural phenomenon of hygge. On the surface everything seems tranquil in the late winter of 1999 as a renowned dancer and artist seeks to guide our hopefull students into the deeper aspect of Danish culture, but looks can be deceiving and a fairy tale ending may not be in the script.
This scenario is part of the Northern Lights and Darkness collection. Scenarios in this collection share the common traits that they are set in a Nordic country, written by a native of said country and set in a modern setting.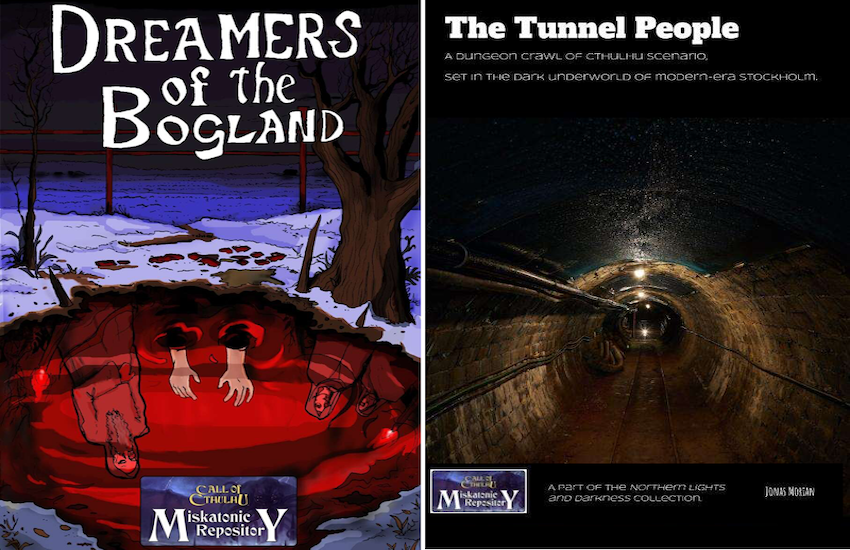 Dreamers of the Bogland
Wille Ruotsalainen ($5.00, 14 page PDF)
Myths of the Kalevala, iron age bog grave and epidemy of madness are connected in this present-day adventure. Cthulhu mythology lives in dark corners of Finland and investigators will meet both academic challenges and great danger..
This scenario is part of the Northern Lights and Darkness collection. Scenarios in this collection share the common traits that they are set in a Nordic country, written by a native of said country and set in a modern setting.
The Tunnel People
Jonas Morian ($4.95, 20 page PDF)
The investigators are urban explorers in modern-day Stockholm, Sweden. They have found a hidden blog post from a fellow explorer who went missing some years ago, and in it is revealed that the explorer has discovered a hidden research facility from the 1950s underneath a busy metro station. The investigators set out to find it for themselves.
This scenario is part of the Northern Lights and Darkness collection. Scenarios in this collection share the common traits that they are set in a Nordic country, written by a native of said country and set in a modern setting.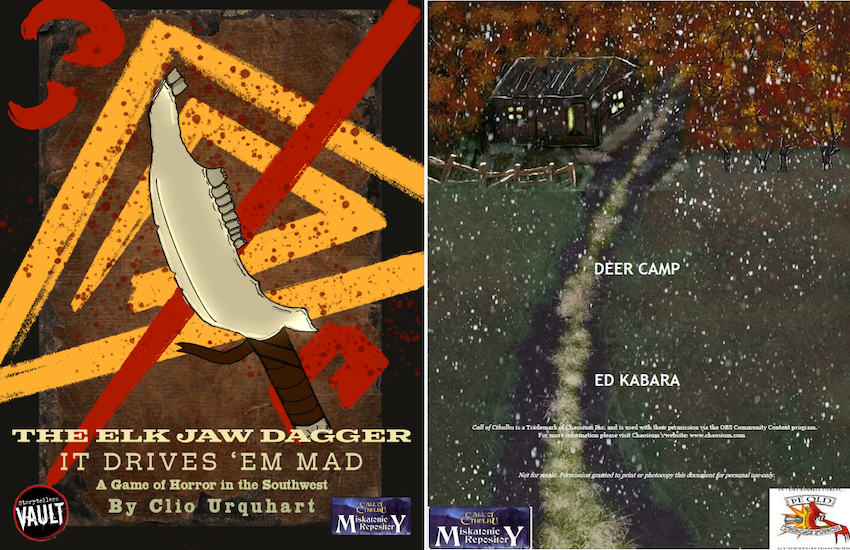 The Elk Jaw Dagger, It Drives 'Em Mad
Clio Urquhart, Gulleyflower Games ($1.00, 7 page PDF)
"I don't know who made it, but my dreams grew dark, and the shadows round my cabin grew darker still. No matter where I hid it, the thing always came back, sharper than before." ~ Former Owner of the Elk Jaw Dagger (Deceased), New Mexico, 1957
A pit stop in the southwest town of Crestone, Colorado turns to a night of terror in the dark arid scrubland of the San Luis Valley.
Deer Camp
Edward Kabara ($1.00, 29 page PDF)
Come hunt deer with your buds in the Upper Peninsula, Michigan in the 1930s. Drink some beer, shoot some deer, and tell ghost stories with your friends. What could go wrong in the cold, dark winter?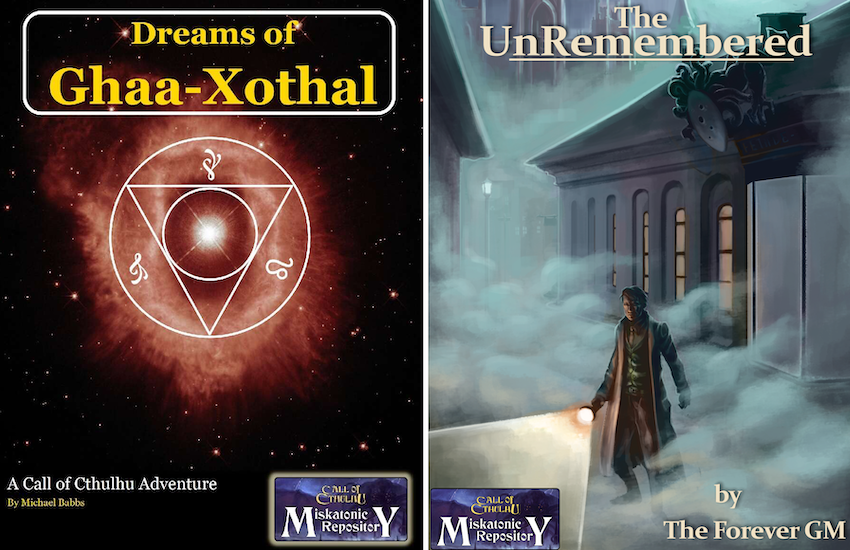 Dreams of Ghaa-Xothal
Michael Babbs ($29.99, 194 page PDF)
Mary Perkins, a promising young journalist working for The London Evening News is missing. Can the investigators find her, overcome the terrors that confront them, and escape with their sanity? The fate of humanity is in your hands.
An epic adventure for 2 to 4 investigators – the players will visit the smog laden streets and sewers of London, the quaint but sinister English countryside, the towering mountains of Tibet, and even the depths of time and space itself. Ultimately, the investigators must discover a long-forgotten alien city and confront an ancient power.
The Unremembered
ForeverGM Products ($5.00, 22 page PDF)
"You awake in your hotel room bed, before you even sit up, you can tell something is wrong. You smell iron in the air. Your eyes open, and you look around. Blood. It covers the bed across the room from you. The blankets are thrown all over, there are tears in the mattress, and there are personal effects around the bed that have been tossed around the room. This is alarming enough, but the real dread comes when you remember going to sleep in this room last night alone. What do you do?"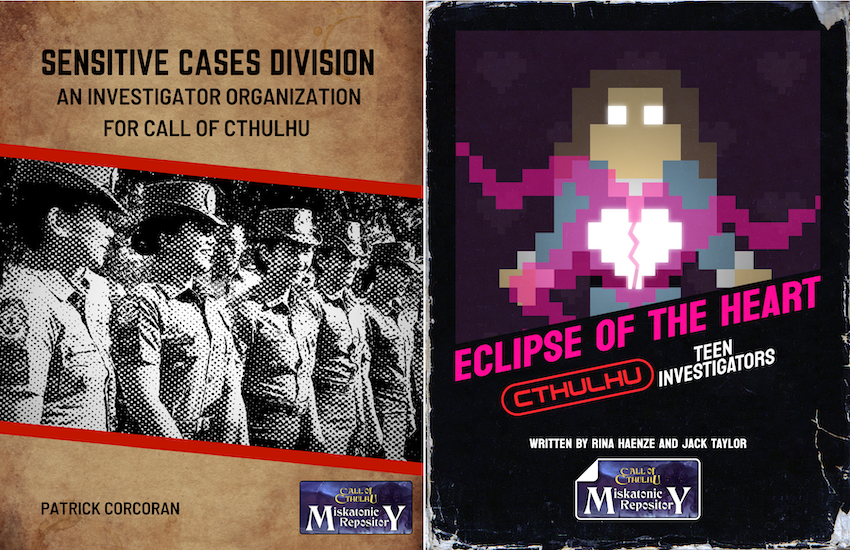 Sensitive Cases Division
Patrick Corcoran ($2.99, 68 page PDF)
The Sensitive Cases Division (SCD) does not officially exist. It is an informal collection of individuals that are brought together to tackle very difficult and strange cases. There are no official records with the name Sensitive Cases Division (SCD) attached to them. Most people assume it is just an urban legend.
Sensitive Cases Division is a supplement meant to provide a gaming table with an organization that has ties to official law enforcement channels but operates in an extra-legal fashion. The intent of the supplement is to provide a ready-made organization, and a set of 10 different pre-generated character types that can be plugged into a scenario. You could always use the Sensitive Cases Division and the characters as NPCS for a rival faction or antagonistic group as well.
Eclipse of the Heart
Sabrina Haenze, Jack Taylor ($7.00, 27 page PDF)
May 11, 1985: It's prom night, Hamilton High seniors! Bring your dates, your big hair, and your corsages, and be prepared to have the time of your life! Nothing bad *ever* happens on prom night? Right?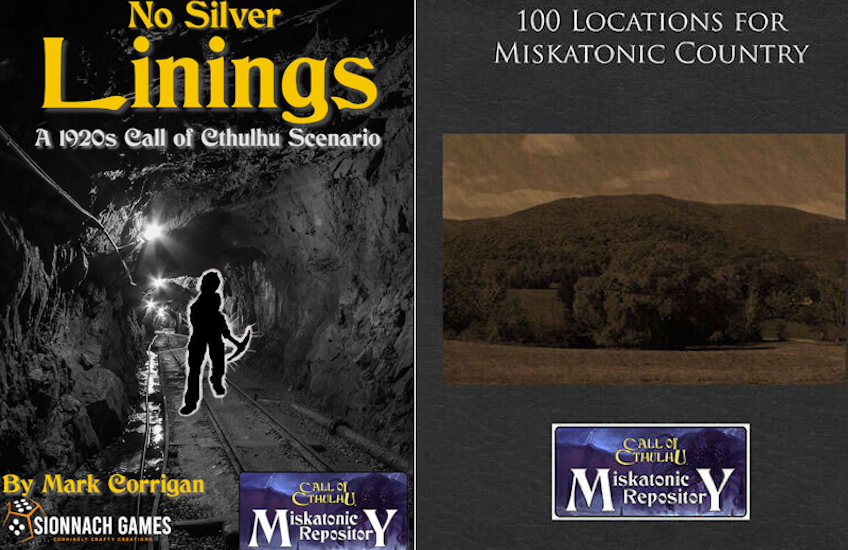 No Silver Linings
Mark Corrigan ($6.99, 33 page PDF)
During the cold, wet October of 1919; an ill wind blows through the Silvermines, a small rural mining village in Ireland, when the investigators are called to investigate a bleak discovery. A body is found under circumstances that have the authorities baffled. As the investigators delve into the mystery, can facts be discerned from fiction where local folklore, conspiracy theories and paranoia are in between the lines?
100 Locations for Miskatonic Country
Adrian Kennelly ($1.99, 11 page PDF)
This supplement has 100 locations that can be encountered in the areas of Arkham, Kingsport, Innsmouth and Dunwich, and reference the sourcebooks for these areas.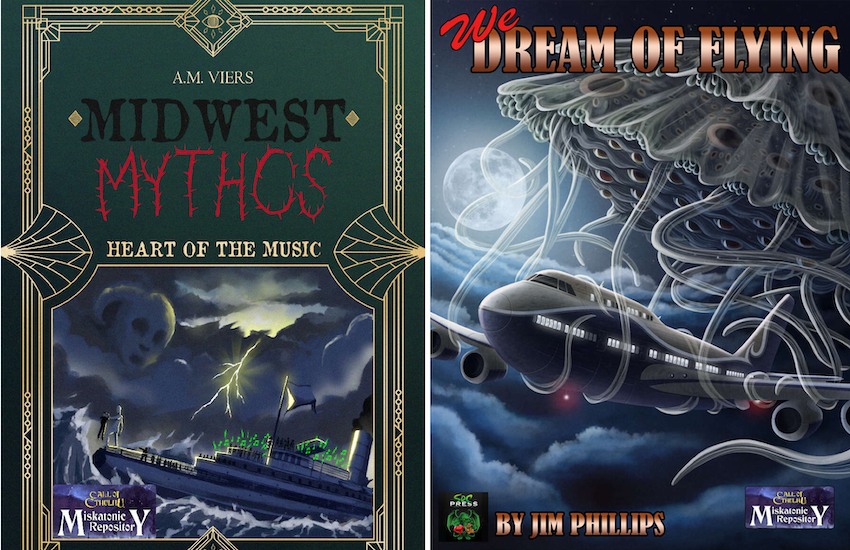 Midwest Mythos: Heart of the Music
A.M. Viers ($3.99, 33 page PDF)
The S.S. Madam Columbia is a grand casino boat from Chicago, and is often the envy of those that are unable to board. However, with new management and the promise of Spritiualist leaders and occultists on board, along with a cheaper ticket price, the boat is open to many who might want to enjoy a night gambling, drinking, and learning about the darker side of the world. What many do not know is the secret that lays beneath the deck and how a murder on board reveals that everything is not how it appears.
Creator A.M. Viers says, "Reviews are appreciated to continue improving the quality of such scenerios. I wish to create many more situations exploring my home, the American Midwest, and every odd thing that exists within it."
We Dream of Flying
Jim Phillips (FREE, 30 page PDF)
A disparate group of international elites have, each for their own reasons, boarded Flight 19 from Los Angeles to Tokyo on a first-class ticket. The flight promises to be a quiet affair - allowing for time to rest, relax, and perhaps even get some work done. The fight is completely full, but an unfortunate coincidence and the all-too-understandable sorrow of a lonely little girl will lead them deep into a mystery from which there may be no escape.
Intended as a Modern Day exercise in mystery, character development, and role-playing interactions between the Investigators themselves, there are no monsters to be fought and no cultists to defeat. There is only a mystery, and the question of how the Investigators will ultimately choose to resolve the terrible and fantastical situation they find themselves in.
Plus new releases in Finnish, French, Korean, and Spanish!
WHAT IS THE MISKATONIC REPOSITORY?
Are you a Keeper looking for new scenarios and story elements? A player looking for something mysterious to spark a character idea? Is your group looking for eerie ideas to use in your game? The Miskatonic Repository is where you can find —and create —self-published material for the Call of Cthulhu roleplaying game.
Interested in submitting content? Go here to see the guidelines, and here for the additional guidelines. No extra license is required. Get started and download the MS Word template or the InDesign template for Miskatonic Repository submissions, and check out our other free creator resources.