Miskatonic Monday #48: check out a whole host of titles by indie Call of Cthulhu creators!
Posted by Michael O'Brien on 14th Mar 2022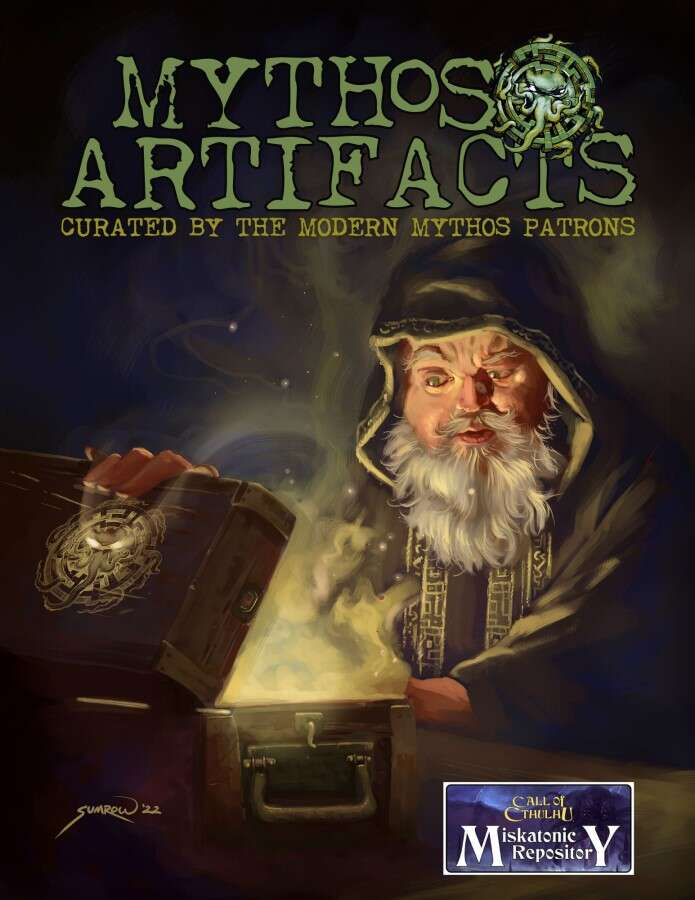 2022 brings plenty to the Miskatonic Repository — check out this host of new titles by indie Call of Cthulhu creators!
Mythos Artifacts
Jon Hook, Seth Skorkowsky ($3.00, 20 page PDF)
The Modern Mythos podcast, hosted by Jon Hook and Seth Skorkowsky, was launched in 2021. In it, Jon and Seth talk about writing, game mastering, and player tips for roleplaying games as a whole and for the Call of Cthulhu game specifically. The podcast has a Patreon, and Jon and Seth wanted to reward their Cultist level patrons with a unique and personalized Mthos artifact that they could use in their games. This book collects all of the artifacts that were created in 2021 into a single source.
The Dragon of Wantley
SR Sellens ($5.00, 52 page PDF)
1920s England: No-one who had ever met Flora Jacobs would describe her as scandalous, but when the young socialite mysteriously disappeared on a trip up north with a man she had only recently met, intrigue was sure to follow. What on the surface appears to be an 'innocent elopement' will lead the investigators to a quiet Yorkshire village with a big secret to unearth.
Horror in the Highlands
David Wright, A2ndChapter ($4.99, 44 page PDF)
On Friday 23rd February 1722, something horrible happened in Moy. It is almost Friday 23rd February 1923 and, once again, Moy will experience something horrible. The Bodach Glas has come. There will be Horror in the Highlands.
Forgotten Symphony
Catherine Hanlon-Tierney ($12.00, 116 page PDF)
In the darkness she slumbered, until war tore open the land above her tomb. Now she is waiting...singing her songs, whispering in dreams, waiting to be freed. A monstrous being seeks release at any price in this set of horrific adventures. Calling out to her followers in their dreams, she has inspired artworks and music to bring her closer to her freedom...and the world's destruction. A set of unwitting investigators find themselves intricately entwined in her machinations. Will they stop her plans, or succumb to the madness she brings?
The Yellow Death
Batu Bozoglu ($5.00, 52 page PDF)
It's 1927 and Tuberculosis, also known as the White Plague runs rampant in the United States. The fatal and highly infectious disease has no known cure; its victims seek refuge in secluded sanatoriums across the country, resigned to their fates. It is to one such facility, the expensive and luxurious Waverly Hills, that the investigators are sent to. Disguised as patients, their job is to conduct an undercover investigation and reassure their contractor Jeremy Strand, who finds his brother's death at the hands of the staff highly suspicious. Though what they will find in its death ridden halls will defy any natural explanation.

Lie In Wait
Michael Bertolini ($3.99, 10 page PDF)
A stalker in the streets of Boston hides a dark secret that, aside from highly illegal, is dangerous. What dangers lie in wait for the unsuspecting victims of a horrid combination of cosmic wonder and human ingenuity? What is really happening in Boston? What is the connection to Maine? It is the roaring twenties, the era of jazz music, but nobody is enjoying themselves.
The Haunted Grove
Andy Miller ($1.99, 22 page PDF)
There's a place in the woods avoided by the local villagers, a grove reputed to be cursed or haunted or worse. Though none of the locals tread those dark paths, sometimes travelers get lost and find themselves there. A man can disappear if he doesn't keep his wits about him … or worse. This Cthulhu Dark Ages scenario is set in the summer of 1003 A.D. and easily incorporated into any campaign.
Light my way home
Graham Payne ($2.99, 16 page PDF)
Set off the Western coast of England in the 1919s, the scenario centers around Endsmin lighthouse, an isolated structure on a remote island chain called the Turtles. The Investigator is the new lighthouse keeper, tasked with keeping the light burning every night for a year. The untimely death of the previous lighthouse keeper, however, threatens to complicate this simple, if isolating job, as his killer was never caught. For one Keeper and one Investigator.
Nothing is lost, All is transformed
Charles Mathé-Dumaine ($9.99, 113 page PDF)
The campaign is set in Paris in 1937. A time of international tension but also a time of cooperation as the Universal Exposition and a multidisciplinary scientific congress are taking place in the city of lights, attracting tourists, journalists, scientifics and ill intentioned people. This sandbox story offers different choices and paths to the investigators, bringing different scenes and possible endings.

The Hole
Jon Hook ($2.00, 20 page PDF)
This short side quest can be dropped into nearly any Call of Cthulhu campaign. It comes with five pre-generated characters making this a perfect scenario for a quick one-shot between your regular game night sessions.
The Incredible Dr. Quinn
A. Keith Applegarth ($2.99, 35 page PDF)
While on the way to meet a contact, you witness his murder by a Policeman in front of you and the Policeman kills himself. What was he looking into? Did it get him killed? What happens when technology and the Mythos combine?
ZOMBIES!
Michael Bertolini ($2.99, 11 page PDF)
The zombie outbreak has occurred and the investigators, strangers on a bus out of the city, are hoping to escape to where it is safe. But there is a problem and the bus is out of gas; the area is full of danger and only a single house in the distance can be seen. Are there survivors? Are there zombies? You need to find fuel to operate the bus, at least until you can get more; it's important to risk your lives here so that you can escape the zombie outbreak! For Pulp Cthulhu.
St Midabaria Clinic -- A Clinic Map
Adam Preset ($1.00, 2 page PDF)
Map for the Miskatonic Repository scenario Convalescence, which takes place in a small country clinic in Ireland.

Collection
Adam Preset ($2.00, 2 page PDF)
In this two-page one-shot adventure in easy-to-absorb pamphlet format, playable in a single session by two or more players, investigators must discover the cause behind a curious theft or prank or worse, thwart human foes intent upon invoking a terrifying horror, and prevent their own destruction and the possible obliteration of an iconic setting at Miskatonic University.
Blank
Adam Preset ($2.50, 9 page PDF)
In this two-page one-shot adventure in easy-to-absorb pamphlet format, playable in a single session by two or more players, investigators must save the day and discover the mysterious secret behind their favorite band's success before it's curtains for Billy Blank and the Blankety-Blanks. A twisted path will lead them to confronting "Banned in Boston" censors, criminal thugs, and a deadly horror that may destroy everything in its wake.
Maps for Blank (Vaudeville Theater and more)
Adam Preset ($3.00, 4 maps)
This is a set of four maps suitable for virtual tabletop or printing. One map, the Vaudeville Theater, is inspired by Chaosium's convention scenario, Murder in the Footlights. However, this is only one gamemaster's view of what the library might look like if it had to be translated into a tabletop roleplaying game!
Orne Library - Miskatonic University
Adam Preset ($4.00, 5 page PDF)
Maps are inspired by Orne Library on the Miskatonic University campus. If you don't have an adventure in mind that goes with these maps but are looking for one, see the Miskatonic Repository scenario Collection.

1920s Night Club and Secret Society - The Orpheus Club
Adam Preset ($1.00, 1 page PDF)
Welcome to The Orpheus Club! This is a single map suitable for virtual tabletop or printing for a 1920s night club that is also a front for a secret society.
Terror in Tangier
Adam Preset ($2.00, 2 page PDF)
In April of 1924, you're in Tangier, Morocco. It's a lively and vital place, and yet you're ready to take the next ship out of port. But foreigners are stranded and the city is on edge. Rumors circulating among the locals, expatriates, and authorities cause your hackles to rise as you hear disturbing details about a ritual sacrifice. To what end? And it shouldn't be your problem, but it is, because until the prefect has a culprit in hand, foreigners are not only stuck, but they're also suspects.
Maps for Terror in Tangier
Adam Preset ($2.00, zip file)
Optional maps and one story handout for Terror in Tangier.
Cthulhu Maps - Masks of Nyarlathotep - Meeting Tables
Lovemaps ($4.90, 7 tables)
7 Meeting Tables for the Masks of Nyarlathotep campaign.
People of the '20s 100 VTT Tokens
Joe Marino ($3.49, 100 page PDF)
100 Tokens for your vintage game.
Cthulhu Maps - scenario map pack - Reign of Terror
Lovemaps ($14.90, map pack)
Maps for the Call of Cthulhu release Reign of Terror.
Cultist Armoury: Handouts for The Haunting
Cultist Armoury (Pay-What-You-Want, suggested price $1.99, 36 page PDF)
Cultist Armoury: Handouts for The Haunting is a collection of printable handouts for the scenario "The Haunting" (from the Call of Cthulhu Quick Start Rules). The package includes the 8 handouts from the scenario, plus 18 additional handouts that can be used at the Keeper's discretion.
Heinrich's Call of Cthulhu Guide to Character Creation
Heinrich D. Moore ($11.95, 153 page PDF)
Heinrich's Guide is a role-playing product for creating character backstories through emergent storytelling. Experience your investigator grow up from strange going-ons accompanying their birth, to them finding love (and then rescuing said loved one from cultists), to skipping class to spend more time studying esoteric pursuits, to being recruited by a "Secret Government Agency," to traveling to other dimensions!
Care Forgot
John Almack (Pay-What-You-Waqnt, suggested price $0.50, 5 page PDF)
A short classic-era scenario for Call of Cthulhu 7th Edition, designed for one player, but expandable to five using the supplied characters. The player takes on the role of Sophia Hebert, a young New Orleanian woman suffering from amnesia. Through a series of strange encounters, she uncovers clues about herself that lead her to a frightening conclusion. Can the investigator solve the mystery in time? A tale of personal cosmic horror set in The City that Care Forgot. A copy of The Grand Grimoire of Cthulhu Mythos Magic by Chaosium is recommended to play this scenario.
Vaudeville
C.M.Arnold ($1.99, 23 page PDF)
Little over a fortnight has passed since the untimely and sinister demise of Harry Houdini, and an investigator finds themselves the unexpected beneficiary of the escapologist's last will and testament.
Pain Threshold
Joey Dean ($2.99, 20 page PDF)
Normally, reports of alien abductions arise from the wild imaginings of unstable minds – but rarely do they appear to be widely believed by the people of a town, and more rarely still do they come with actual missing persons reports. In St. Claire, Louisiana, as tensions rise over the purported alien meddling, the townspeople have begun to consider a desperate, darker solution to their problems. What happens when a close-knit community is pushed to the brink? And can the investigators survive whatever is going on - or what the people of St. Claire do in response to it?
Bonefire
Sean Liddle ($3.99, 23 page PDF)
The year us 1925. A team of students from Miskatonic University have been asked by the Dean to travel to Minnesota, to the Swedish settlement of Kiruna to investigate an utterly unprecedented harvest of exceedingly large crops. Something strange is happening, the people are different, vegetables just should not be that big especially after two years of crop failures. And what are those rumors of strange lights in the sky two years past?
Pilgrim's Hope
Jazmin Ospa ($1.50, 18 page PDF)
At a stop in Illinois with Buffalo Bill's Wild West show and snakes are let loose during the performance. Performers and audience members are attacked-it's up to some plucky performers from the show to save the day-as the show must go on. Can they round up some snakes before too much harm is done? For Down Darker Trails.
There's Gold in Them Thar Hills
Geoffrey Groff ($3.00, 30 page PDF)
A group of gold hunters have made the challenging journey to Dawson City in the North-West Territories of the Canadian wilderness. It is 1897, a year after the discovery of gold on the Bonanza Creek that ushered in the Klondike Gold Rush. Just as everyone else arriving to the region, our heroes hope to get rich. Discovering other strange secrets in the mostly unexplored wilderness was not among their plans. For Pulp Cthulhu.
Heartless in Loveland
Braydon Fiveash, Stars Are Right ($4.99, 65 page PDF)
Loveland is a city with an obscure past to say the least, but things have finally started returning to normal after a number of odd occurrences in 1972 left the town labelled as a "paranormal hotspot". The weekend is almost here; Downtown Loveland bustles with business while, on the other side of town, the scouts excitedly run around the grounds of Loveland Castle. Unbeknownst to locals, a vile plot is reaching its boiling point, and is set to shake Loveland to its very foundations and change the city forever! A sandbox scenario that picks up three years after 1972's real-world sightings of Ohio's most famous cryptid, the Loveland Frogman.
Children of the Tides
Debra Leonard, Scott Metzger ($4.99, 62 page PDF)
Explores the small town of Oak Hill, FL. Visit this quaint Florida town, where friendly locals seem just a little bit off and things become terrifying during the night. Don't forget to visit Manny's Alligator Center, and check out the gators while picking up a few souviners. Take part in the adventure, as a your small group's vechicle breaks down, as you attempt to make it through the night while experiencing horror from beyond. This book serves as both a setting and a one-shot campaign.

Four-Bit Characters: Bashford Dean
Aaron Vanek (Free, 3 page PDF)
This is a free pre-generated character for use as a player or NPC. Bashford Dean is included in volume one of the Four-Bit Characters series of play aid in the Miskatonic Repository.
100 Notes and Letters to Find in Miskatonic Country: Arkham II
Adrian Kennelly ($1.49, 6 page PDF)
When searching in various places, including homes, desks and the pockets of corpses, characters may on occasion stumble across notes and letters that contain meaningful or important information. They may also find notes and letters that are not. This supplement contains 100 notes and letters that characters could find in Miskatonic Country, focusing in or about Arkham. They may be simple letters about appointments or musings, or perhaps clues towards something more sinister. Keepers can use them as background colour, misinformation or as potential adventure hooks.
Bibliophobia
Peter Rudin-Burgess ($4.21, 17 page PDF)
This booklet provides a rules-light approach to solo roleplaying Pulp Cthulhu.
The Sins of the Father
Brendan Lahey ($7.99, 47 page PDF)
A horror mystery scenario, set in a fabulous manor house in the rural mountains of British Columbia in 2005. The investigators are members of the deeply dysfunctional Prescott family, coming to celebrate what will surely be a truly unpleasant family Christmas. As a blizzard begins to envelop the house, family resentments turn to murder, and the investigators must uncover the true killer.

Octopus Tag
Ra Press, Ronny Anderssen ($5.49, 26 page PDF)
They're children's games! And they can be deadly, or drive you mad, or both! Inspired by Squid Game, this scenario places the players on an island with mysterious games that eerily remind them of games they played as children. Why are the players on the island? How did they end up there? What are the games for?
Sound of the Sea
Philip G. Orth ($2.60, 33 page PDF)
The straightforward encounter-based story can be played in a single session with pre-generated characters. The background story relates to recent events on Heligoland that can be used for your own story arcs. Some of them will be explored in future scenarios.
Valley of Shadows
Patience Bluestone ($2.65, 17 page PDF)
An Archaeology Professor has invited you to join himself and his small team on an expedition to the Carpathian Mountains in Romania, to investigate a cavern rumoured to contain the skeleton of a giant, and golden artefacts. However, they are soon to find that some secrets should stay hidden - will the investigators get out alive?
The Disappearance in Montignac
Thomas Baudart ($0.89, 10 page PDF)
Fall 2015. A young girl is missing in the remote village of Montignac, France. Ready for the scoop, a team of investigators, members of a podcast crew, is going to cover the case. But the place hide a dark secret waiting to be uncovered…

The Nightmare Flight
Romans Popovs ($3.99, 26 page PDF)
Takes place in the autumn of 1928, as the investigators board an airship on a Transatlantic voyage from Lakehurst, New Jersey to Friedrichshafen in Germany. The journey descends into a nightmare when a smuggled Anishinaabe relic begins to chip away at the passengers' sanity and pits them against one another. Will the investigators make it across the ocean, or will they succumb to delusions and perish high in the skies?
The Sinful Inheritance
Mei Kurakake ($1.99, 14 page PDF)
Unfortunately, this wasn't the case for Alyssa Sutton, the only daughter of the late Charlie Boyle. Because of her reckless action, Alyssa is now cursed and it is now up to the investigators to see if they can deal with the curse before her time runs out. This scenario will take place in London during the year of 1886.
In the Shadow of the Horns (Cthulhu London)
Elementare ($5.95, 35 page PDF)
Underneath the landmarks of London lies a hidden darkness, one that has begun to secure its release. A series of suicides all share a common mark and the investigators have been brought in to find out what connects these otherwise seemingly unrelated deaths. Unbeknownst to them, a race against the clock has begun before a great evil is unleashed!
Christmas at the Sanatorium
Caroline Dahlgreen ($3.99, 30 page PDF)
In this adventure the investigators have spent five months at the Sanatorium "Saint Albert" and are improving but the doctor in charge wants to wait until after New Year to discharge them home, just to be sure that the disease is under control. The owners declare that staff who have been employed more than six months are going to get a fully paid week off during Christmas. The problem is that during the week when most of the ordinary staff are on holiday, patients are disappearing. Are more patients dying, like the new staff claim, or what has happened to the patients?

The Last Ferry from Vinalhaven
Andy "The Old Goat" Headley ($4.98, 28 page PDF)
Vinalhaven, Maine, is a vacation hot spot for the entire Northeast corner of the United States. Beautiful scenic beaches and a gorgeous atmosphere makes it a very desirable location. This lovely island also has a famous boardwalk with a popular amusement park called Fun Town. In addition, this small island is the economic engine that keeps the mainland town of Rockland going. Without this annual revenue, the city would surely go bust. However, a strange report of a colorful comet streaking across the skyline and crashing down somewhere on the island has some residents concerned during the winter months...
Taken For Granite
Jade Griffin ($4.99, 37 page PDF)
It's Thanksgiving 1922 in rustic Graniteville, Vermont; a time of harmony, harvest, and homecoming-turned-horror when random residents wind up blind or deaf… or dead. Sinister business lurks below the comfort of fresh pies and autumn leaves and it isn't the strike at the local quarry. Investigators must find the cause and hopefully a cure before they, too, succumb.
The Moore Bundle
Heinrich Moore ($9.95, 3 titles, saving of 23%)
Three Miskatonic Repository titles by Heinrich Moore: Little Torches, The Great Trap, Unremembered.
The Blasphemous Tome 8
Paul Fricker, Matthew Sanderson, Scott Dorward, Hannah Hobson, Greg Osborne, Graeme Patrick (56 pages, PDF and POD: Please read the 'Please Note' on the product page purchasing.)
The Blasphemous Tome is the semi-annual fanzine that The Good Friends of Jackson Elias create for Patreon backers of of their podcast. It contains articles about RPGs, horror films and weird fiction, not to mention plenty of sanity-blasting artwork and original content for the Call of Cthulhu roleplaying game. Featured in this issue is a new Call of Cthulhu scenario by our very own Scott Dorward, entitled "Night Bus".
Dockside Dogs: Call of Cthulhu
Paul Fricker ($6.99, 40 page PDF)
This was supposed to be a simple heist... Dockside Dogs is a modern-day, one-shot scenario by Paul Fricker, co-author of the 7th edition Call of Cthulhu Keeper Rulebook and Investigator Handbook, and many other Call of Cthulhu titles including Two-Headed Serpent and Masks of Nyarlathotep. The previous edition of this scenario was a Platinum seller on DrivethruRPG. This new, updated version has been thoroughly revised, and includes a choice appearance/gender for each investigator.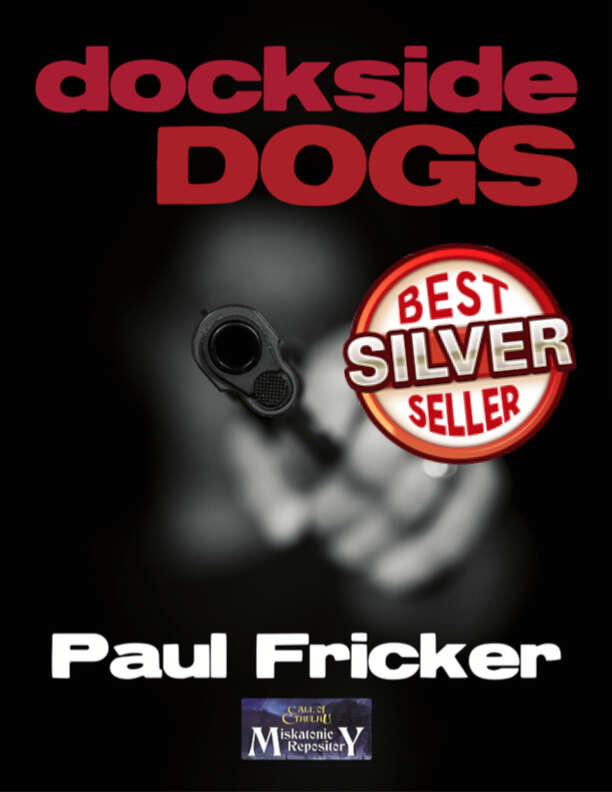 Also new titles in Chinese, German, Japanese, Korean, Polish, Portuguese, and Spanish!

Under The Miskatonic Repository community content license, Call of Cthulhu fans can make their own work for use with the game line available to the public, using guidelines, templates, and art provided by Chaosium.
Whether you share your content for free or put it up for sale, this program is a digital home for terror that joins the dreamscapes of all who peruse it.