Miskatonic Monday #37 - more community content titles for August!
Posted by Michael O'Brien on 30th Aug 2021
Here's a great selection of new Call of Cthulhu community titles on DriveThruRPG! Congratulations to all the authors, especially first-time publishers in the Miskatonic Repository.

Four-Bit Characters, Volume 1
Aaron Vanek ($5.00, 70 page PDF)
Ten pre-generated characters for use as PCs or NPCs in the Call of Cthulhu (7e) RPG. Each is based on a real historical figure, with skills, attributes, and biographies created through extensive historical research. Each character is detailed on a redesigned CoC 7e character sheet with PDF autocalculating features. Each has both a print (black and white) and digital (color) version.
The Darkened Hermitage
Brendan Lahey ($4.99, 48 page PDF)
October, 1933. As the Royal Canadian Mail steamship pulls onto the quiet lake, the seemingly interminable forest gives way, revealing the tiny hamlet pressed up against the shore, framed on all sides by the rugged mountains of backwoods Quebec. You wonder what could make someone want to live in such a dismal little town, seemingly built in defiance of God and Nature. A bitter autumn wind blows through you as you wrap your jacket tight and turn the Professor's cryptic letter over, looking at the hurried handwriting once more. What could it mean?
A horror mystery scenario set in the forested hinterlands of Quebec, Canada. The investigators have come to speak to Dr. Ezekiel Freeman, an eccentric historian and folklorist as well as a true believer in a wide range of esoteric theories. The investigators arrive to the small hamlet of Le Fidèle to find out that something has gone horribly wrong - and the next boat to Montréal doesn't come for another two weeks. The forested mountains press in like the walls of a prison cell, and the investigators are trapped in this valley with whoever - or whatever - is responsible. To survive, the investigators must work to uncover this valley's dark secrets- and soon. Who can they trust?
Number 7 Dream
James Killick ($4.96, 26 page PDF)
The whole world seems against you - watching, waiting, observing - throwing obstacles in your way, closing some doors, while opening others - like it's guiding you, herding you, like it wants you to do something, remember something - but what?
A war veteran has received a letter from his daughter saying she has gone into hiding from bad people. She begs him not to go looking for her. But what else can he do? What father wouldn't? With his war-wound finally catching up with him, he asks the only people he can really trust for help - the investigators. A modern-day scenario set in the English city of Bristol but can be changed with minimal effort to another time or place.
Creature Feature: Sepulchral Shoggoths
Chitin Proctor ($1.50, 5 page PDF)
"So I prophesied as I was commanded: and as I prophesied, there was a noise, and behold a shaking, and the bones came together, bone to his bone. And when I beheld, low, the sinews and the flesh came upon them, and the skin covered them above: but there was no breath in them."—Ezekiel ben-Buzi
Includes 3-page Monster Write-up & Stats and Spell: Create Sepulchral Remnants.
Trutz Blanke Hans
Florian Klamt (Pay-What-You-Want, suggested price $3.53, 16 page PDF)
A modular sandbox scenario with an investigative focus. It all begins on a cold January evening on the Hallig Südfall in the German North Sea. The investigators follow the call for help by a mutual acquaintance who is looking for open-minded people to aid him in a Séance. While the time of the setting can be adapted to the group's liking, the investigators will soon find themselves in a vivid trip back in time to the 16th of January 1362 and a race against the merciless tides.

Modern Era Scenario Bundle 2021 [BUNDLE]
Various ($29.23 $19.99, 6 PDF titles)
This special bundle product contains the following titles: The Unbearable Likeness, Little Torches, My Guardian Monster, The Great Healer, The Pipeline: A Call of Cthulhu Scenario for the 1980s, and Unremembered.
Cthulhu maps - The Lightless Beacon
Lovemaps (Pay-What-You-Want, suggested price $0.50, Map & Tokens)
You will find in this pack a large content of (grid and gridless) maps for The Lightless Beacon. You can print them out to play at a table or use them on a Virtual Tabletop.
Art for China - Masks of Nyarlathotep
Anna Zadrożna ($3.00, 20 page PDF)
25 art pieces for the China chapter of Masks of Nyarlathotep.
The Lo'thysss Duology [BUNDLE]
Various ($7.00 $5.50, 2 PDF titles)
This special bundle product contains the following titles: Test Subjects, and The Lair of Lothysss.
Lords by Birthright - a Zgrozy scenario
Marek Golonka, Piotr Kozioł, Keith Mageau ($3.49, 20 page PDF)
The Łukomski family was an influential noble house living in the Eastern part of what was once Poland-Lithuania in the early modern era. They were blessed with great charisma, and their servants were exceptionally devoted to multiple generations of the Łukomski family. Unfortunately, mental illness plagued the family. One evening, a confrontation with hired gunmen drags investigators into Łukomskis' nightmare – but maybe they were a part of it even before?
A standalone scenario that can be run anywhere in the world in 1920's and, with a bit of tweaking, in other eras as well.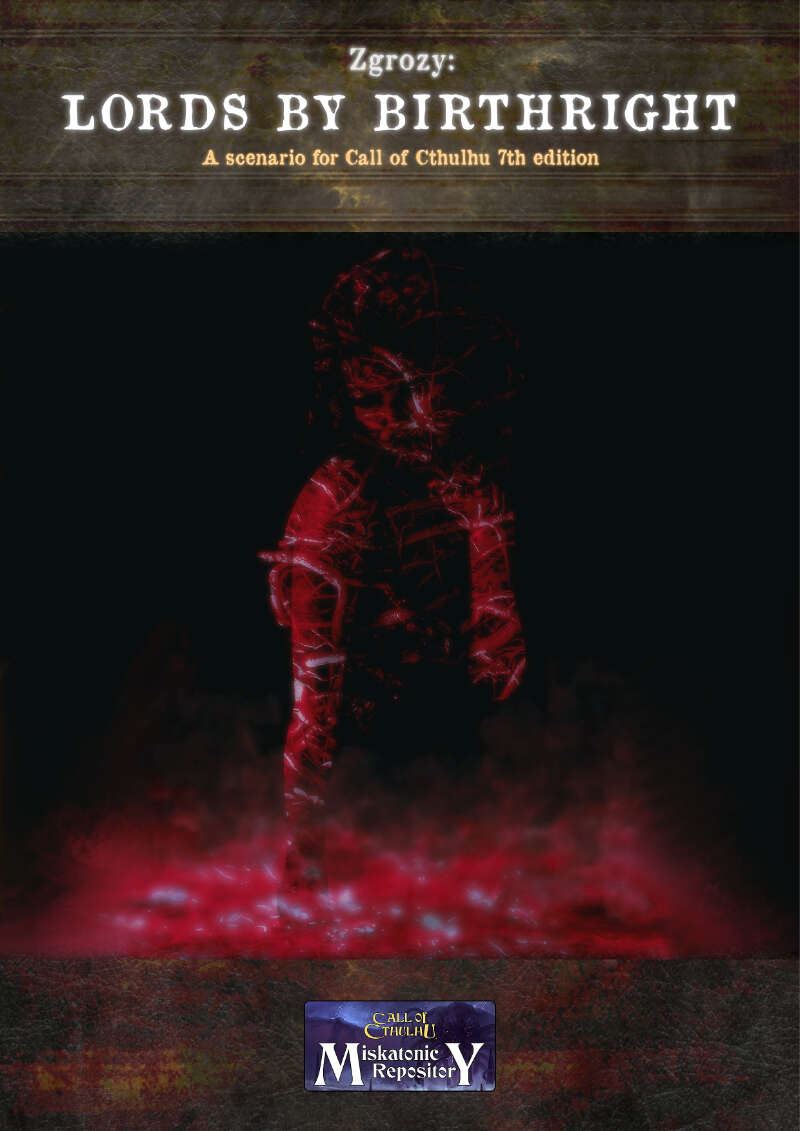 Plus new titles in Catalan, Korean, and Spanish!
WANT TO TAKE PART IN THE MISKATONIC REPOSITORY YOURSELF?
Under The Miskatonic Repository community content license, Call of Cthulhu fans can make their own work for use with the game line available to the public, using guidelines, templates, and art provided by Chaosium.
Whether you share your content for free or put it up for sale, this program is a digital home for terror that joins the dreamscapes of all who peruse it.