Journey to Jonstown #53: "I think this little volume should be any RuneQuest fan's next purchase"
Posted by Michael O'Brien on 3rd Mar 2023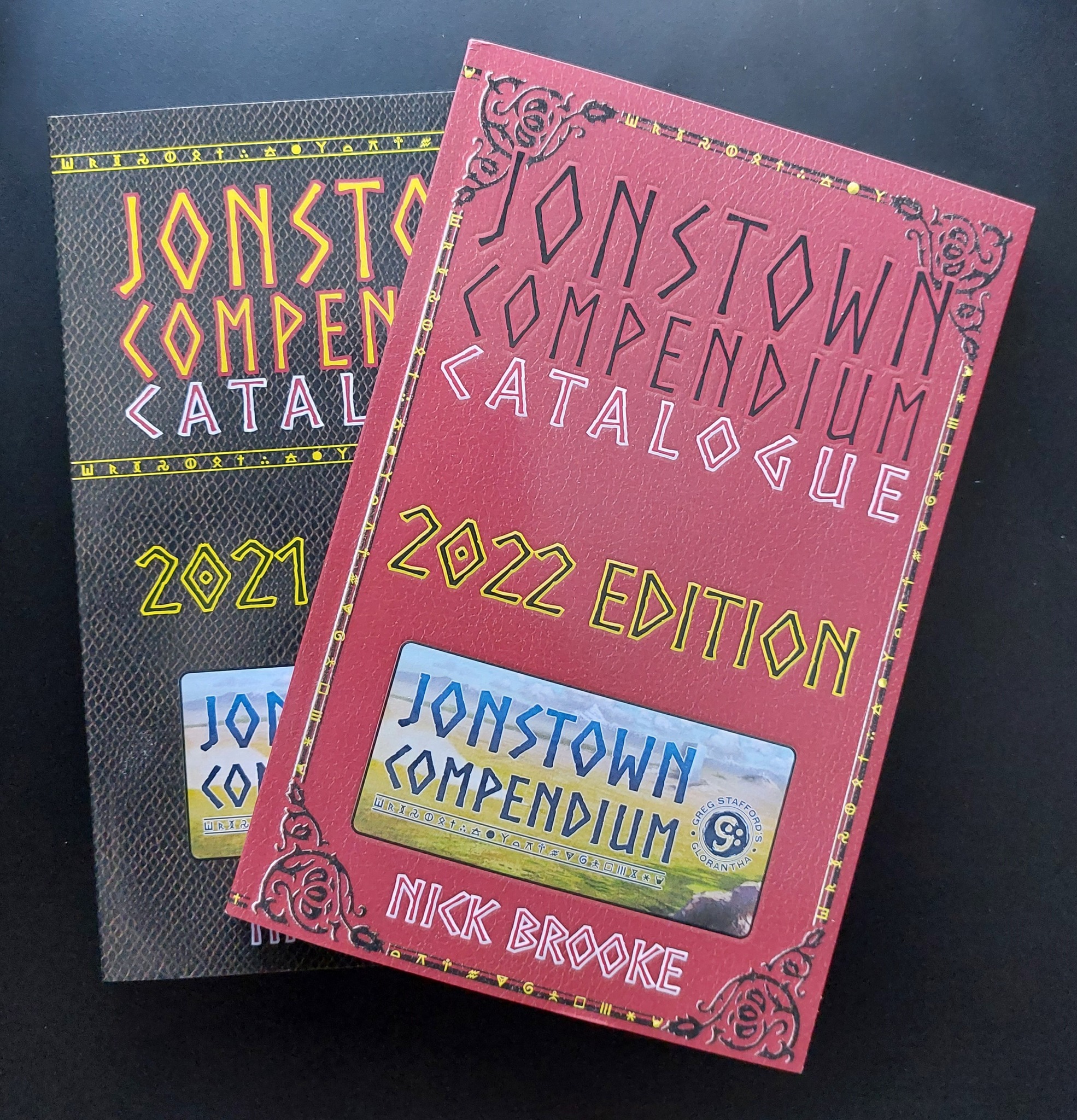 Jonstown Compendium indie creator Brian Duguid writes:
"My print copy of Nick Brooke's Jonstown Compendium Catalogue 2022 Edition arrived recently. Here it is with the 2021 predecessor. Other than the RuneQuest core rulebook or Starter Set, I think this little volume should be any RuneQuest fan's next purchase.
"If you want a quick and simple understanding of quite how healthy the game and its community is right now, here it is."
The 2021 edition ran to 141 pages, but the 2022 edition runs to 171 pages. Just stop and think for a moment: it takes 171 pages to fully survey all the glorious RuneQuest and Gloranthan community content currently available on the Jonstown Compendium. In comparison, The Meints Index to Glorantha III, surveying pretty much everything ever published for the game and its world (up to just before the JC started, roughly) hits 266 pages, but that covers over four decades of product. The Jonstown Compendium has been available for just a little over three years.
Imagine if you could even buy this gargantuan guide to Gloranthan goodness at a reduced price, on sale, right now (until 14th March) - well, you can! It is excellent value for money, especially as a way in to the vast hinterland of top-notch JC product that perhaps gets a little less attention than the bestsellers and the 'hottest' titles."
Jonstown Compendium Catalogue, 2022 edition
Nick Brooke ($3.00 $2.55, 171 page PDF, softcover 9" x 6" standard color book $9.95).
Details every supplement published in the first three years of Chaosium's community content programme for RuneQuest and Glorantha.

Under the Jonstown Compendium community content license, fans of Greg Stafford's world of Glorantha can sell and share their own independently created material on DriveThruRPG. If that appeals, check out the Jonstown Compendium Guidelines and start creating!