Journey to Jonstown #48: these indie RuneQuest titles are close to Copper on DTRPG - give their creators a boost!
Posted by Michael O'Brien on 19th Nov 2022
It's very gratifying for a new creator to earn a metal sales tier badge for their work on DriveThruRPG. The first such badge is Copper, for 51 sales*. These Jonstown Compendium titles are within ten sales of reaching that first metal goal, so do check them out and give their creators a boost!
*note: calculations for rankings does not include free copies or sales below $0.20.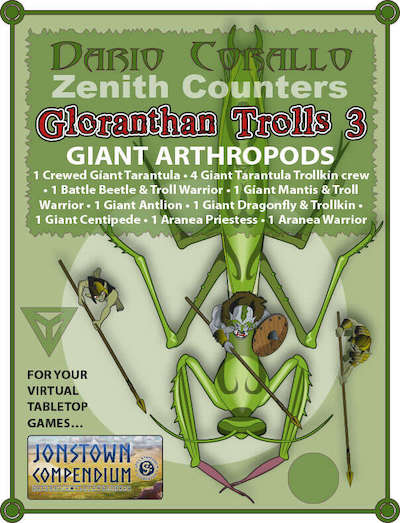 Corallo's Zenith Counters: Troll #3 - Giant Arthropods
Dario Corallo ($3.61, multiple file formats)
Giant arthropods for play with virtual tabletops.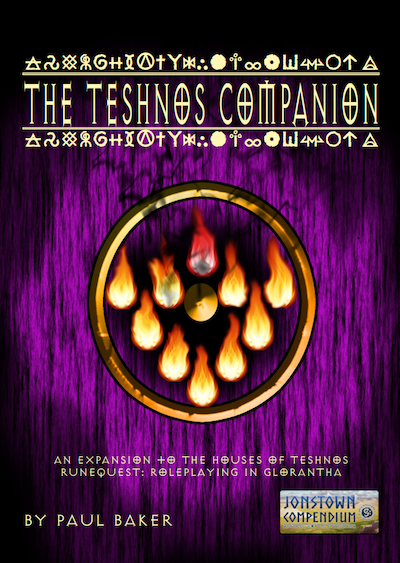 Teshnos Companion
Paul Baker ($12.00, 84 page PDF)
A continuation in the exploration of Teshnos, expands on the information presented in The Houses of Teshnos.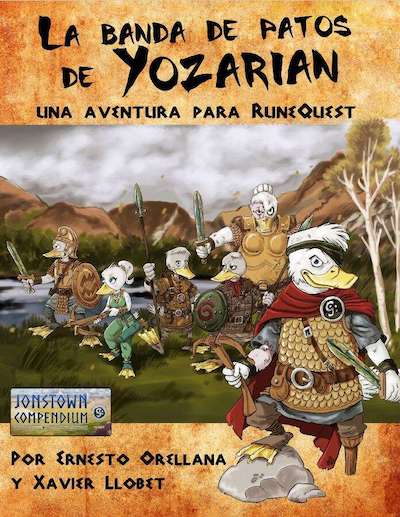 La banda de patos de Yozarian
Ernesto Orellana, Xavier Llobet ($5.00, 40 page PDF)
This is Yozarian's Duck Bandits, one of the inaugural Jonstown Compendium releases, now available in Spanish!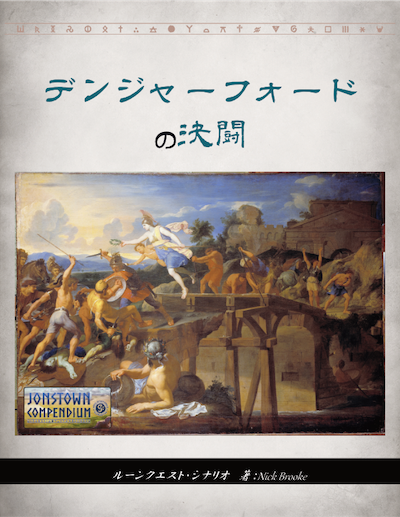 The Duel at Dangerford in Japanese
Nick Brooke ($3.95/$7.95/$11.90, 35 page PDF)
The Japanese translation of Nick's Brooke's The Duel at Dangerford scenario in three acts featuring half the Provincial Army of Lunar Tarsh: Drama! Excitement! Betrayal! Foul Lunar Sorcery!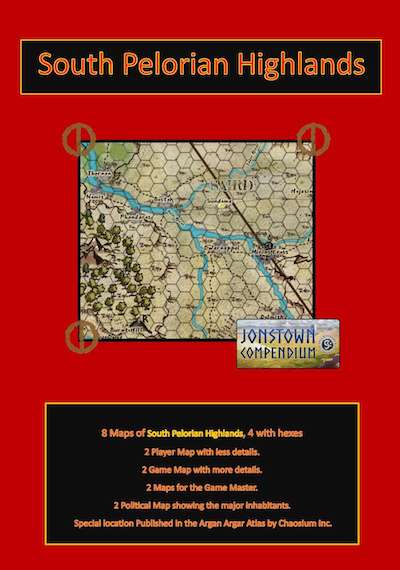 South Pelorian Highlands
Anders Tonnberg ($5.90, 8 page PDF)
Eight high-resolution pictorial maps of South Pelorian Highlands (4266 x 2400 pixels: 14.22 inches x 8.00 inches, roughly US Legal paper size at 300 DPI), drawn in Wonderdraft based on the maps from Argan Argar Atlas. There are four base maps (Players', Game Master's, Detailed and Political), each presented in hex-free and 5 mile hex formats. The Players' map is in a different style to the GM and Detailed maps; the detailed map names every City as well as the major regions, roads and rivers.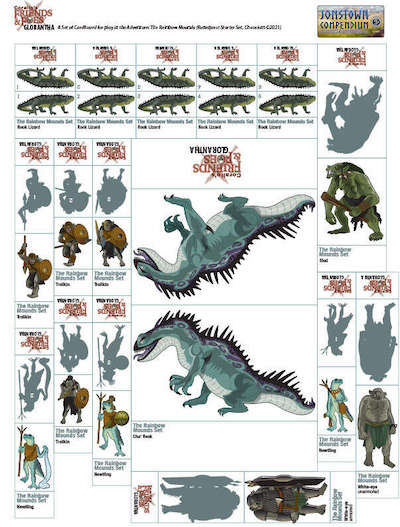 The Rainbow Mounds Cardboards Set
Dario Corallo ($2.07, multiple file formats)
A set of standee cards for playing The Rainbow Mounds scenario in the RuneQuest Starter Set.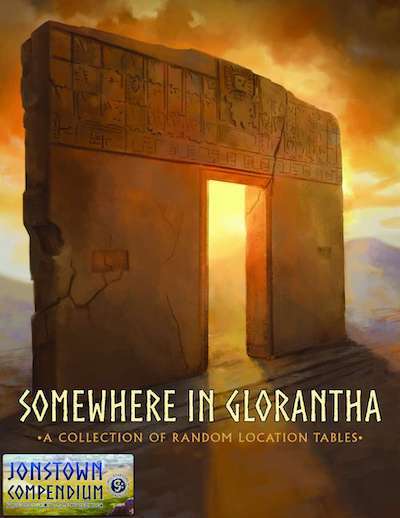 Somewhere in Glorantha
Mark Prier ($13.00, 196 page PDF)
Somewhere in Glorantha is a collection of random location tables bringing together the places described in current RuneQuest and Glorantha publications. Arranged as easy-to-use multilevel lists, these random tables have everything you need to cross-reference a specific location in Glorantha, determine where an adventurer or non-player character comes from, choose a random location for a new campaign, or answer any question that has an unknown Gloranthan location for an answer.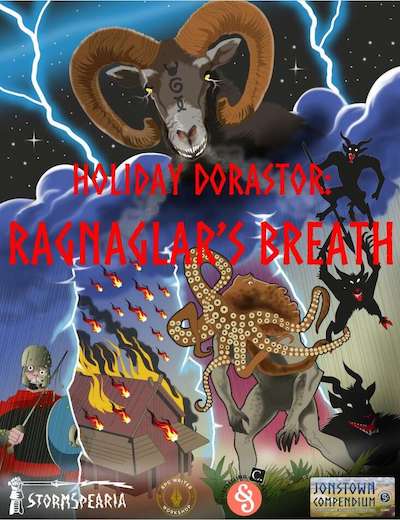 Holiday Dorastor: Ragnaglar's Breath
Simon Phipp ($3.60, 30 page PDF)
Welcome to Holiday Dorastor: Ragnaglar's Breath, another in our odysseys around the delightful place that is Dorastor. Here, you will find three new locations, and a set of scenarios and HeroQuests allowing you to banish Ragnaglar's Breath from the Risklands.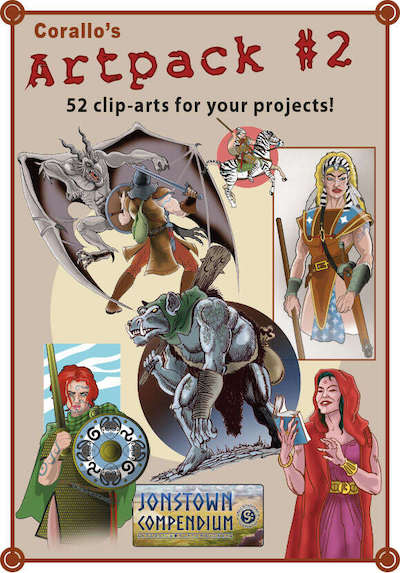 Corallo's Artpack #2
Dario Corallo ($12.05, 52 files)
52 clipart files ready for your projects. Dario grants permission to purchasers to use these illustrations in their own Jonstown Compendium publications (with a credit to the artist), and to GMs and players solely for their own use in handouts and character sheets.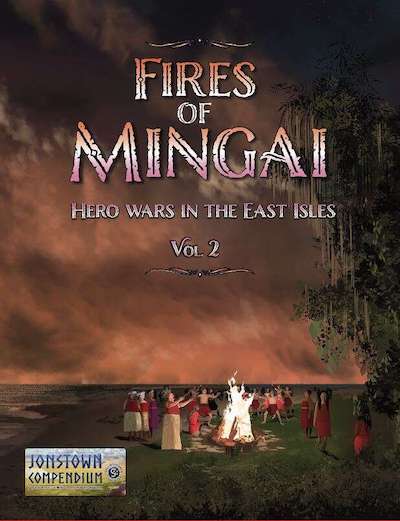 Fires of Mingai: Hero Wars in the East Isles - Vol 2
Hannu Rytövuori, David Cake, Nils Weinander ($14.99, 129 page PDF)
The second book in a series about the Hero Wars in the East Isles.This book is a starting point for a campaign in the East Isles and includes four RQG adventures.The adventures include The Nest, The Hill of Red Top, Korolan Games and Fires of Mingai.

Under the Jonstown Compendium community content license, fans of Greg Stafford's world of Glorantha can sell and share their own material on DriveThruRPG. If that appeals, check out the Jonstown Compendium Guidelines and start creating!