Journey to Jonstown #19 - Citizens of Lunar Empire and more
Posted by Michael O'Brien on 25th Jan 2021
Chris Gidlow's Citizens of the Lunar Empire is the latest Jonstown Compendium release to feature evocative Gloranthan cover art by Mark Smylie of Artesia fame. A 172 page sourcebook for RuneQuest urban adventures, this engaging and entertaining work by the creator of Credo focuses on the day-to-day lives of the working-class heroes of the Lunar capital, Glamour. (The city is also described in more detail in the Jonstown Compendium's A Rough Guide to Glamour).
Citizens of the Lunar Empire
Chris Gidlow ($19.95, 172 page PDF + Map Pack)
"Welcome to your new apartment, Citizens! New to Glamour? Well, I'm sure you'll fit right in. Rent is payable in advance..."
A detailed home base for your adventurers: The Insula, a typical multi-storey residential city-block. A self-contained microcosm of Lunar urban society, it is home to many families and businesses, ranging from scribes and traders on the lower floors to the unemployed, squatters, temple dancers and students at the higher levels.
Promo Trailer!
More New Releases in the Jonstown Compendium

Jonstown Compendium Index 2021
Nick Brooke ($0.50, 29 page PDF)
Nick Brooke's comprehensive index of all releases on the Jonstown Compendium, updated to 23rd January 2021. All updates made in 2021 are free to purchasers of the 2021 index.
The Book of Doom
Simon Phipp ($20.00, 136 page PDF)
Over 600 new spells, dozens of skills, new magical items, new HeroQuesting spells and material, rune mastery, ritual sacrifice, and expanded rules for buildings and ships, trading and income, and crafting of exceptional items, and more!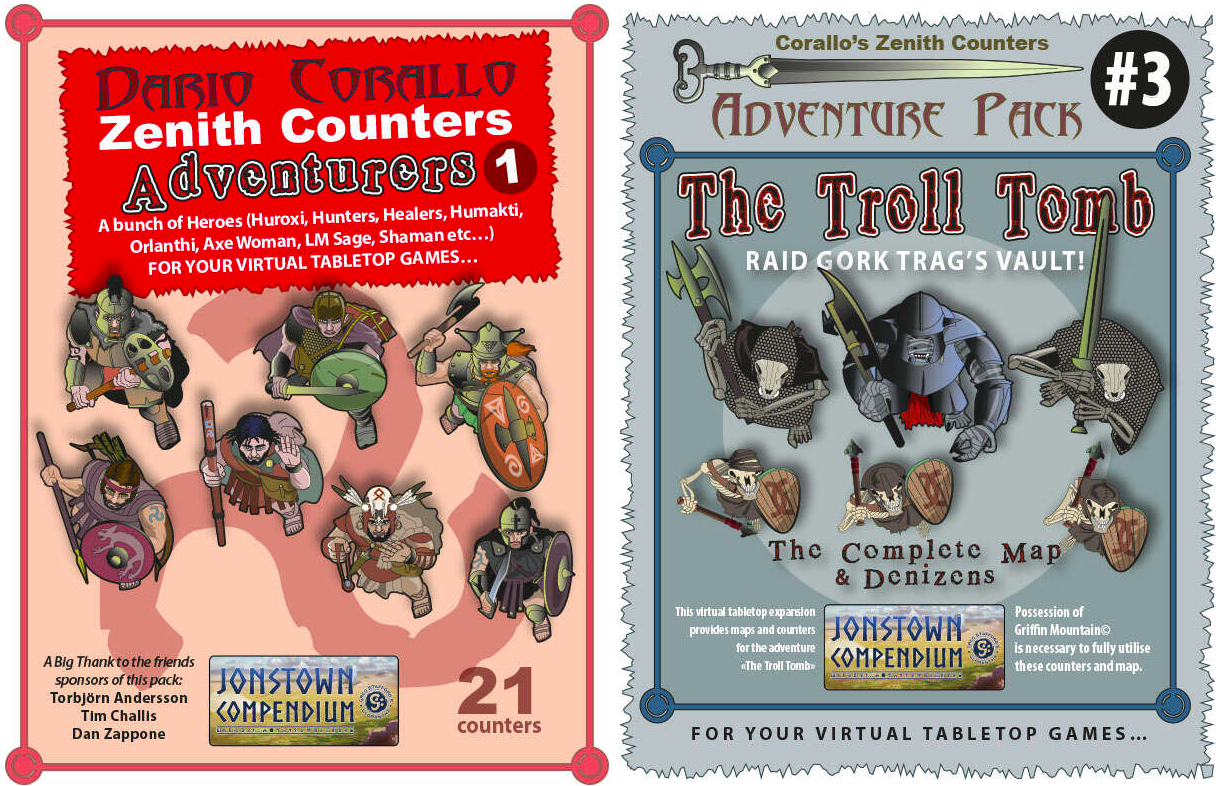 Corallo's Zenith Counters: Adventurers #1
Dario Corallo (Pay-What_You-Want, suggested price $1.22, 21 counters in ZIP file)
A first bunch of Heroes for Gloranthan Adventurers, some generic warriors some not, for VTT gaming.
Corallo's Zenith Counters: Adventure Pack #3 - The Troll Tomb
Dario Corallo ($2.43, maps and counters in ZIP file)
A final rest for a Troll Hero from Griffin Mountain, counters and maps for VTT gaming.
La banda de patos de Yozarian
Ernesto Orellana, Xavier Llobet ($5.00, 40 page PDF)
This is Yozarian's Duck Bandits, one of the inaugural Jonstown Compendium releases, now available in Spanish!

Are you a Gamesmaster looking for new scenarios and story elements? A player looking for something mysterious to spark a character idea? Is your group looking for more Gloranthan goodness to use in your game? The Jonstown Compendium is where you can find —and create —self-published material for your Gloranthan roleplaying games, be it RuneQuest or HeroQuest.
Interested in submitting content? Go here to see the guidelines. No extra license is required. Get started and download the templates (MS Word and InDesign) for Jonstown Compendium submissions.