Here's what reviewers are saying about BERLIN THE WICKED CITY
Posted by Michael O'Brien on 21st Jun 2020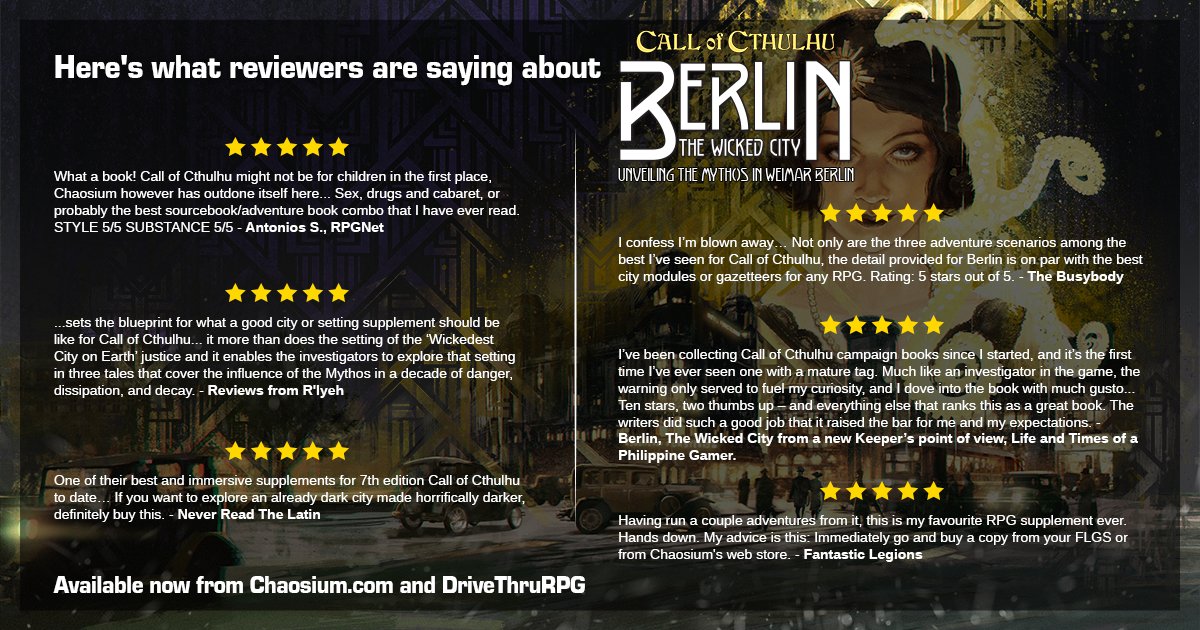 Critical Praise for Call of Cthulhu's Berlin The Wicked City!
"What a book! Call of Cthulhu might not be for children in the first place, Chaosium however has outdone itself here... Sex, drugs and cabaret, or probably the best sourcebook/adventure book combo that I have ever read." STYLE 5/5 SUBSTANCE 5/5—Antonios S., RPGNet.
"I confess I'm blown away… Not only are the three adventure scenarios among the best I've seen for Call of Cthulhu, the detail provided for Berlin is on par with the best city modules or gazetteers for any RPG. Rating: 5 stars out of 5."—The Busybody.
"One of their best and immersive supplements for 7th edition Call of Cthulhu to date… If you want to explore an already dark city made horrifically darker, definitely buy this."—Never Read The Latin.
"...sets the blueprint for what a good city or setting supplement should be like for Call of Cthulhu... it more than does the setting of the 'Wickedest City on Earth' justice and it enables the investigators to explore that setting in three tales that cover the influence of the Mythos in a decade of danger, dissipation, and decay."—Reviews from R'lyeh.
"I've been collecting Call of Cthulhu campaign books since I started, and it's the first time I've ever seen one with a mature tag. Much like an investigator in the game, the warning only served to fuel my curiosity, and I dove into the book with much gusto... Ten stars, two thumbs up – and everything else that ranks this as a great book. The writers did such a good job that it raised the bar for me and my expectations."—Berlin, The Wicked City from a new Keeper's point of view, Life and Times of a Philippine Gamer.
"Having run a couple adventures from it, this is my favourite RPG supplement ever. Hands down. My advice is this: Immediately go and buy a copy from your FLGS or from Chaosium's web store."—Fantastic Legions.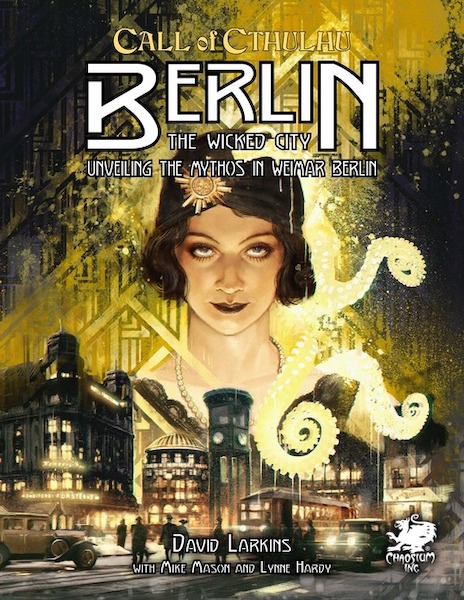 Available now from Chaosium in Hardback and special Leatherette edition. Both come with PDF included.
Also available in PDF from DriveThruRPG.