Here's what Call of Cthulhu fans are saying about MASKS OF NYARLATHOTEP
Posted by Michael O'Brien on 25th Sep 2020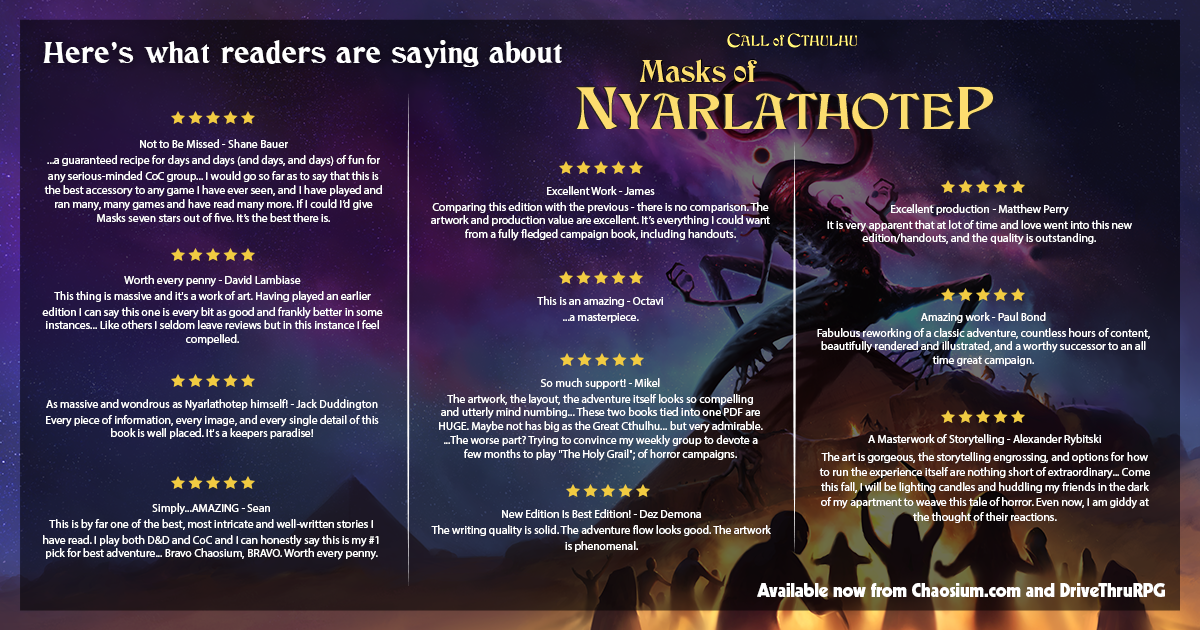 Already regarded as "one of the best RPG adventures ever made" (Gizmodo) and "...a milestone for Call of Cthulhu and for RPG campaigns (that) expanded our ideas of what roleplaying game adventures could be" (The New York Review of Science Fiction), here's what Call of Cthulhu fans have said about the new edition of Masks of Nyarlathotep:


Not to Be Missed - Shane Bauer
...a guaranteed recipe for days and days (and days, and days) of fun for any serious-minded CoC group... I would go so far as to say that this is the best accessory to any game I have ever seen, and I have played and ran many, many games and have read many more.
If I could I'd give Masks seven stars out of five. It's the best there is.

Worth every penny - David Lambiase
This thing is massive and it's a work of art. Having played an earlier edition I can say this one is every bit as good and frankly better in some instances... Like others I seldom leave reviews but in this instance I feel compelled.

As massive and wondrous as Nyarlathotep himself! - Jack Duddington
Every piece of information, every image, and every single detail of this book is well placed. It's a keepers paradise!

Simply...AMAZING - Sean
This is by far one of the best, most intricate and well-written stories I have read. I play both D&D and CoC and I can honestly say this is my #1 pick for best adventure... Bravo Chaosium, BRAVO. Worth every penny.

Excellent Work - James
Comparing this edition with the previous - there is no comparison. The artwork and production value are excellent. It's everything I could want from a fully fledged campaign book, including handouts.

This is an amazing - octavi
...a masterpiece.

So much support! - Mikel
The artwork, the layout, the adventure itself looks so compelling and utterly mind numbing... These two books tied into one PDF are HUGE. Maybe not has big as the Great Cthulhu... but very admirable.
...The worse part? Trying to convince my weekly group to devote a few months to play "The Holy Grail"; of horror campaigns.

New Edition Is Best Edition! - Dez Demona
The writing quality is solid. The adventure flow looks good. The artwork is phenomenal.

Excellent production - Matthew Perry
It is very apparent that at lot of time and love went into this new edition/handouts, and the quality is outstanding.

Amazing work - Paul Bond
Fabulous reworking of a classic adventure, countless hours of content, beautifully rendered and illustrated, and a worthy successor to an all time great campaign.

A Masterwork of Storytelling - Alexander Rybitski
The art is gorgeous, the storytelling engrossing, and options for how to run the experience itself are nothing short of extraordinary... Come this fall, I will be lighting candles and huddling my friends in the dark of my apartment to weave this tale of horror. Even now, I am giddy at the thought of their reactions.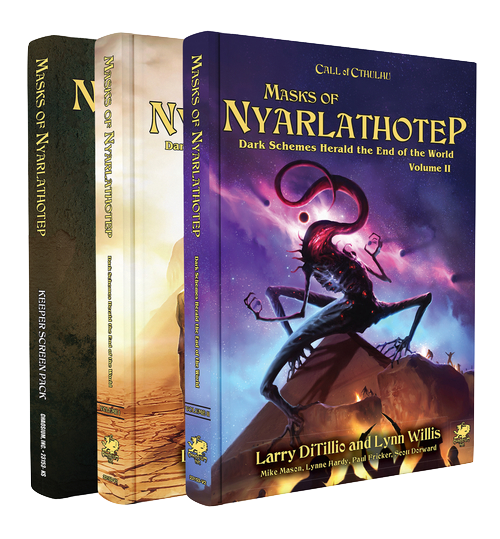 Masks of Nyarlathotep is available now from Chaosium:
— 666 page Hardback Slipcase edition
— Leatherette edition (currently $50 off!).
— Both come with PDF included.
— Also available in PDF from DriveThruRPG.
Download the FREE 96 page Masks of Nyarlathotep Handouts Pack from the Chaosium itch.io page.