"​Ever since I can remember, I've wanted my own roleplaying game." - Rivers of London creator Ben Aaronovitch gets his wish
Posted by Michael O'Brien on 2nd May 2023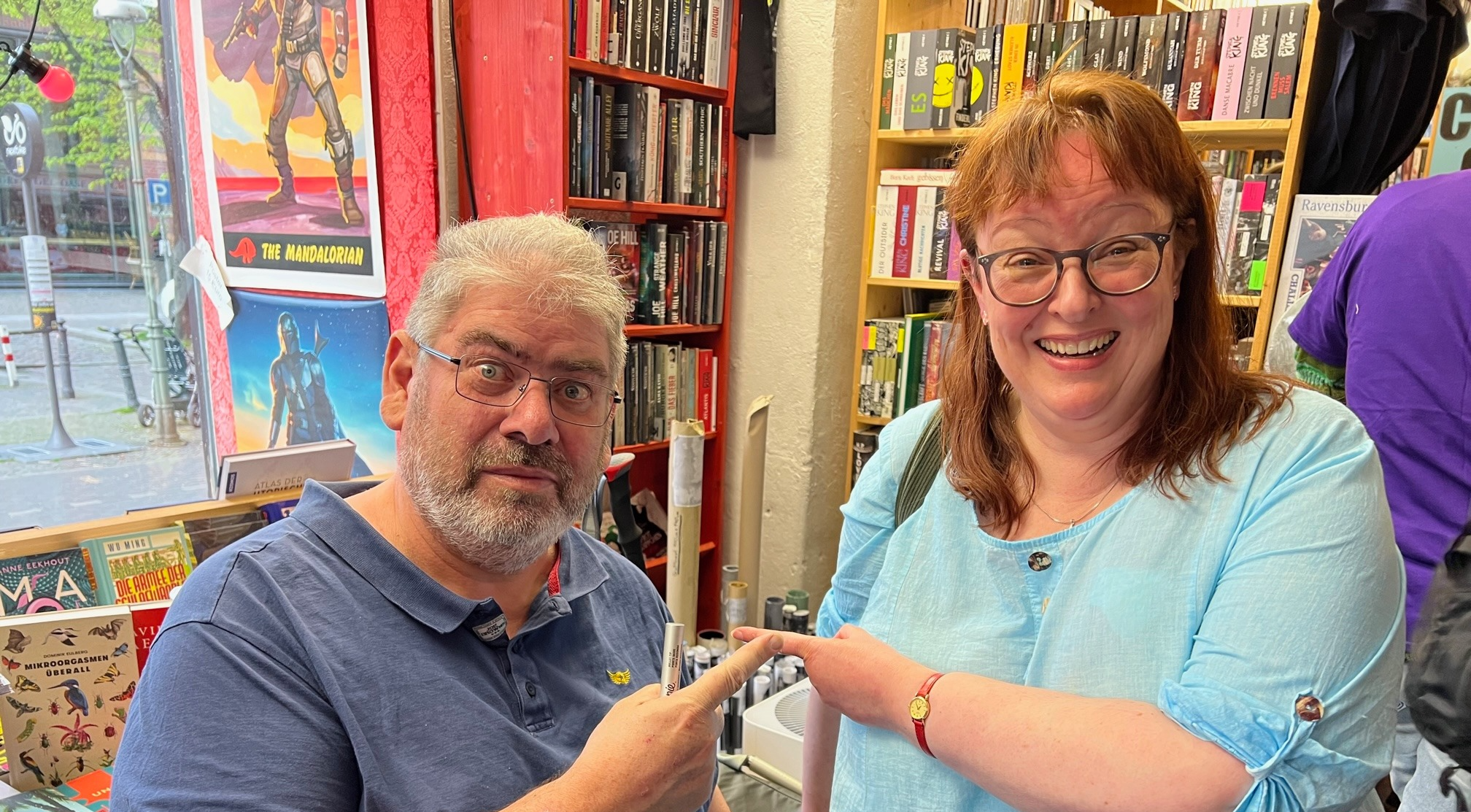 -- Ben Aaronovitch with Rivers of London: the Roleplaying Game line editor Lynne Hardy at the game's Berlin launch party on May 1st --
"Ever since I can remember, I've wanted my own roleplaying game", begins Rivers of London creator Ben Aaronovitch's foreword for Rivers of London: the Roleplaying Game, which is out now in hardback. Here's Ben's foreword in full:
"Ever since I can remember, I've wanted my own roleplaying game. I lie—it's actually ever since I was given the three original beige Dungeons & Dragons books in a box all the way back in the late seventies. Either way, it's a long time. Other authors dream of film and television, radio and comic adaptations, and, even more recently, a computer game. But what I wanted was a pen and paper roleplaying game with maps, player handouts, and funny shaped dice. Why? It's all about the worldbuilding.
I was a terrible gamemaster, and, to be fair, I was never particularly brilliant as a player—I was always more interested in the scenarios than the gaming. To this day, I have an insane number of RPG supplements, including a large number of campaign and setting books whose original systems I've never even heard of. I read voraciously of intricately thought-out fantasy worlds; Glorantha was a favourite, but I've always had a soft spot for City State of the Invincible Overlord (Judges Guild) and Pendragon's Albion that never was.
I wanted to create one of those worlds, to make something so detailed, so credible that people would sit around a table and lose themselves in the experience. But worldbuilding isn't just confined to secondary world fantasies or the far-flung planets of space opera. You can build a world in the past or present that is just as fantastical as anything in Greyhawk or the Imperium. The impulse to world build can encompass the 17th century France of En Garde (GDW) or the nightmare haunted Jazz Age world of Call of Cthulhu.
So, when I started Rivers of London, there was always a seductive voice in the back of my head that said, "One day, this might be an RPG, too." Then that one day came when Lynne Hardy approached me at Waterstones in Newcastle and said she represented Chaosium, legendary creators of Call of Cthulhu, Pendragon, and Elric, amongst others, and would I like to talk about doing a Rivers of London RPG… And here is that RPG! I hope you enjoy it as much as I do."
Explore Ben Aaronovitch's magical version of London today!