​Ethernomicon: a Cthulhu Blockchain Trading Card Game to be announced at PAX Australia
Posted by Michael O'Brien on 26th Oct 2018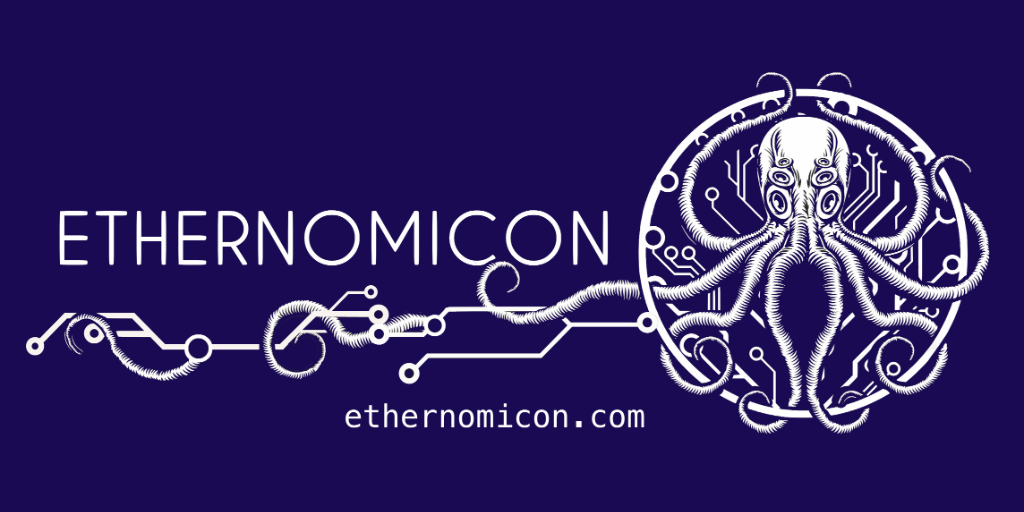 Chaosium and Ethernomicon to release a Call of Cthulhu Based Collectable Card Game… on the blockchain!
October 28, 2018 — Melbourne, Australia; Ethernomicon Pty Ltd has joined with the award-winning game publisher Chaosium Inc. to release a new Collectable Crypto-Asset game based on Chaosium's Call of Cthulhu, the iconic roleplaying game of cosmic horror.
The madness of the Elder Gods has always sought to infect humanity, and Ethernomicon is their newest assault on the sanity of mankind. It is a fast-based deck building card game replete with eldritch horrors and brave investigators, set across all the mysterious dark places of this world, the Dreamlands, and non-Euclean dimensions beyond. Players compete with teams of investigators to discover their opponent's secrets while playing locations and monsters to drive their opposition mad.
Developed specifically for the Ethereum blockchain*, Ethernomicon is launching a limited pre-sale of 10,000 ten card packs, prior to the full release. Although total card numbers and types are limited by the Ethernomicon contract, pack prices are deliberately being pitched as being similar to traditional trading card games (such as Chaosium's previous "Mythos" collectable card game) with the team targeting gamers rather than collectors, and emphasising long term playability as their goal.
"The game is played online, and players keep their cards in 'wallets' on the Ethereum blockchain. Just like physical cards, they can be bought, sold or simply traded, but now the transfer takes place on the blockchain. This gives players complete control of their cards, but without having to worry about wear and tear — so no more deck protectors!" said Ethernomicon project lead Dr Christopher Betts.
Ethernomicon represents an innovative new direction in on-chain gaming, being a joint venture between the renowned games publisher Chaosium Inc. and a group of blockchain developers based at Monash University in Melbourne, Australia. The cards will be useable in a number of games produced by Ethernomicon, and may also be used in 3rd party games in future.
"We cannot comment on speculation that Blockchain technology itself is an emanation of the primal chaos of the Elder Gods", said Chaosium vice president Michael O'Brien, "Although it has been noted that Satoshi Nakamoto and the tentacular horror that is Cthulhu have never been seen together at the same time (or indeed at all)".
Ethernomicon will be formally announced at the Ethernomicon: Gaming on the Blockchain panel at PAX Australia:
THE ETHERNOMICON: GAMING ON THE BLOCKCHAIN
3.30pm Sunday 28th October, Ibis Theatre
Chaosium, publishers of the famous Call of Cthulhu tabletop roleplaying game, have joined forces with a team of recent Software Engineering graduates from Monash University, Australia to create ETHERNOMICON, the crypto-asset trading card game on the Etherium Blockchain. This panel discusses the genesis and development of Blockchain gaming, the exciting potential of this new gaming ecosystem, and the role in this that existing game companies and their IP can play.
About Chaosium Inc: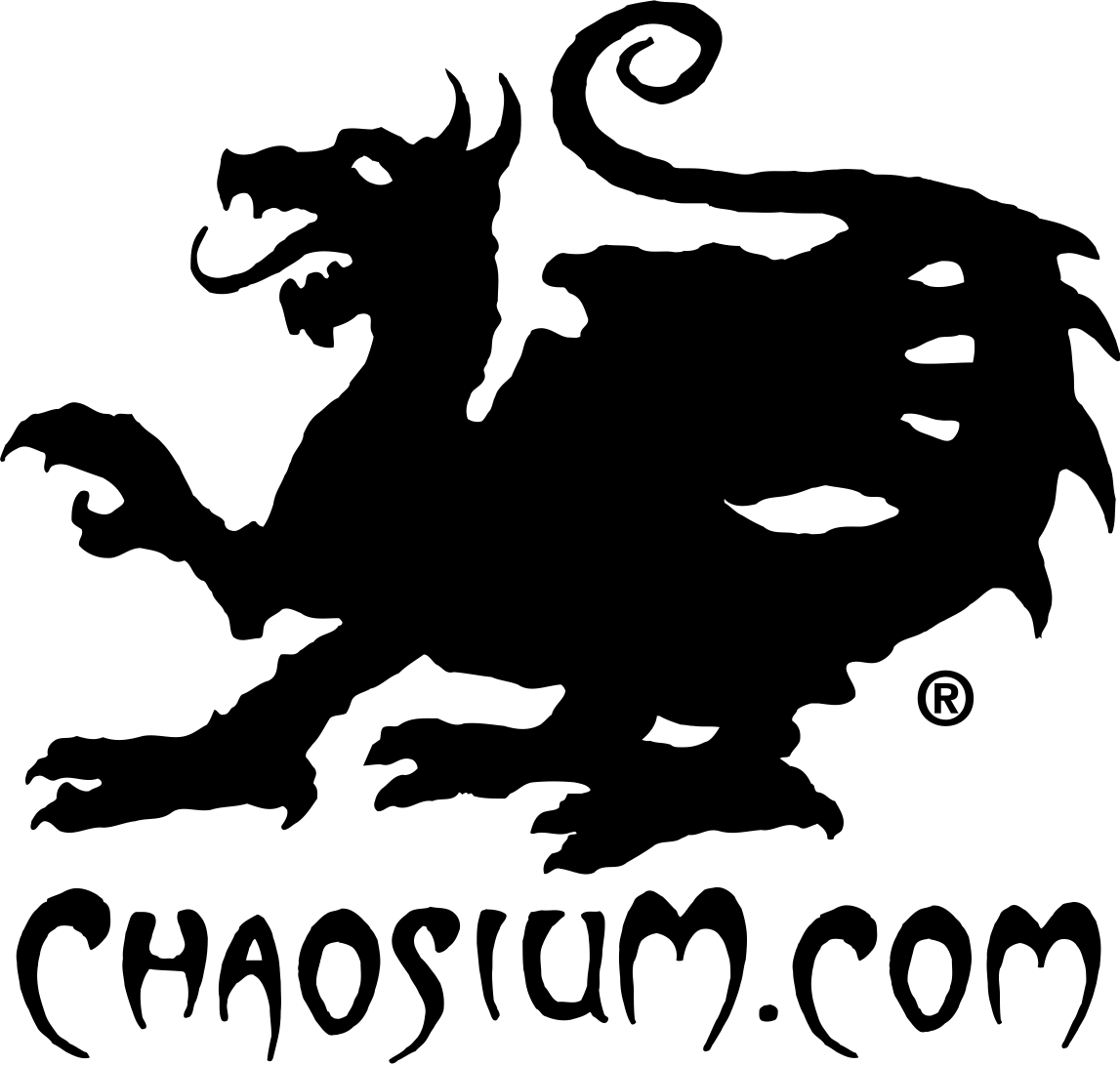 The Chaosium was founded by visionary game designer Greg Stafford in 1975. For more than forty years, Chaosium has captivated gamers, readers and mythic adventurers worldwide. Its award-winning roleplaying games, board games and fiction have been acclaimed as some of the most engaging and innovative of all time. Chaosium's Call of Cthulhu was created by gaming legend Sandy Petersen in 1981, and is the definitive horror roleplaying game. It has won over 90 awards since then, including being inducted into the Academy of Adventure Gaming Art and Design Hall of Fame. www.chaosium.com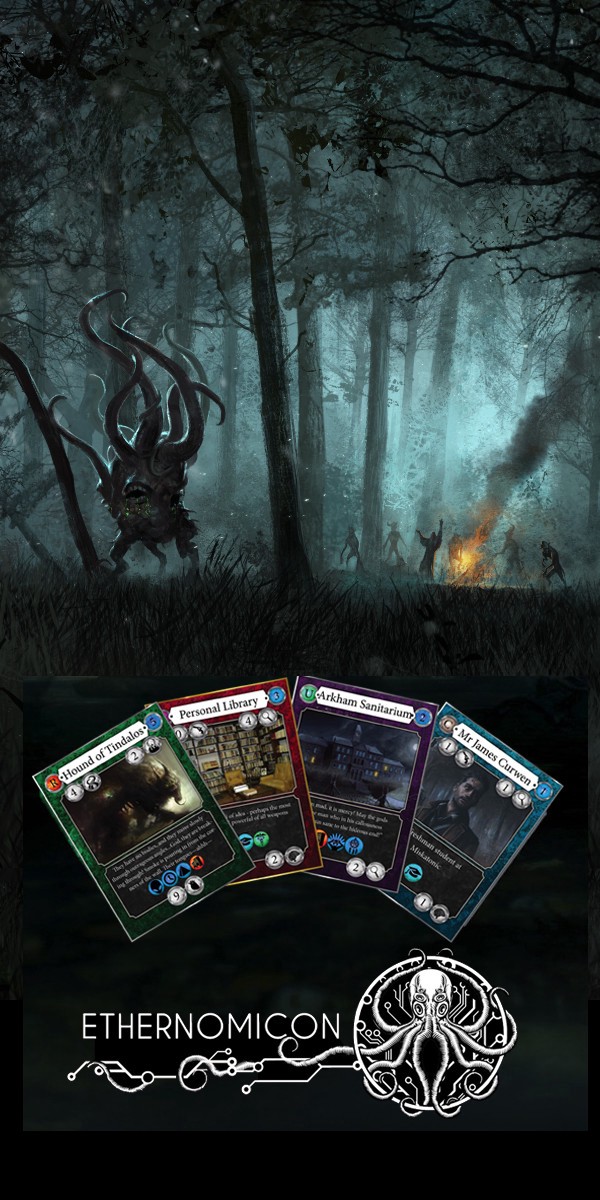 About Ethernomicon
Ethernomicon Pty Ltd is a Melbourne based block chain startup, working on distributed ledger based trading card games.
About Monash University:
Monash University is one of Australia's leading universities and ranks among the world's top 100.
*What is the blockchain?
The blockchain is a digital ledger in which transactions made in cryptocurrencies are recorded chronologically and publicly. Blockchain gaming applications are a very recent development.