ENnies 2019 Spotlight: our Miskatonic University board game is in the running for Best RPG-Related Product
Posted by Michael O'Brien on 15th Jul 2019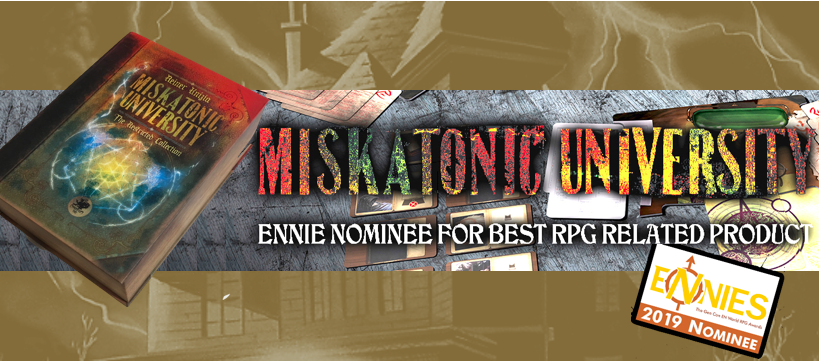 Our first creative collaboration with German board game design genius Reiner Knizia scored us two Gold ENnies in 2018, for Khan of Khans (Best RPG-Related Product and Best Family Game). And Renier's done it again, with his new Chaosium game Miskatonic University: The Restricted Collection getting a 2019 nomination for Best RPG-Related Product.
Both Khan of Khans and Miskatonic University feature the brilliant graphic design work of multi-award winning graphic designer Ian O'Toole.
Please support Chaosium and our licensees, partners and friends - ENnies voting is live now, and runs until 11.00PM EST on July 21st:
http://www.ennie-awards.com/vote/2019
What the critics have said about the Miskatonic University: The Restricted Collection: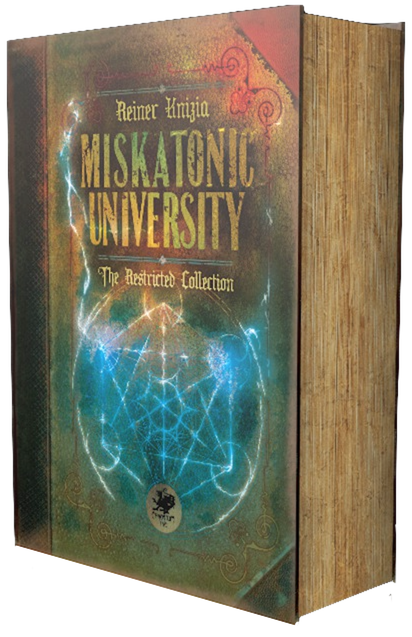 "A very pleasant surprise in a package that befits much more complex products. To say that it punches way above its weight is a major understatement. A cool, simple yet demanding filler, it will appeal to both Call of Cthulhu players as well as casual gamers… The game has a very high replayability…. Just like Khan of Khans, younger audiences can end up playing this non-stop all day long. It's a great game for outings, for non-gamers, for train trips and what have you."—Antonios S., RPGNet review.
"…fast-playing, easy to learn, and compact… Maybe the forbidden knowledge of the Restricted Collection is right up your alley if you're willing to wager your sanity."—Pop Culture Uncovered's Tabletop Tuesday.
"We played it and it was AWESOME! …A very well-balanced game – we highly recommend Miskatonic University: The Restricted Collection, we had a blast playing it." —The Vintage RPG Podcast (YouTube review).