Chaosium's Nick Brooke a special guest at PAX AUS, Melbourne Australia (Oct 6-8)
Posted by Michael O'Brien on 1st Sep 2023

We are excited to announce Chaosium community ambassador Nick Brooke is an official special guest at PAX AUS, coming up on Oct 6-8 in Melbourne, Australia!
At PAX AUS Nick will be participating in panels and live actual play events with his Australian Chaosium colleagues, signing copies of his TTRPG books at our booth, and running demo games with the Cult of Chaos. We're also planning a get-together for Chaosium community creators.
Nick says, "I can't wait to be back in Australia, attending PAX as part of the Chaosium team and meeting all our local community content creators! If you've ever wanted to make stuff for one of our games, come on over and I'll show you how to get started."
PAX AUS Panels with Nick
So you want to write a RPG? (date and time TBA)
Press X to Scream: all things horror games (date and time TBA)
PAX AUS Actual Play Events with Nick
Chaosium Presents: Call of Cthulhu Live - 7:30 - 10:30PM Sat Oct 7 Logitech Quokka Theatre
Meet & Greet and Book Signing with Nick (Chaosium Booth)
Nick will be signing copies of his TTRPG books including his Gloranthan Manifesto and the Gold ENNIE award winning Rough Guide to Glamour (date and time TBA).
Community Creator Meet-Up with Nick (off-site)
At lunchtime on Sunday Oct 8 we're planning a social get together for Chaosium community content creators. Anyone interested in creating for these programs is most welcome! Venue TBA, but will be close by to the MCEC.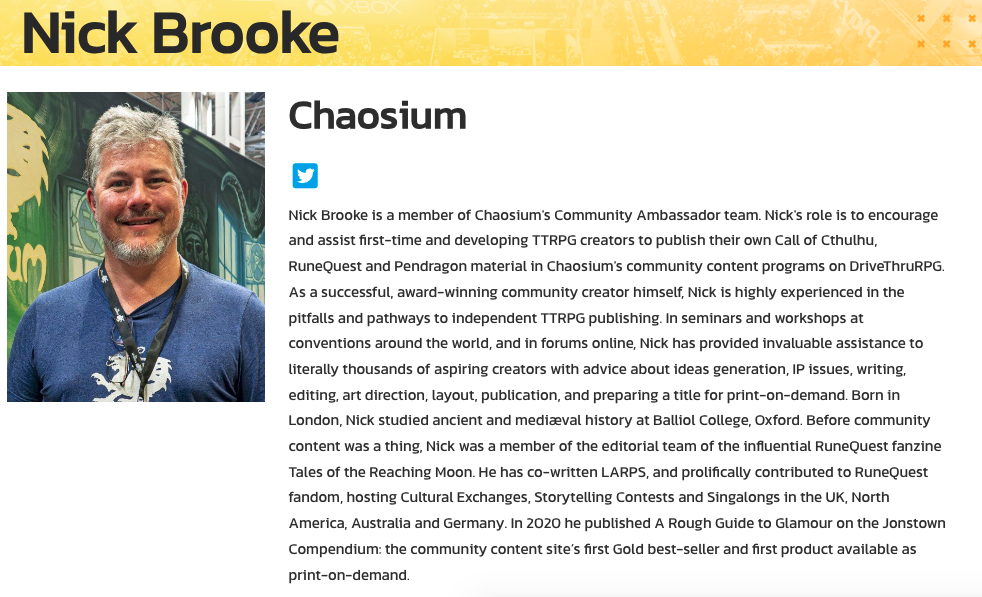 PAX Aus is Australia's biggest gaming festival, featuring thought-provoking panels, a massive expo hall filled with the best publishers and independent studios, new game demos, musical performances, tournaments, and a community experience unlike any other. Badges available here.