Chaosium and Aconyte Books collaborate on Call of Cthulhu Gaslight & Regency novels
Posted by Michael O'Brien on 31st Aug 2023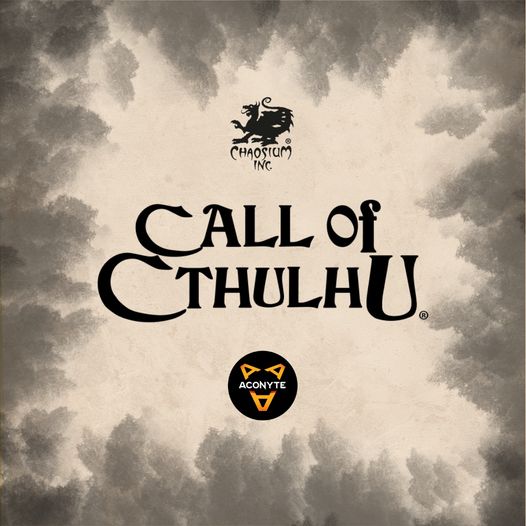 Nottingham, UK; Ann Arbor, MI, US — Aug 31st, 2023 — Asmodee Entertainment are delighted to announce that Aconyte Books, the fiction imprint of global games group Asmodee, has secured a multi-year agreement with tabletop RPG masters Chaosium to create and publish brand new novels in their Call of Cthulhu® game settings Regency Cthulhu and Cthulhu by Gaslight.
Call of Cthulhu is the revered roleplaying game of investigation and horror set in the 1920s. Inspired by the arcane fantasy fiction of HP Lovecraft and other writers who have added to the Cthulhu Mythos over many decades, this is the first time official licensed fiction has been set in Call of Cthulhu's acclaimed Victorian and Regency settings.
Regency Cthulhu sets the action in the late 18th Century England, where the masked balls and the society calendar are fronts for sinister cultists to further their own dark conspiracies. In the first Regency Cthulhu novel, Secrets & Sacrifices (April 2024), the indomitable Cassandra Wright goes in search of the cruel nobleman who drove her father to the grave. The secrets she uncovers, however, threaten to drive her to the brink of sanity. Author Cath Lauria is a talented Colorado-based author with a long track record in fantasy, SF, suspense and romance – and an unusual large collection of edged weapons.
The first Cthulhu by Gaslight novel will follow in summer 2024, revealing sinister forces threatening the very heart of terror-struck Victorian London. More information on this and future titles will follow in due course.
Aconyte's Publishing Director Marc Gascoigne said, "As long-time fans and players of the Call of Cthulhu roleplaying game, we're delighted to be able to collaborate on publishing novels in these fabulously imaginative settings. Let's face it – Bridgerton with extra tentacles and Sherlock Holmes facing off against shoggoths – what's not to love? Our mission to bring game worlds to life with new and untold stories makes these two series a perfect fit for the Aconyte range."
Jeff Richard, Chaosium's Creative Director, said, "We are so excited to be working with Aconyte on these stories. We can't wait for our fans to get a chance to read new Call of Cthulhu novels!"
Aconyte's novels are published in trade paperback and ebook format, and audiobook editions are currently under discussion. Distribution to the book trade is through Simon & Schuster, and to tabletop gaming stores by Asmodee.
About Aconyte Books & Asmodee Entertainment
Aconyte Books is the publishing arm of Asmodee Entertainment, a platform of global games publisher and distributor Asmodee, a member of the Embracer Group of companies. Our mission is to extend Asmodee's intellectual properties into novels and comics, TV/film, location-based entertainment, and consumer products, working closely with Asmodee Boardgames and our digital divisions. As well as novels from the many worlds of Asmodee's games, Aconyte is also extending its catalogue with key partnerships, including several ranges of novels set in the worlds of Marvel comics and Ubisoft's computer games. Learn more at aconytebooks.com and asmodee-entertainment.biz
About Chaosium Inc
Chaosium Inc was founded by visionary game designer Greg Stafford in 1975. The roleplaying games RuneQuest, Call of Cthulhu, Pendragon, and Basic Roleplaying – as well as such classic board and card games as White Bear & Red Moon (later called Dragon Pass), Nomad Gods, Arkham Horror, Credo, and Mythos all originated at Chaosium. Over the years Chaosium has won so many awards that we have actually lost count, including more than thirty ENnie Awards since 2014. Learn more at chaosium.com
Press contact
We'd love to tell you more about this project and our other releases. Check out aconytebooks.com or drop us a line using contact@aconytebooks.com