Back Graveyards of Arkham on Kickstarter and receive our huge, lovingly detailed new Arkham Map!
Posted by Michael O'Brien on 19th Jul 2023
Our Graveyards of Arkham Kickstarter is off to a great start, reaching its initial funding goal in under two hours! And with 20 days to go, we've got many surprises for backers to come to help us create our new series.
Back at any level $19 and above and receive an advance copy of our huge new Arkham Map!
Matt Ryan's lovingly detailed 1922 Town of Arkham Street Plan map is a massive 7000 x 5400 pixels, great for exploring every part of the legend-haunted city. The map even includes wryly authentic advertisements for local Arkham businesses, created by our master prop-maker friends at the H.P. Lovecraft Historical Society.
All backers $19+ receive a digital copy. Backers at Professor Pledge ($129) get a physical copy included in their rewards, with free worldwide shipping. This 23.4" x 30.4" / 59.5 x 77.3cm poster is printed on semi-gloss paper and will be shipped in a rolled tube - perfect for the tabletop!
Printed Map - with free worldwide shipping
The printed map is also available as an add-on in the Kickstarter, also with free worldwide shipping – you won't be asked to pay anything more for shipping when the rewards are ready to be sent.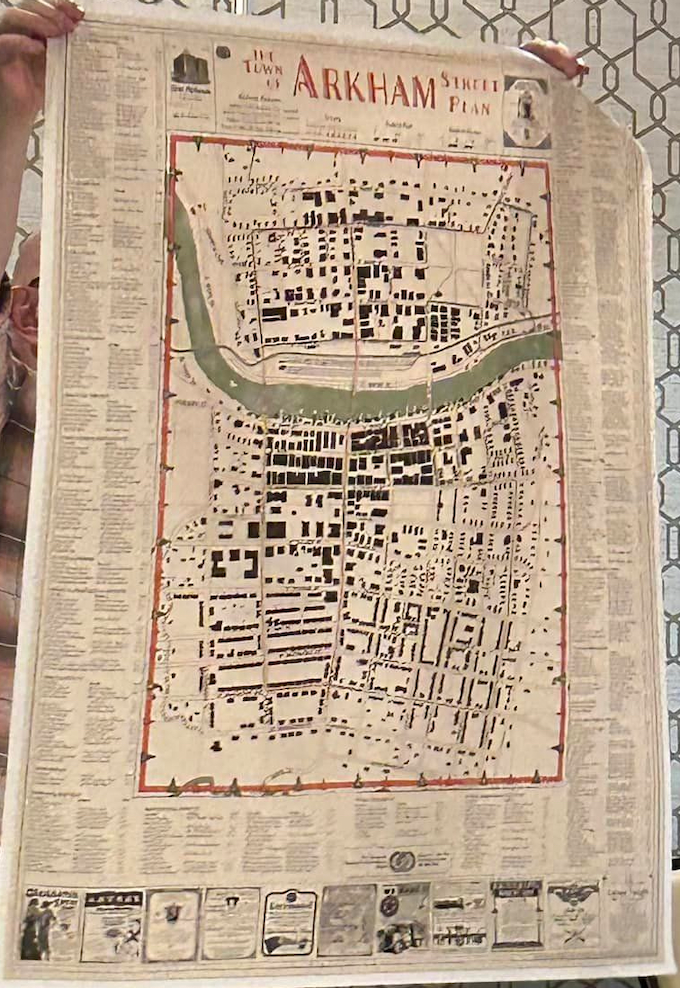 Our Graveyards of Arkham actual play series is set in the legend-haunted city of Arkham. When the show debuts you'll be able to follow where the players are going on the map! And use it yourself for your own Call of Cthulhu investigations and explorations.
Back our Kickstarter here!:
https://www.kickstarter.com/projects/chaosium/graveyards-of-arkham