At Gen Con - Chaosium Presents: The Calyx, Deepest Blue; plus meet Becca Scott at the Chaosium Booth
Posted by Michael O'Brien on 29th Jul 2022
Chaosium Presents: The Calyx, Deepest Blue
A cast of fabulous and well-known role-players graces the stage for this once in a lifetime comedy TTRPG where all the players want desperately to die before the day is out. Chaos ensured.
Keeper Becca Scott guides her fearless investigators: Aabria Iyengar, Saige Ryan, Josephine McAdam, and Paula Deming, through a two-hour Call of Cthulhu adventure to see who can make it out alive and with their sanity intact. Scream along with us at the convention Streaming Stage, where only the living can watch it live!
6pm EDT Thursday August 4th, ICC 101 and livestreamed on Gen Con Twitch.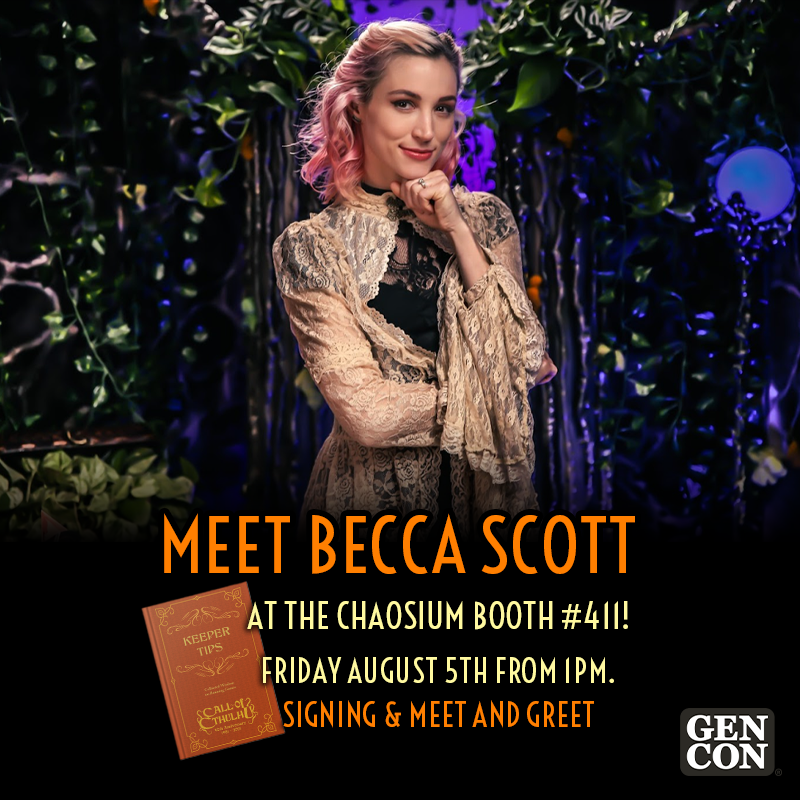 Plus, Meet Becca Scott!
Call of Cthulhu Keeper, actor, entertainer, and all-around wonderful human Becca Scott will be apparating at Chaosium's Gen Con Booth #411 on Friday August 5th from 1pm. Becca will be signing copies of the Call of Cthulhu Keeper Tips book, released for Call of Cthulhu's 40th anniversary. Copies of the book will be available for purchase at the booth.
And at Gen Con on Thursday August 4th at 6PM, Becca will be putting her Call of Cthulhu Keeper skills to work with Chaosium Presents: The Calyx, Deepest Blue, delivering scares to Aabria Iyengar, Josepine McAdam, Paula Deming, and Saige Ryan!