Announcing John Wick as International Guest of Honour for Chaosium Con Down Under, Sydney May 2-3
Posted by Michael O'Brien on 1st Feb 2020
Award-winning game designer John Wick is International Guest of Honour for Chaosium Con Down Under, taking place in Sydney Australia on May 2-3, 2020.
With extensive game industry credentials (Legend of the Five Rings RPG, 7th Sea, Orkworld, etc), John joined Chaosium in 2019 as Creative Director of the 7th Sea RPG and also writes for other Chaosium game lines, for which he has great affection. As he said when joining the company in April 2019:
"My first RPG was a Chaosium game. My second RPG was a Chaosium game. My third RPG was a Chaosium game. Saying 'I'm excited to be joining the Chaosium team' just doesn't do it. I've respected and admired the company for over thirty years. I'm joining the same company who started me on this journey and I couldn't be prouder."
At Chaosium Con Down Under, John will be participating in panels and workshop, GMing games, and running his own new LARP, After the Dragonrise, set in Greg Stafford's world of Glorantha. We are excited to be bringing John to Australia for the first time!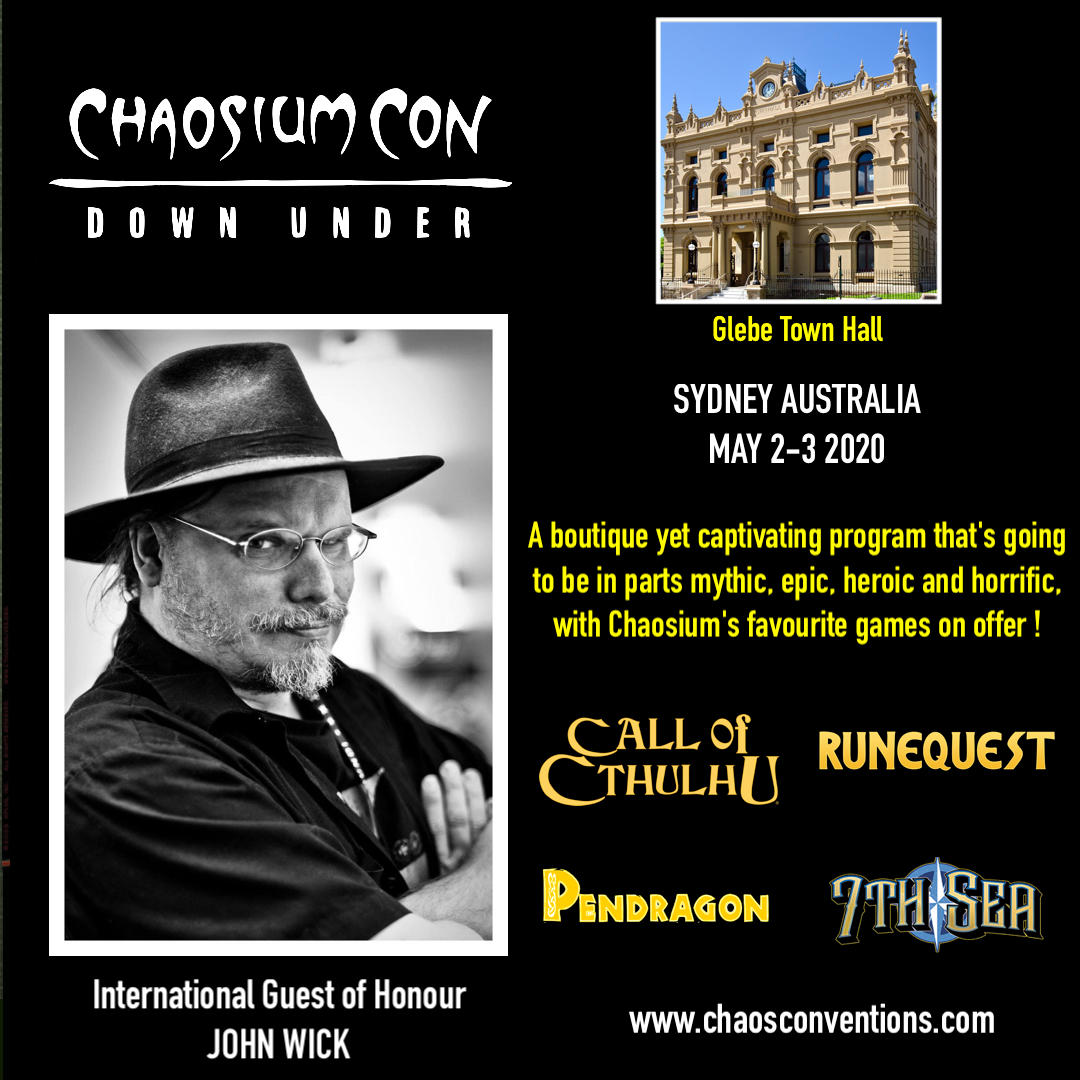 About Chaosium Con Down Under
Chaosium Con Down Under takes place on 2-3 May, 2020 at the evocative and historic Glebe Town Hall in inner Sydney, Australia. We're planning a boutique yet captivating program that's going to be in parts mythic, epic, heroic and horrific, with Chaosium's favourite games on offer including Call of Cthulhu, RuneQuest, Pendragon, 7th Sea, HeroQuest, and more.
Ticketing opens later this month, and spaces are strictly limited due to the boutique size of the venue. Sign up to our Chaosium Con Down Under mailing list to be the first to know when ticketing opens!
We are also currently recruiting GMs, who get free entry to the convention: details here.