The Stars Are Right - New Chaosium Delivers on Kickstarter Promise
Posted by Michael O'Brien on 11th Apr 2016
When Greg Stafford and Sandy Petersen returned to take over the reins at Chaosium in June last year, they announced that fulfilling the much-delayed Call of Cthulhu 7th edition Kickstarter was their key priority. This also became the first priority of the new management team from Moon Design Publications (Rick Meints, Jeff Richard, Neil Robinson, Michael O'Brien) who joined the Chaosium ownership in July.
Finally then, the stars are right: yesterday, the last of the four shipments of Call of Cthulhu being sent around the world arrived at its destination! Once the cargos clear customs, distribution centres in the United States, Canada, Australia and the UK will begin sending Kickstarter backers their rewards at last.
"It's been a long and challenging road getting to where we are now, but the physical editions look and feel wonderful", said Rick Meints, Chaosium president.
In a Kickstarter update last October, Meints let frustrated backers know that when Greg and Sandy assumed the management of Chaosium on June 2nd, 2015 no books were being printed, let alone shipped. There was, simply, no money. Moon Design has provided the funds out of their personal pockets to both produce and ship the backer rewards, as well as settling numerous other debts Chaosium incurred to writers, editors, and artists. "We are doing this to save Chaosium, the company we love and grew up with", said Meints.
Chaosium enabled backers to follow the ships' progress with the #ShipsofCthulhu hashtag, and two particularly dedicated Call of Cthulhu fans were even on hand to photograph the arrival of the final ship at Southampton yesterday (best Twitter comment,"DAMN - that's a lot of books")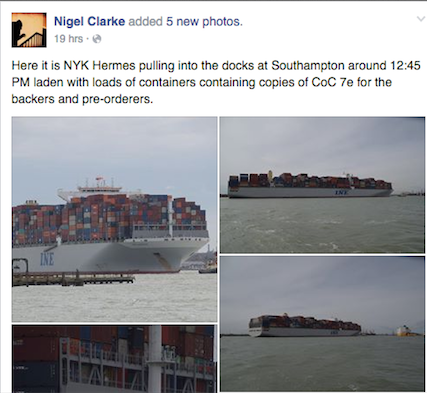 This initial shipment consists of:
Keeper's Rulebook (Hardcover, Softcover, Leatherette)
Investigator's Handbook (Hardcover, Softcover, Leatherette)
Keeper's Screen Pack
above three items in a slipcase
Nameless Horrors Softcover book
Petersen Guide to Lovecraftian Horrors (Hardcover and Softcover)
Meints explained to backers why other rewards items from the Kickstarter were not part of this initial shipment, "We wanted to get the core products to everybody as quickly as possible, while working within the limits of an extremely tight budget. T-shirts, mugs and the like were not included because if a packing slip or customs invoice for this first shipment had any mention of a 'non-book' item the whole shipment could be unfairly subject to import taxes, customs duty, or VAT, and nobody wants to pay that if it can be avoided."

For anyone who missed the Kickstarter, the 5 initial shipment items are also now available for preorder via BackerKit. Once the Kickstarter Backers have been sent their initial shipments, pre-orders will then be processed, followed shortly after by distribution and retail orders.
Instead of shipping all of the rewards from a single location, and at a much greater expense, the new Chaosium has spent a great deal of time and effort setting up a four location fulfillment network with warehouses in Australia, Canada, the United Kingdom, and the United States. This was also done to ensure fewer damaged and lost parcels.