Join the Group Read of the Guide to Glorantha!
Posted by Michael O'Brien on 27th Jun 2017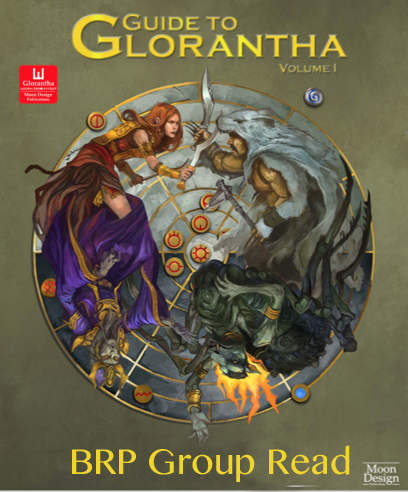 A "Group Read" of the monumental two-volume Guide to Glorantha has commenced over on BRP Central - The Chaosium Forums. Interested fans of Greg Stafford's mythic universe are welcome to take part.
Glorantha is one of the oldest and most influential fantasy role-playing settings. It is the discovery of Greg Stafford, who has accumulated that universe's myths, legends, and other lore since 1966. The Guide to Glorantha won the 2015 Diana Jones award for excellence in Roleplaying.
David Scott, who is helping coordinate the group read says it is very similar to a book club discussion:
"We've put together timetable, and everyone reads the chapter before the start date. As you read you can think about what interests you, and maybe make a few notes. We spend the week discussing that section on BRP Central, we read the next chapter, and continue."
With the entire Guide to Glorantha over 800 pages long, group reading the whole way through is going to be an engaging and enriching activity for many weeks to come.
Anyone who would like to join in can!
Volume One has been split into sixteen weeks. Week One, discussing the opening chapter, is here.
Where can I get The Guide?
If you're looking for a copy of The Guide to Glorantha, it is available exclusively from Chaosium.com. We currently have stock in all three of our fulfilment warehouses (US, UK, Australia). The Guide is available in print (as a two-volume slipcase edition), which comes with the PDF included. It is also available as a PDF only.