ENnies spotlight: Call of Cthulhu Keeper Screen Pack
Posted by Michael O'Brien on 17th Jul 2017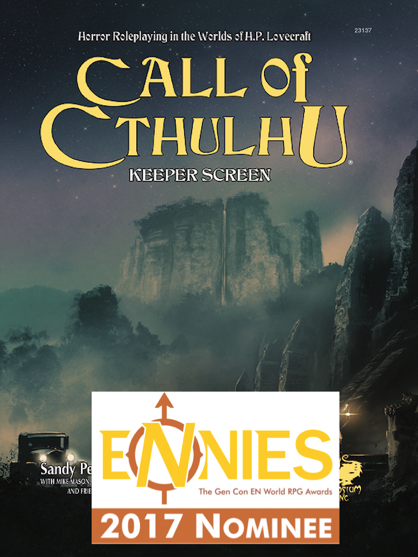 The Call of Cthulhu Keeper Screen has been twice nominated—for its wonderful maps (BEST CARTOGRAPHY), and as the BEST AID/ACCESSORY.
The three panel 34 inch screen itself features an evocative night scene of Call of Cthulhu adventure by Spanish artist Ardila, with useful rules, stats and charts on the Keeper side.
Inside, there are two 1920s ready-to-play scenarios set in Lovecraft Country by Mike Mason and Scott Dorward, plus twelve ready-to-play pre-gen investigators.
The pack also includes eye-catching color wall maps of Lovecraft Country, the World of Cthulhu, and Arkham & Environs. These are by skilled cartographer Stephanie McAlea.
As it happens, Steph's own publishing company, Stygian Fox, is also in contention for several awards: BEST ADVENTURE and BEST ELECTRONIC BOOK. These are for the excellent licensed Call of Cthulhu supplement The Things We leave Behind.
Fortunately, you can support Chaosium and Stygian Fox in your ENnies voting: it's a preferential system, so you can cheerfully vote for both!
Voting closes on July 21: http://www.ennie-awards.com/vote/2017