Eldritch Chrome - now available as Print, E-Book and Kindle
Posted by Michael O'Brien on 12th Apr 2016
Unquiet Tales of a Mythos-Haunted Future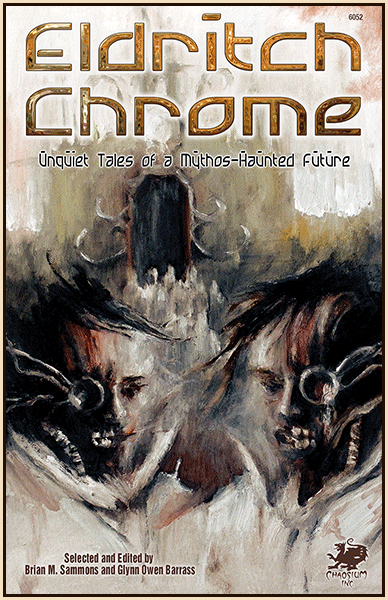 Chaosium presents the Eldritch Chrome anthology - now available in E-Book formats (EPUB, MOBI, PRC) and Kindle, as well as good old-fashioned print...
DURING THE DECADES since H.P. Lovecraft first wrote of the Cthulhu Mythos, many authors have crossed his themes into other genres, enhancing his original vision with stories taking place in the distant past, in the far-flung future, and in myriad places in-between.
Cyberpunk tales are written in dark, gritty, film-noir styles. Their protagonists live and die at the bottom echelon of an electronic society gone awry. They may be seedier, poorer, and less inclined to make moral judgements than stoic Lovecraftian New Englanders, but in Cyberpunk-Cthulhu tales they encounter the same horrors as their more-genteel predecessors.
Confronting monstrous entities and fiends from beyond space and time, the Cyberpunk-Cthulhu hero may wield high-tech weapons and have other advances at his or her disposal. To beings where time has no meaning and whose technologically is so advanced that their actions seem supernatural or powered by magic, no human finds an advantage.
This is the Cyberpunk-Cthulhu world—mythos horrors lurk at the edge of society, mythos-altered technology infects human beings, dark gods lurk in cyberspace, and huge corporations rule society while bowing to entities inimical to humankind.
Selected and edited by Brian M. Sammons & Glynn Owen Barrass. Cover art by Daniele Serra. 272 pages.
Available as Trade Paperback from Chaosium: http://www.chaosium.com/eldritch-chrome
Available as E-Book (EPUB, MOBI, PRC) from Chaosium: http://www.chaosium.com/eldritch-chrome-ebook
Available for Kindle from Amazon: http://www.amazon.com/dp/B01E4J5XW2/ref=cm_sw_su_dp
Available as Watermarked PDF from DriveThruFiction: http://www.drivethrufiction.com/product/180466/Eld...
ISBN-10: 1568823894 ISBN-13: 9781568823898
The Tales include:
Obsolete, Absolute by Robert M. Price
The Place that Cannot Be by D.L. Snell
The Battle of Arkham by Peter Rawlik
The Wurms In the Grid by Nickolas Cook
SymbiOS by William Meikle
Playgrounds of Angolaland by David Conyers
Sonar City by Sam Stone
The Blowfly Manifesto by Tim Curran
Flesh & Scales by Ran Cartwright
Inlibration by Michael Tice
Hope Abandoned by Tom Lynch
Immune by Terrie Leigh Relf
Real Gone by David Dunwoody
CL3ANS3 by Carrie Cuinn
Dreams of Death by Lois Gresh
The Gauntlet by Glynn Owen Barrass and Brian M. Sammons
Indifference by CJ Henderson
Open Minded by Jeffrey Thomas