Unnatural Selections #68: 'Viral' goes viral
Posted by Michael O'Brien on 16th Oct 2022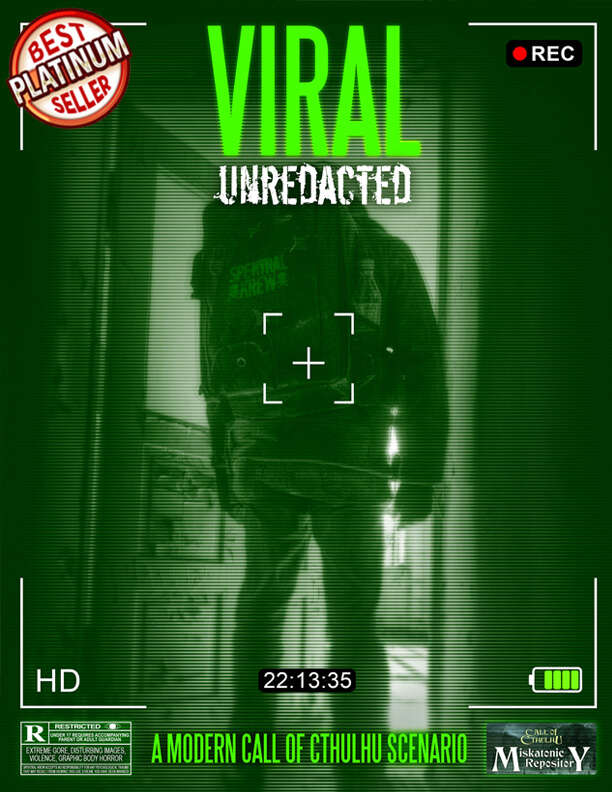 The 'Unnatural Selections' series is our regular round up of notable Chaosium reviews worth a look.
Congratulations are in order for Viral: A Modern Day Call of Cthulhu Scenario by Alex Guillotte and Bud. In record time it recently hit Platinum sales status in the Miskatonic Repository, our site for independent Call of Cthulhu creators at DriveThruRPG.
You could say it went er.. viral.
This is what reviewers and purchasers have said about it:
"Viral is a masterpiece and every fan of horror roleplaying should play in it – it manages to take all those 'limitations' of modern horror [roleplaying] and turn them into terrifying strengths… where having a direct connection to YouTube, cellphones etc actually ends up increasing the tension as the PCs go deeper." — 1ShotAdventures, Top 10 Horror RPG Adventures You MUST Play.
"A fantastic example of how to do a modern day (Call of Cthulhu) adventure right." — Seth Skorkowsky.
"A highly original, superbly produced and insidiously chilling modern Call of Cthulhu scenario that raises the bar for creativity and production values among Miskatonic Repository scenarios." — Paul StJohn MacIntosh, RPG.net.
"The next time you head out to a gaming convention or gathering around your home table, consider a night of horror with [Viral]... You and your table will have a memorable time and a great story to tell." — Rolling Boxcars.
"A premium role-playing product with exceptional art and layout. 5 Stars" — Michael, F., DTRPG customer review.
"Great pace, great concept and a very atmospheric feeling of mounting dread. Nice maps, images and production values are very much appreciated. 5 Stars" — Michael H., DTRPG customer review.
"The rich back story will make it a really fun scenario to run as a keeper, and all the handouts, artwork, maps, and pre-generated characters are well thought out and cohesive throughout. 5 Stars" — Tristan N., DTRPG customer review.
"All in all a great little scenario, which I intend to run for my home group next time they agree to take a break from fantasy RPGs. 5 Stars" — Debbie B., DTRPG customer review.
"This has to be one of the best modern day Call of Cthulhu scenarios, I've ever played... Highly recommended. Buy it! 5 Stars" — Fabio, DTRPG customer review.
"An excellent modern Call of Cthulhu scenario which takes a unique concept and aligns it with a fantastic location, dripping with atmosphere and gradually introduces small shocks that ramp up into mind-shattering revelations! Loved it! 5 Stars" — Jim M., DTRPG customer review.
Viral: A Modern Day Call of Cthulhu Scenario is available in the Miskatonic Repository at DriveThruRPG in PDF and premium colour softcover and hardcover formats.