Unnatural Selections #18: Call of Cthulhu Video Game fan wiki and some 2018 retrospective reviews
Posted by Michael O'Brien on 9th Jan 2019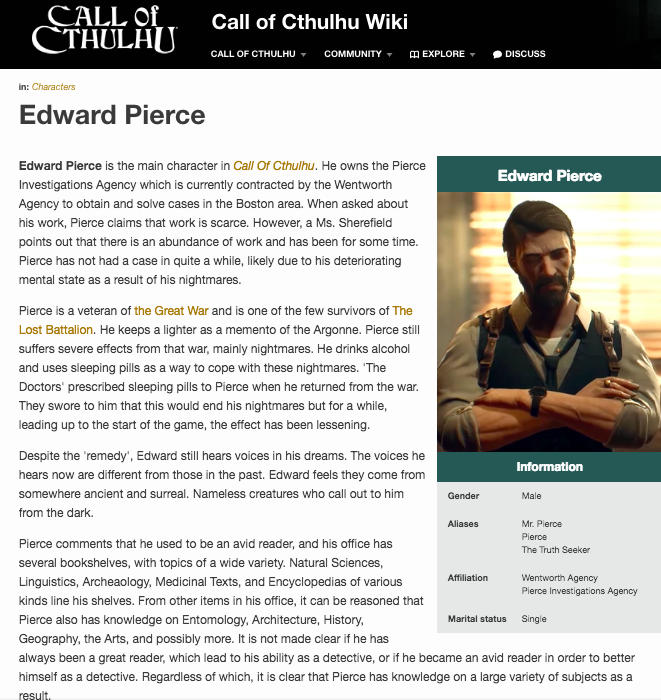 Call of Cthulhu the Official Video Game now has a Fandom.com Wikia, with community-created pages about the game, its setting, and its characters - check it out here. Feel free to contribute!: http://call-of-cthulhu.wikia.com.
Call of Cthulhu has featured in these reviewers' retrospectives for 2018 which we liked:
"A game made for fans of H.P. Lovecraft's works, players familiar with his writings will see subtle references to other stories by the writer."—Horrorfuel, Top Five Horror Games of 2018.
"Actually largely based on the pen-and-paper RPG more than the original story itself, but it does an overwhelmingly good job at making you feel like you're actually in an early 1900s New England and right in the middle of Lovecraft's world. The gameplay is mostly puzzle and story oriented, with very little combat of any kind throughout, but really makes you feel like a detective who got sucked into this strange and macabre world. Many grotesque and disturbing scenes and situations are scattered throughout, and kept me very intrigued to the end. Definitely worth playing for any fans of Lovecraft, the tabletop RPG game, or just horror games in general."—Selective Hearing, Steve's 2018 Video Games Year in Review.
"We didn't play a lot of games with "lead/main characters" this year so our vote goes to [Edward Pierce - the protagonist in Call of Cthulhu]. He had a great development throughout the game about over coming issues and helping others."—MKAU Gaming, Games of the Year (2018).
PC Mag, Six games You'll want to play in January.
Nominee for Gameitall.com's "Best Adapted Game of the Year" – Game it All.
"For fans of horror and all things scary, Call of Cthulhu is the game for you. For anyone wanting to experience a psychological horror fix, then this is for you too. To get the best out of this title, play this game in the dark and alone with headphones as it will immerse you in its cosmic horrors from start to finish. There are a few gameplay mechanics that need work, but those issues can be forgiven as the whole experience was a joy to play. 8/10."—Gaming Respawn.
[Cyanide Studios has] "released several real gems and Call of Cthulhu is absolutely one of them. Respecting its source material while keeping the pace up to gaming standards is a masochistic endeavour, as is balancing modern gameplay elements with the works on which it's based, but Cyanide pulled it off at every turn, bringing great American literature to life in a game. The entire experience is a love letter to one of the best American writers of the last two centuries and the weird, frightening worlds he created… I'm giving Call of Cthulhu an 8.5 out of 10."—airentertainment.biz.
"One of the things I love most about the game play? Fighting is rarely the best course of action. You have to use your wits, investigative abilities, and growing knowledge of the occult. I'm way too busy to have started this f*cking game right now, but there's no turning back now."—Biff Bam Pop!.
"my favourite indie game probably has to go to Call of Cthulhu – which captured the Lovecraftian themes brilliantly."—Dark World Gaming, Our Games of 2018.