RuneQuest: the legendary game returns to the Japanese market with a new edition announced
Posted by Michael O'Brien on 10th Feb 2023

Today our friends at FrogGames announced a forthcoming new licensed Japanese edition of RuneQuest: Roleplaying in Glorantha, the mythic fantasy RPG created by Greg Stafford and first published by Chaosium in 1978.
Hobby Japan translated and sold a portion of RuneQuest 3rd Edition from 1987 to 1994. At the time, the game was even more popular in the Japanese market than Dungeons & Dragons and it still has many fans in Japan and abroad. FrogGames's announcement has been well-received by TTRPG fans in Japan.
Publication of the new Japanese edition is scheduled for the fall of 2023.
Please stay tuned to FrogGames and Chaosium on social media for further developments.
---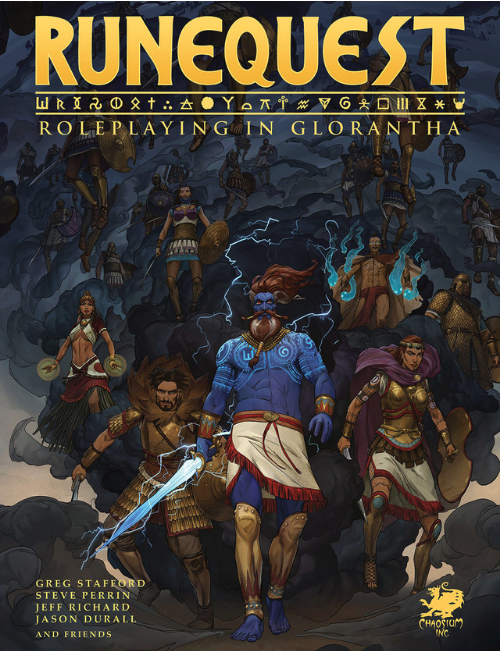 2023年秋の出版を予定しています。

『RuneQuest』は、Greg Stafford氏によって制作され、1978年からChaosium社によって出版されている神話ファンタジーRPGです。青銅器時代のグローランサ世界を舞台に、魔法と謎、そして非日常的な冒険に満ちた『RuneQuest』は、その長い歴史から業界の名作として知られています。
同作品は日本市場において、1987年から1994年まで『ルーンクエスト第3版』の英語版の一部をホビージャパンが翻訳・販売しました。当時、日本市場では『ダンジョンズ&ドラゴンズ』を凌ぐ評価を誇っていました。現在でも国内外に多くのファンを持っています。
最新版である『RuneQuest: Roleplaying in Glorantha』が2018年にChaosium社から出版されました。
FrogGamesは『RuneQuest』の日本語版を制作しており、予定では2023年秋に発売予定です。
今後の展開については、FrogGamesとChaosiumのソーシャルメディアにご期待ください。