Rick goes west and weird with Down Darker Trails
Posted by Michael O'Brien on 17th May 2019
With the imminent print release of Shadows over Stillwater, the second release in our Down Darker Trails line, we spoke with Chaosium president and head of production Rick Meints about what's happening in our "Weird West" RPG series:
Q: What is Down Darker Trails?
Down Darker Trails, or DDT as we call it, is our "Weird West" Lovecraftian setting for Call of Cthulhu. The American West of the late 19th century is probably familiar to everyone as an era of gold rushes, outlaws and lawmen, discovery and expansion. But in Down Darker Trails, the Cthulhu Mythos is also present and stirring, ready to lure the unwary and tempt the power hungry with whispered secrets of cosmic knowledge. Kevin Ross has created an amazing Old West of hidden worlds, lost treasures and cities, dubious deals and unsavory alliances.
Q: DDT was a while in coming, wasn't it?
When I joined the company in mid 2015 we had a slew of projects that had been in the works for a number of years that we wanted to accelerate. Down Darker Trails was a three-book "Weird West" series that Kevin Ross had been contracted to write back in 2013, and was largely already written and ready for editing and layout.
It had to stand in line behind fulfilling our many outstanding Kickstarter obligations. We very much thank Kevin for hanging in there with us as we sorted out all of the company's problems and finally got his first Down Darker Trails book published in 2017, after 4 years in development. It was a bit embarrassing to see Kevin chat about it online back in early 2015 and making excuses for us, when we really should have apologized for not publishing it sooner.
But we were very happy with the reaction it received, with lots of positive reviews and two ENnies nominations (it won silver for Best Monster/Adversary). And we have got the next release in the ongoing line coming out less than 18 months later.
Q: What is Shadows over Stillwater?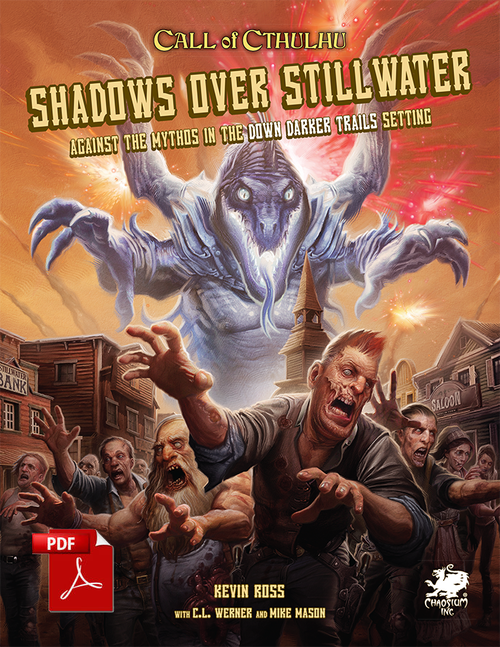 Shadows over Stillwater is the second Down Darker Trails book, and came out in PDF in early 2019. Last week we showed off an air-shipped advance copy of the hardback, and the rest are on their way by ship as we speak. The book is a set of new scenarios and locales for Down Darker Trails, including a three-part campaign.
Q: You mentioned Kevin was contracted back in 2013 to write three DDT books - what's the third in the series?
Kevin's third book is titled "Let Sleeping Gods Lie", and is further Weird West adventures for your Down Darker Trails campaign.
Q: Got a release date for that yet?
Kevin has completed the manuscript, and it's in our production pipeline for a 2021 release. In the meantime, there's plenty of Western Mythos adventures to play through in the first two books!
Q: Will there be further books in the Down Darker Trails line?
As Kevin says in his original pitch, Down Darker Trails is "a west of hidden worlds, of lost treasures and cities, with a history going back thousands of years, from ancient humans to native Indians to Spanish explorers. It's a half-continent filled with beauty, mystery, terror -- and adventure." There are certainly plenty more Darker Trails for us to go down and explore....
Q: What about Down Darker Trails fiction?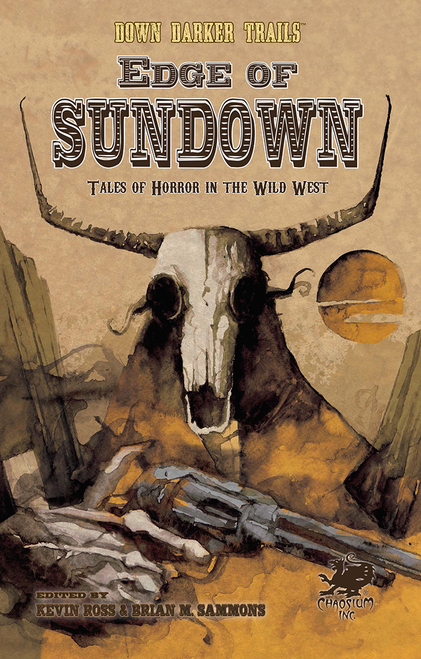 Yes, the first release in our Down Darker Trails fiction line is already out: Edge of Sundown, edited by Down Darker Trails author Kevin Ross himself and Brian M. Sammons. We have other DDT "Mythos Terrors in the Wild West" fiction releases in the pipeline too.