Red Thread of Fate Kickstarter rescheduled to launch on Valentine's Day (Feb 14)
Posted by Michael O'Brien on 18th Jan 2020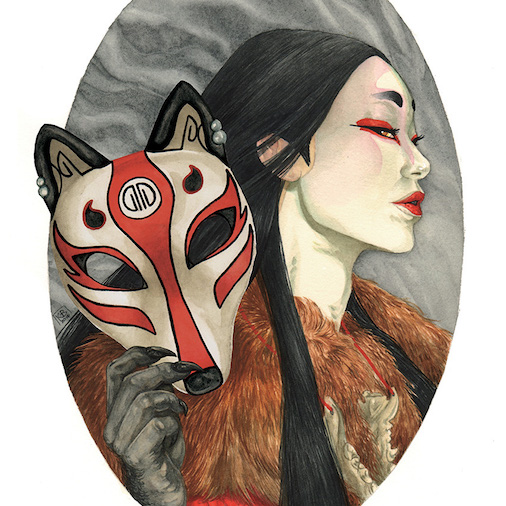 We have rescheduled the launch of our Red Thread Kickstarter to Valentine's Day (February 14, 2020). An appropriate start date for a game about bringing together lovers who are destined to be together!

Some Q&A about the game...
WHAT IS THIS GAME ABOUT?
The Red Thread of Fate is Brazilian-Icelandic designer Pedro Ziviani's game about love, poetry, and Japanese shapeshifters. His prototype was Winner of the 2017 Game Chef Award, and now Chaosium is excited to be producing the game for a general audience.
Set in 10th Century classical Japan (the Heian Period), in this game you take on the role of henge, mythological shape shifting animals. Using your special henge powers, you can interfere in the affairs of mortals, changing their lives and their fate. Weaving a tale of tragedy or romance with the help of poetry and dice, you work together to unite two lovers by reattaching their tragically severed red thread of fate.
THE RED THREAD OF FATE
In Japanese folklore, legend tells how gods tie a red thread to the pinky fingers of people joining together those destined for each other. The thread may get entangled, constricted or stressed, but the lovers will always find each other. In rare cases, however, the obstacles are of such insurmountable magnitude that the thread may be broken.
WISHING UPON A FULL MOON
As the game starts, two people are forlornly contemplating the full moon. They feel broken hearted, but don't know why. Unbeknownst to them, their red thread of fate was recently cut. Feeling a deep sorrow, they ask a favor of Tsukuyomi, the god of the moon. They beg the god to fix whatever it is that gnaws at their heart, and ask that he help them find whatever is meant to fill the emptiness they have recently started feeling so acutely.

Tsukuyomi listens to their prayers. The god gathers a group of henge (shape-shifting animals), and gives them a mission to help reattach the red thread of fate, and consequently help the two broken-hearted people find each other.
THE HENGE
Players take on the role of the henge, mythical creatures that are tasked with fulfilling the mission from Tsukuyomi. All players work cooperatively throughout the game.
Sign up to THE RED THREAD OF FATE PREVIEW LIST here and we'll let you know the moment our Kickstarter commences! Plus share previews with you in the lead-up...