Prince Valiant and King Arthur Pendragon for 2019!
Posted by Michael O'Brien on 12th Oct 2018
CHAOSIUM is very happy to announce that we will be distributing Greg Stafford's Prince Valiant and King Arthur Pendragon RPGs for our friends at Nocturnal Media, starting next year. Originally published by Chaosium many, many years ago, these new editions from Nocturnal Media will be available in early 2019, along with Stewart Wieck's Story Path & Whimsy Card Decks.
Releasing January 2019
PRINCE VALIANT
Elegantly simple RPG based on the classic comic
CHA2736

MSRP $29.99
ISBN 978-1-64013-001-2
112 pages
Written by Greg Stafford

Outstanding for both beginners and experienced players, the Prince Valiant® The Storytelling Game is a roleplaying game set in the Arthurian world of Hal Foster's masterpiece comic strip. The game is by world-renowned game designer Greg Stafford (RuneQuest, King Arthur Pendragon). This storytelling game's deliberately simple mechanics make it accessible to younger players. The ease of play allows players to cooperate and enjoy the social activity of collectively creating a story, a pastime made easier as players take turns as the Storyteller. Prince Valiant and the other characters are brought to life through Hal Foster's storytelling and stunning artwork.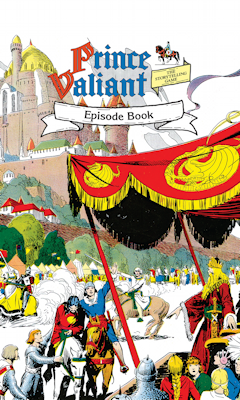 PRINCE VALIANT EPISODES
Dozens of scenarios for the Prince Valiant roleplaying game

CHA2737
MSRP $29.99
ISBN 978-1-64013-002-9
80 pages, full color, hardcover

A collection from 35 authors
A companion book to the Prince Valiant Storytelling Game, this scenario book features a wealth of short scenarios written by top roleplaying game authors.
Contributors include: Tobie Abad, Justin Achilli, Shannon Appelcline, Alan Bahr, Jeff Barber, Emily Care Boss, Bill Bridges, Richard Dansky, Bret Gillan, Jerry Grayson, Ed Greenwood, Jeff Grubb, B.J. Hensley, Will Hindmarch, Kenneth Hite, G. Christopher Klug, David Larkins, Sage LaTorra, Robin Laws, James Lowder, Paul Marzagalli, John Nephew, Chris Pramas, Dev Purkayastha, Laura Simpson, Epidiah Ravachol, Mark Rein•Hagen, Roderick Robertson, Bob Schroeder, Steve Sechi, Ethan Skemp, Lester Smith, Monica Valentinelli, John Wick, Malcom Wolter
Each scenario can be used by game masters to run an adventure or to inspire new and exciting stories of their own! Many brave adventures await your knights inside these pages!
Releasing February 2019
KING ARTHUR PENDRAGON
The new edition of Greg Stafford's award-winning roleplaying game.

CHA2730
MSRP $39.99
ISBN 978-1-64013-000-5
270 pages, full-color, hardcover
Written by Greg Stafford

Relive the grandeur, romance and adventure of the greatest of all legends — the story of King Arthur with this new edition of the award-winning roleplaying game by Greg Stafford.
Assume the role of a knight starting his career in the time of Uther Pendragon, undertaking quests and perilous adventures for your lord, for your lady-love, for the Church, or for your own glory. Win great renown with your laudable deeds and feats of arms, perhaps even winning the right to carve your name into the Round Table itself as the story of Arthur and Camelot unfolds around you.
STORY PATH AND WHIMSY CARDS
Display of 6 different decks used as accessories for any roleplaying game

CHA7412
MSRP $75.94
UPC 8-52436-00620-6
6 decks
By Stewart Wieck

Storypath Cards are a card accessory to improve roleplaying, no matter which game system is used. The cards provide a unique way to create more dynamic and detailed stories by harnessing players' imaginations. Cards allow players to break into the action and add a new detail or twist to the story. Usually, this is something which adds to the mood or atmosphere of the story but can also facilitate the player working with the GM to affect the plot.
This retail display comes with one each of six different decks each with their own theme. Five Storypath decks include the Path of Adventure, Path of Hope, and Path of Horror, as well as decks for Intrigue and Morality. Each deck is 36 linen-finish, tarot-size cards in its own tuckbox for $11.99. The sixth deck is the original Whimsy card deck of 54 story-crafting cards in a tuckbox for $15.99. Each deck of Storypath Cards contains 36 cards divided into these types: Theme Cards, Tone Cards, and Climax Cards.
Each of the cards has a title, a short description to guide their use, an illustration, and a number from one to seven that determines when it can be played.