​Out of the Suitcase #19: Another Mystery Solved... CHA2341
Posted by Michael O'Brien on 13th Aug 2021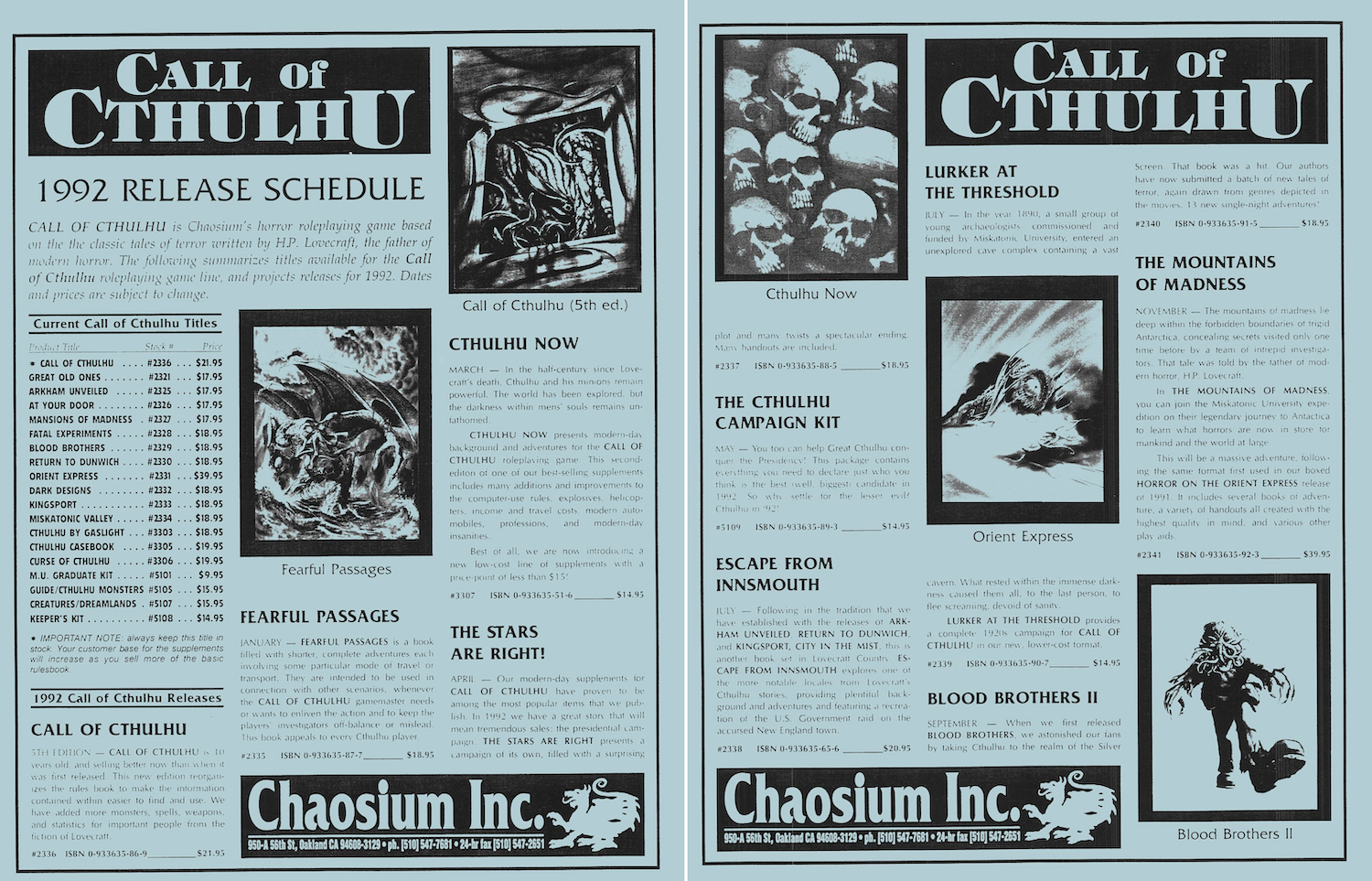 Chaosium President Rick Meints shares stories from a life-time as a collector of all things Chaosium.
Every so often we get a wonderful completist collector of Chaosium games ask us about some of our product numbers that never got used. One of the earliest ones we skipped was CHA2341 in the Call of Cthulhu product line. Up until last night I didn't have any reference to what that was supposed to be. It wasn't listed as a cancelled title, like Castle of Bones (CHA2715) or Undying Mars (CHA2391). As luck would have it I was looking for something totally unrelated and came across the answer. Once again, the Stars were Right!
On the second page of the Call of Cthulhu 1992 Release Schedule was...The Mountains of Madness...advertised as coming out in November of 1992 for $39.95. It was going to be a boxed set too! I started digging further and here is what Keith Herber had to say about it to Lynn Willis in 1993 (inter-company memo we have in the archives):
A Debacle. We have a terrible manuscript that's nearly unusable except as the most basic of outlines. Despite an apparent expertise in matters of polar exploration they failed to translate any of this into the manuscript. Whoever might take this project on will have to bone up. This is perhaps my one major failure while working at Chaosium. Overdue, they submitted little more than an outline, lacking finish, details, and a climax. This has been a long-awaited product that has gotten terrible advance publicity.
So why didn't we use the product number for something else?
Unfortunately, once you have announced to your distributors a specific product with a price, ISBN, and product code you are basically stuck with it. They put it into their ordering systems, and replacing it with a different book, even at the same price would probably lead to too much confusion, delay, and errors with ordering. You have set a stake in the ground that isn't worth the trouble of removing. That's why CHA2715 remains Castle of Bones and CHA2391 is Undying Mars even though neither project will ever see the light of day.
Fortunately, another writing team picked up the project a few years later and CHA2380 Beyond the Mountains of Madness debuted in 1999 (and is now available again in print!).