Out of the Suitcase #11: 1981 a Golden Age for Chaosium? Plus, a solution to Rick's real-life Call of Cthulhu mystery
Posted by Michael O'Brien on 25th Feb 2021
Chaosium President Rick Meints shares stories from a life-time as a collector of all things Chaosium
I pose the question: was 1981 the Golden Age of Chaosium?
While Chaosium has had a number of epic years full of ground-breaking RPG releases, I submit for debate that 1981 was one of the best, if not the best year. Forty years ago this year, here's what Chaosium fans were offered:
Total retail price for all of these was $140... Since then Chaosium may have years where we released more product, no doubt, but just take a look at the 1981 range of brand new games:
P.S. In my last "Out of the Suitcase" post I had a real-life Call of Cthulhu mystery to solve: Gene Day's iconic depiction of Cthulhu, as featured on the front page of the Call of Cthulhu first edition rule book (below right), was not actually commissioned for that project. In fact, it predated the Call of Cthulhu RPG by several years, and we were curious to find out what its origins were.
After doing some research and having a wonderful, informative discussion with David Day, Gene's younger brother (who is an excellent artist as well – for Chaosium he did the cover art for 1985's Alone Against the Wendigo), here's what we believe to be the case:
Gene used to draw pictures every day, as in every single day, whether it was for an assignment or just to build his portfolio. There are actually several Call of Cthulhu-related pictures in his 1979 art book All Things Dark and Dangerous that we believe Gene just drew as part of his daily routine.
It's very likely that Greg Stafford, who had been working with Gene since the mid-70s, knew about this art book. When it came time to commission art for the Call of Cthulhu first edition, which had a TOTAL art budget of $750, they commissioned Gene to do a color painting for the box cover (below left), and also purchased some of his pre-existing Cthulhu pictures as well.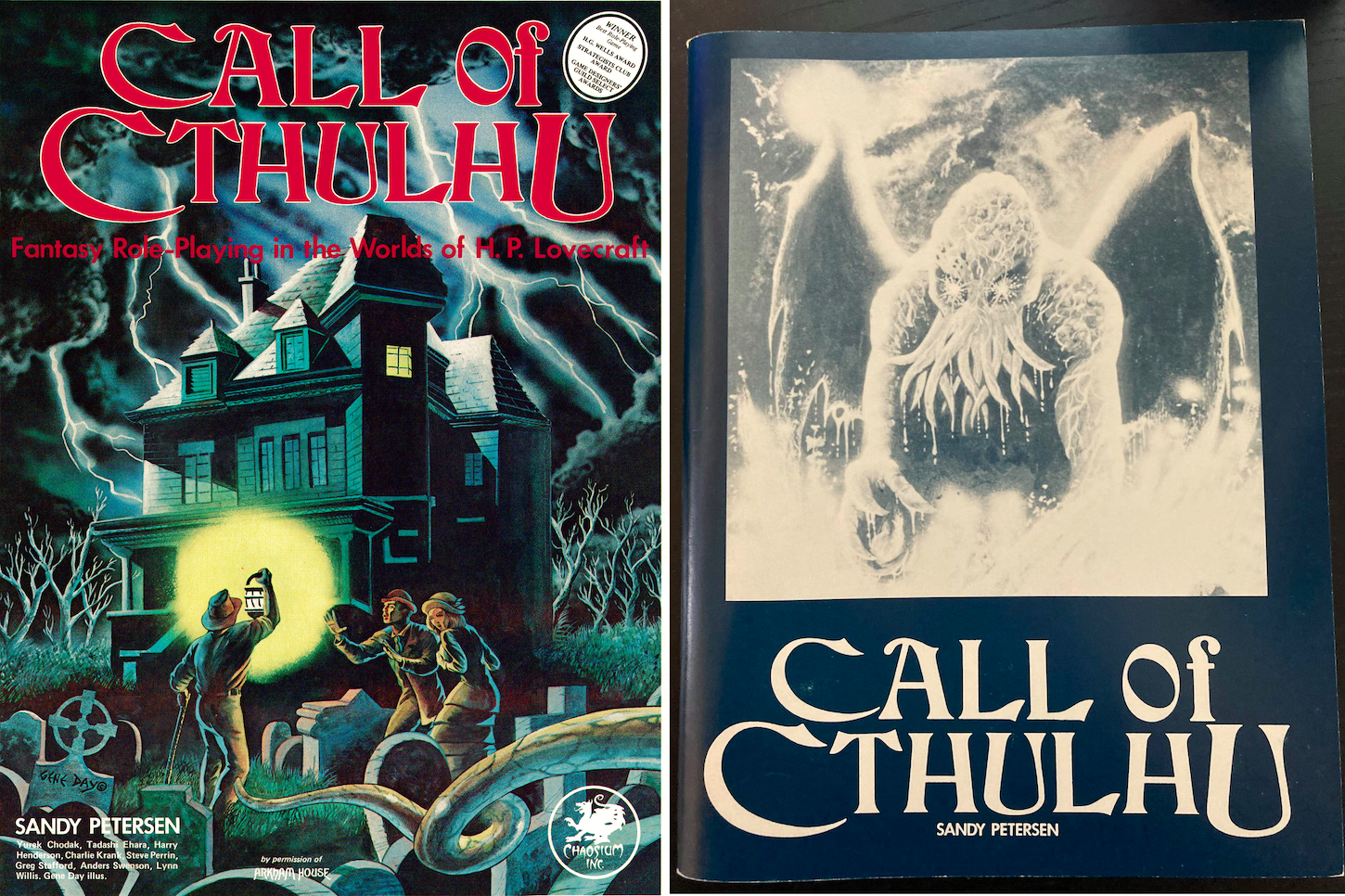 BTW, it turns out that a color painting by Gene Day is a very rare thing. David explained that Gene was color blind and preferred working in ink. His brothers even labelled his paint tubes for him and would color-check his work.
Alas, we don't know who is in possession of the original cover painting. I spoke with Sandy Petersen about this, but he was not involved in the art direction – this was all done before he became a Chaosium employee, which was shortly after Call of Cthulhu was published.