Out of the Suitcase #10: can some Investigators help solve this mystery with Library Use...
Posted by Michael O'Brien on 21st Feb 2021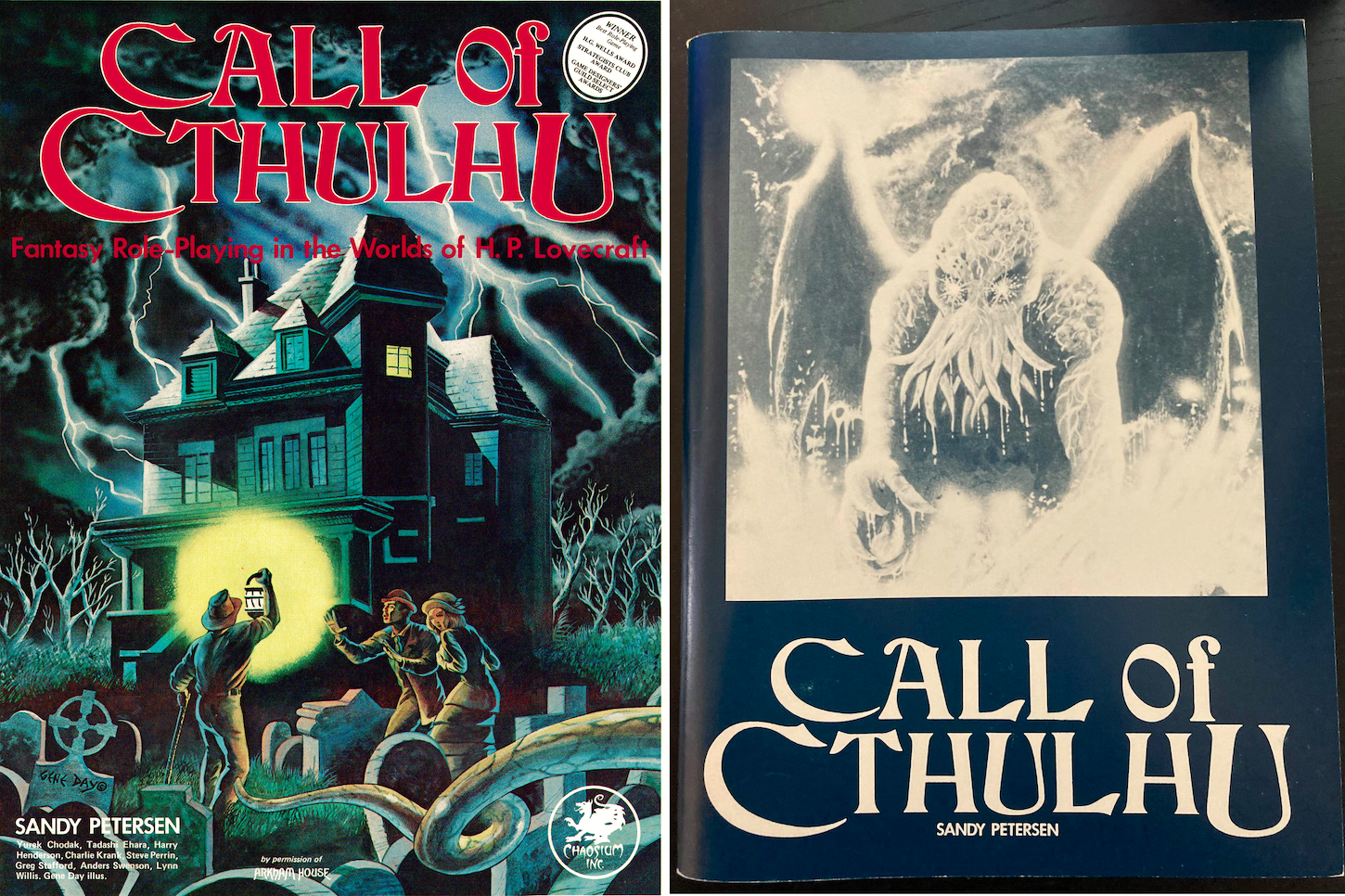 Chaosium President Rick Meints shares stories from a life-time as a collector of all things Chaosium
Forty years ago, on Halloween 1981, The Chaosium debuted our Call of Cthulhu RPG on an unsuspecting world. Canadian artist Gene Day, well-known for his work for Marvel Comics, painted the classic box art of a party of investigators in a graveyard (note the headstone in the bottom left corner!).
Inside, the cover of the rules book featured the now iconic picture of Cthulhu rising out of the ocean. This art was also by Gene, who died in 1982.
Until this month, what I didn't know was that Gene did not draw this particular Cthulhu image for the Call of Cthulhu RPG. He created it for an earlier unknown publication. Perhaps the following clues will allow one of you to help me figure out what that publication was? Here's what I know:
In early 1979, Shadow Press (of Canada) published a special edition collection of Gene Day's art called All Things Dark and Dangerous. They printed 950 numbered copies, each signed by Gene. It has a general list of the publications all the art first appeared in (see pic at right below), but unfortunately not on a piece-by-piece basis.
So which of these publications was the Cthulhu picture originally in? More than likely, it is from something published between 1973-1978...
BTW there's lots of early Gloranthan and Lords of the Middle Sea art featured in the book too!
These are a few of my favourite things...
Speaking of first edition Call of Cthulhu, a while back I got to contemplating how many of the early Call of Cthulhu volumes of quaint and curious forgotten lore would fit inside the original two-inch Call of Cthulhu box. We recently brought back the one-inch Chaosium box with the Call of Cthulhu Starter set and it was well received, so a two-inch box might be doubly so. Some people know we have a desire to see what's been out of print for far too long finding a way back into print.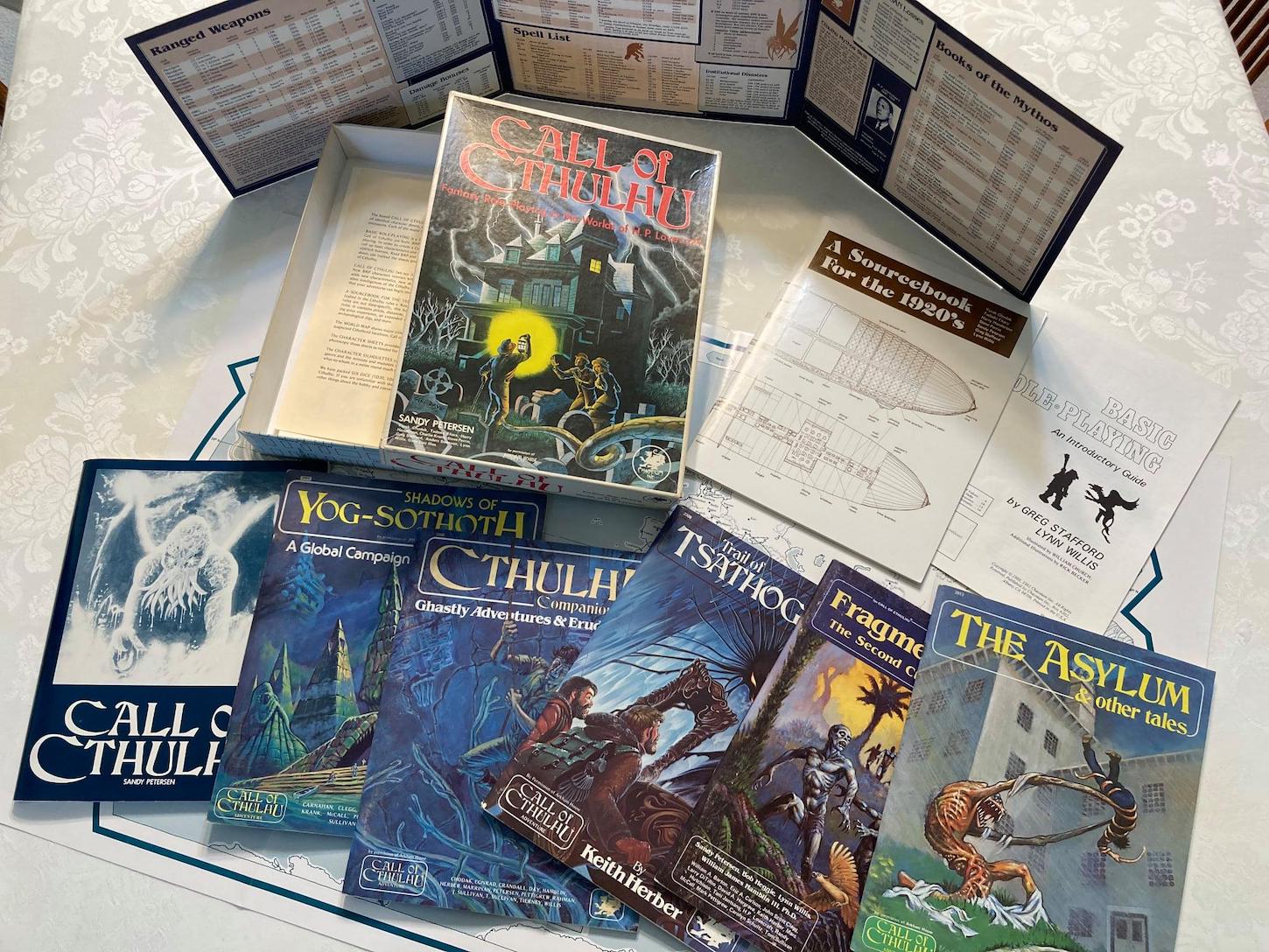 Lo and behold, all of the items on the table fit neatly inside of the box! Normally, a 40th anniversary is "ruby" themed, but that doesn't mean it couldn't have a substantial "paper" component to it as well...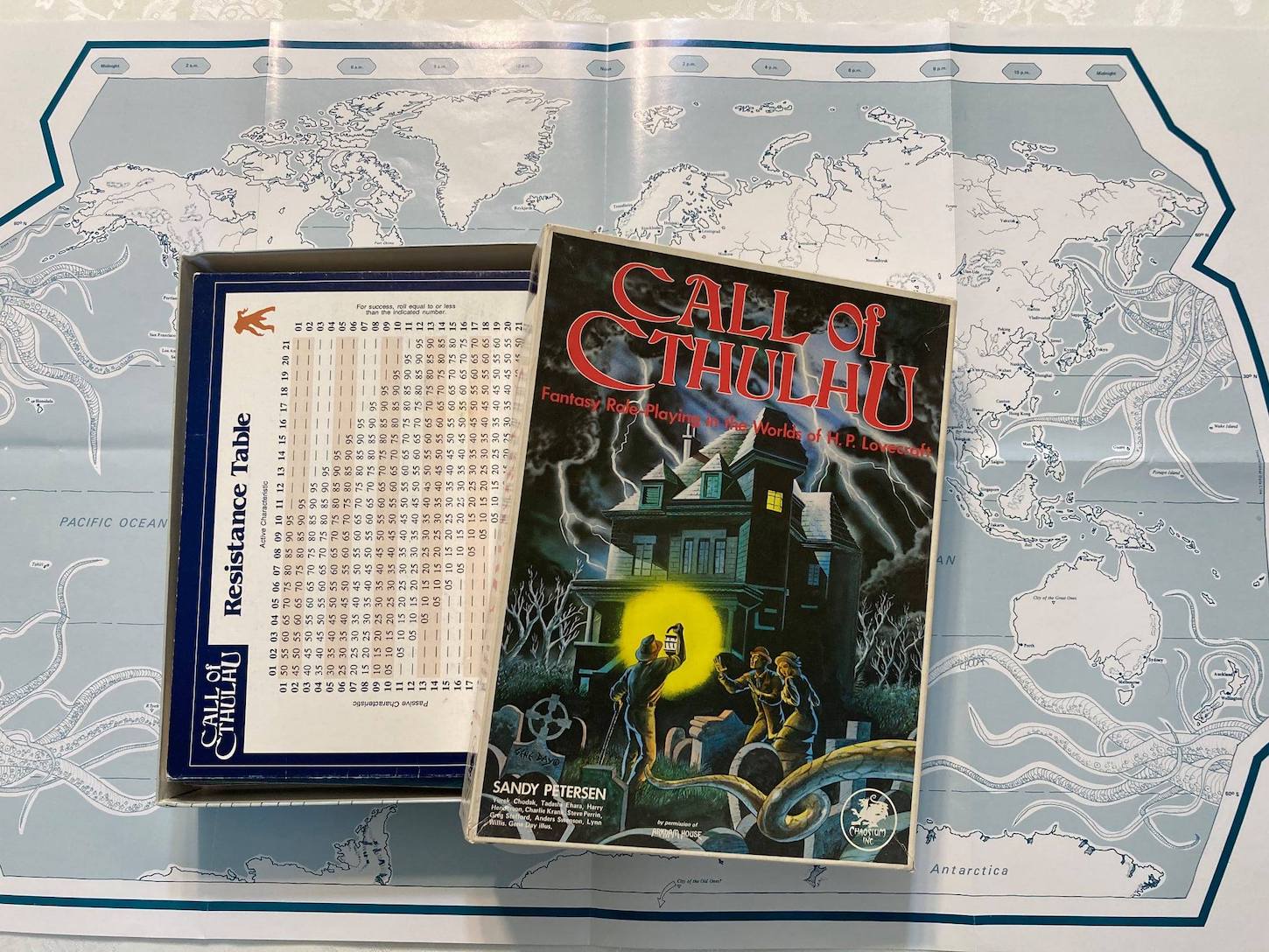 Note: The map fits too, but I wanted a cool background.