Miskatonic Monday: September and October community content releases
Posted by Michael O'Brien on 5th Oct 2020
It's Miskatonic Monday again, and there have been plenty of new community content releases in the Miskatonic Repository since last time – check them out!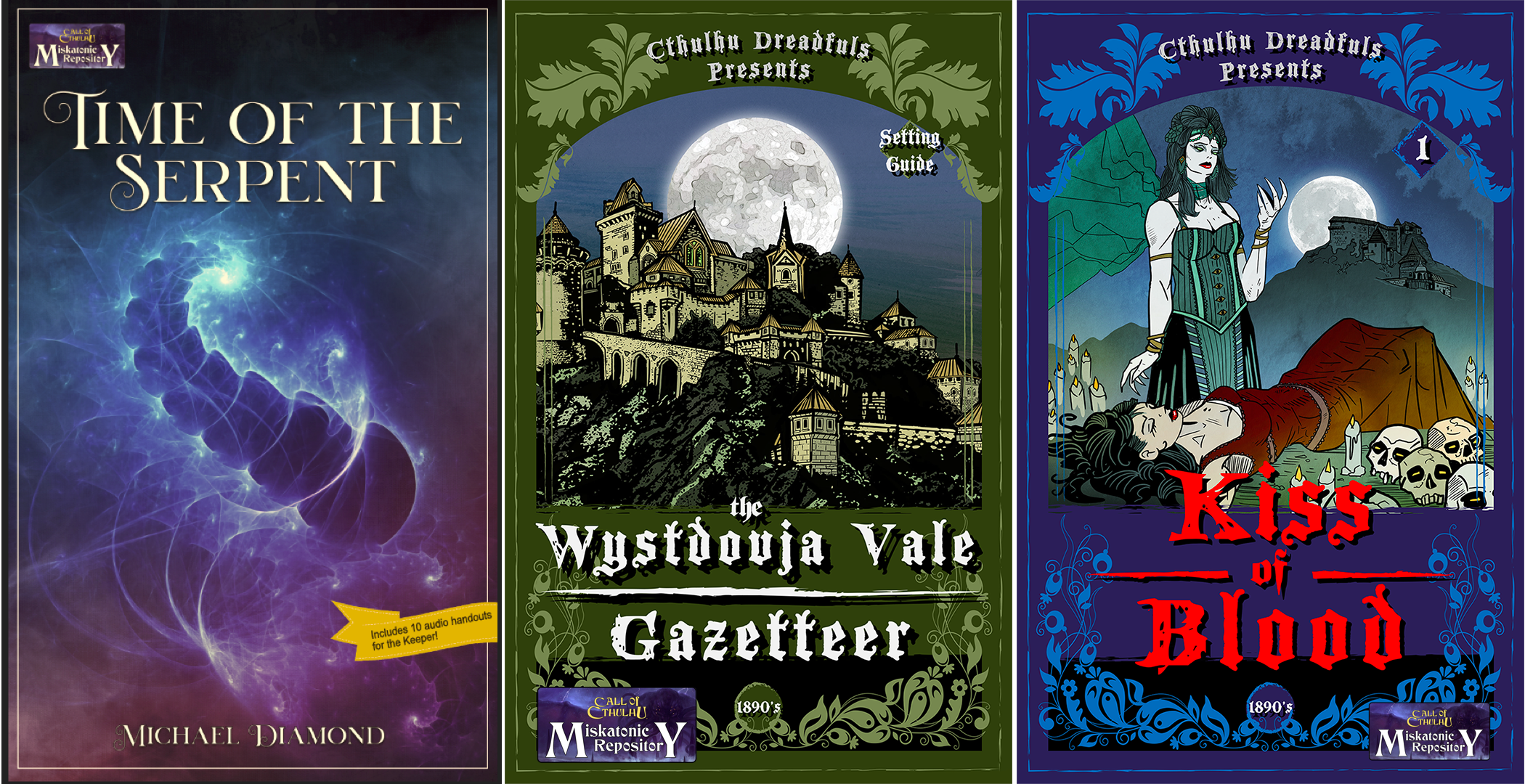 Time of the Serpent
Michael Diamond ($8.00, 60 page PDF plus 10 audio handouts)
Time of the Serpent is set in the urban depths of 1920s Chicago. The investigators are quickly caught up in a grisly double murder at a local speakeasy called, The Kiss.
With little time to act, the investigators must dive into the dark and blood-filled world of Chicago's meat packing industry to determine who killed the two men and why. As the mud and muck grows, the investigators slowly sink deeper into the mystery about the murdered men's employer and the chilling truth about what slithers at night in the Chicago Union Stockyards.
Cthulhu Dreadfuls Presents #0 - The Wystdovja Vale Gazetteer
The Brinoceros (Pay-What-You-Want, Suggested Price $3.00, 40 page PDF)
Tucked away in a forgotten corner of the Austro-Hungarian Empire lies the County of Wystdovja. A gaslight era setting for the Call of Cthulhu RPG. Far from Victorian London, Wystdovja presents a remote countryside more akin to Gothic tales of horror fiction. Dark castles, creeping marshlands, isolated noble estates, superstitious villages, haunted forests, and lonely railway stations connect far-distant points of civilization.
The Wystdovja Vale Gazetteer provides Investigators and Keepers alike, with all the information they need to jumpstart a campaign in the Wystdovja River Valley, including overviews of the valley's history, government, cities, townships, geographic features, noble estates, rumors, legends, maps, and more.
Cthulhu Dreadfuls Presents #1 - Kiss of Blood
The Brinoceros ($9.00, 70 page PDF)
Kiss of Blood is an adventure scenario set in the Wystdovja Vale - a fictitious pseudo-European river valley located along the northwestern reaches of the Adriatic Sea, and set in the Gaslight Era of the 1890s. Something like H.P. Lovecraft's Arkham, or Ramsey Campbell's Goatswood, the Wystdovja Vale is an attempt to create a sandbox location where Investigators can pit themselves against the horrors of the Mythos, as well as more classic monsters of Gothic horror, all while trekking about in horse-drawn carriages, Inverness cloaks, top hats, and mutton-chops.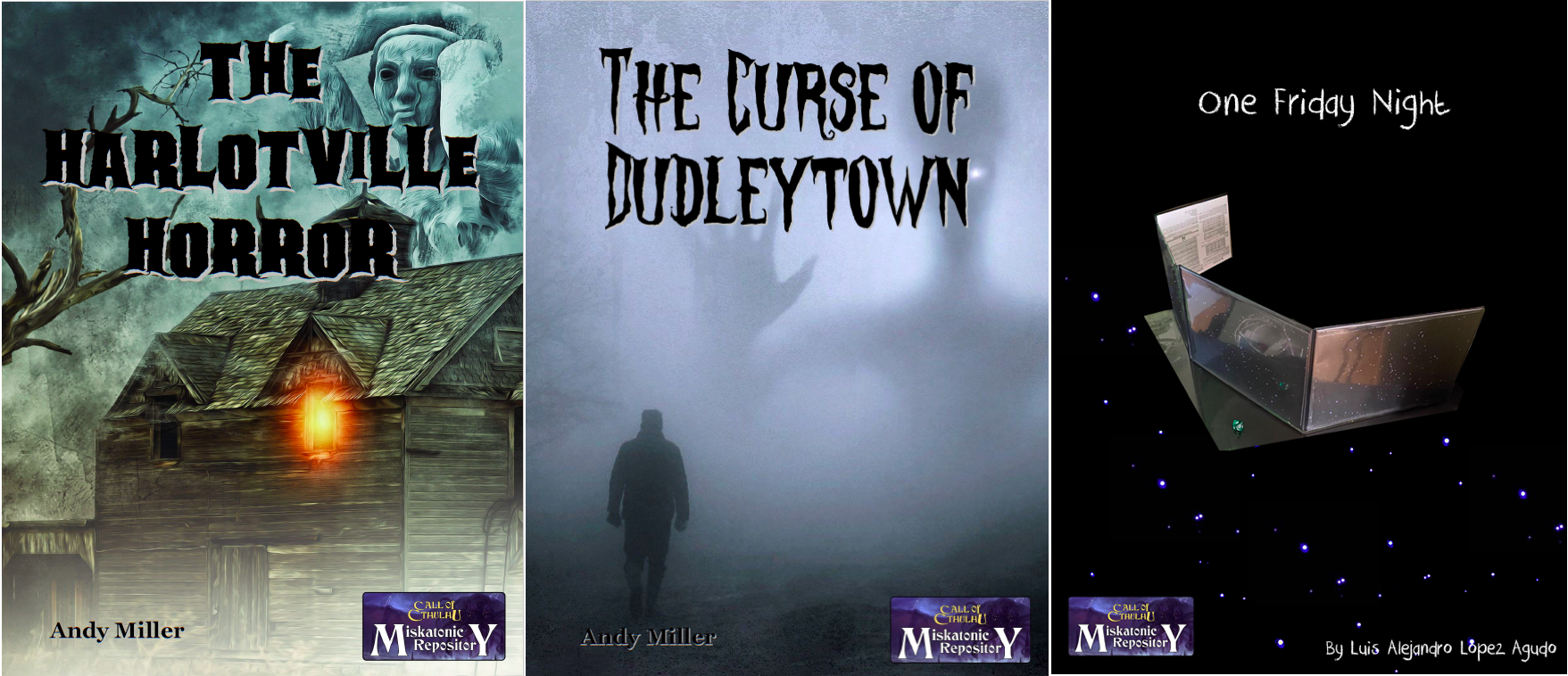 The Harlotville Horror
Andy Miller ($5.99, 60 page PDF)
There's Oil in Them Thar Hills! - It's 1929 and, with the Hobbs Strike of last year, it's time to go looking for oil again. As employees of the Northwest Refining Company, you've been tasked with following up on some college professor's clues that there might be a good deal of oil under the Plains of San Augustine. But there are a few unanswered questions. For instance, why is a vice-president of the company organizing the whole operation instead of one of the managers? And why did he bring his secretary? No one knows what happened to the ghost town of Harlotville nearly 75 years ago, but you're only going to be about 20 miles from civilization so nothing could really go wrong, could it?
The Curse of Dudleytown
Andy Miller ($6.99, 70 page PDF)
In 1811, a small group of people travel to the gloomy community of Dudleytown in Cornwall, Connecticut, which seems to stand in the perpetual shadow of the mountains near it. Each of them has their own reasons for visiting the tiny community, but they soon find that rumors of a curse over the plateau upon which Dudleytown stands are more dangerous than they ever imagined. Will they be able to escape from the curse that haunts the stone-walled fields of Dudleytown … or will it destroy them all? Be careful where you step, for sometimes terrible things lurk just beneath your feet.
One Friday Night
Luis Alejandro López Agudo ($2.34, 12 page PDF)
This scenario is a one-shot to be played in one session that uses many meta-game concepts. The characters have lived many adventures and have fought many mythos entities. In this scenario some strange things are happening to the world they live in, and the investigators will discover that the pillars of the reality they are living in are very fragile and, in fact, they are part of the mind of a superior being. They will also find out that this could be the last day of their existence and that they have to find out how to avoid their disappearance before the day ends.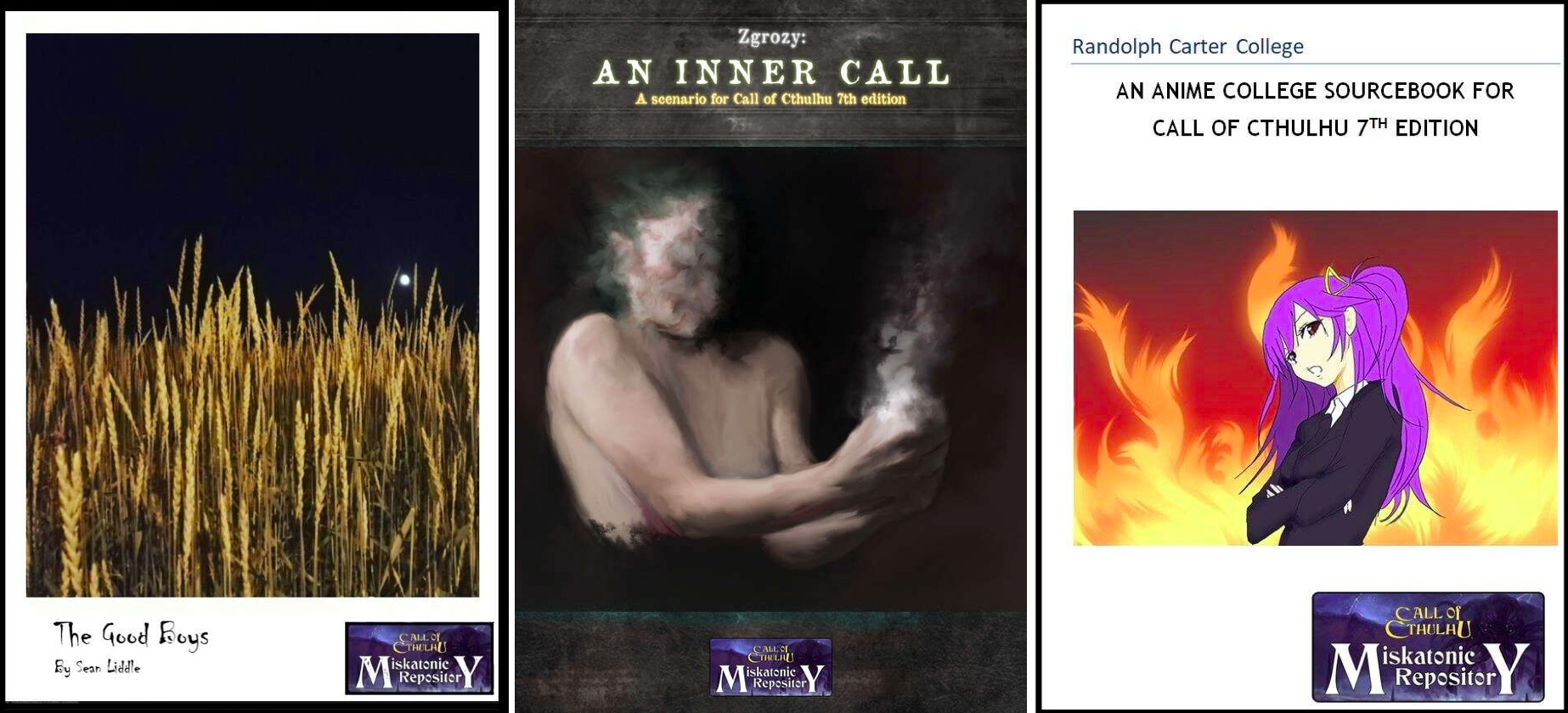 The Good Boys
Sean Liddle ($2.95, 16 page PDF)
Three young war heroes have a new job that is dangerous, secretive and likely to end in their deaths before they reach middle age. They, well, I cant tell you, they do something, that, well, is exceedingly important to the survival of the community. They work for, well, I can't tell you that either. Its very secretive. If I told you, well, my life would be forfeit. If I told you, well, pehaps these three men would come to my home to deal with me....
An Inner Call - a Zgrozy scenario
Marek Golonka, Piotr Kozioł, Keith Mageau ($4.99, 29 page PDF)
The professor combined the Cthulhu folklore with his psychoanalytic studies, especially with Carl Gustav Jung's theory of archetypes and the collective unconscious. Wasserman has decided that this mysterious creature must be the form human imagination gives to an aspect of our own selves – a wild and brutal aspect that sleeps within us most of the time, as most Cthulhu myths agree that it sleeps somewhere under the sea and will one day return to teach people how to revel in boundless violence and cruelty.
To run this scenario as a one-shot you can use Zgrozy's Investigator Archetypes for Zgrozy (pay-what-you-want product).
Randolph Carter College for Anime-Punk
Carl Matthews ($5.00, 10 page PDF)
This book is intended as an addition to the Anime-Punk campaign setting already available at the Miskatonic Repository. This campaign setting is based around an Anime-punk style setting, with the characters fighting off Cthulhu-esque demons and monsters while still trying to get through college and hold down relationships and perhaps part time jobs.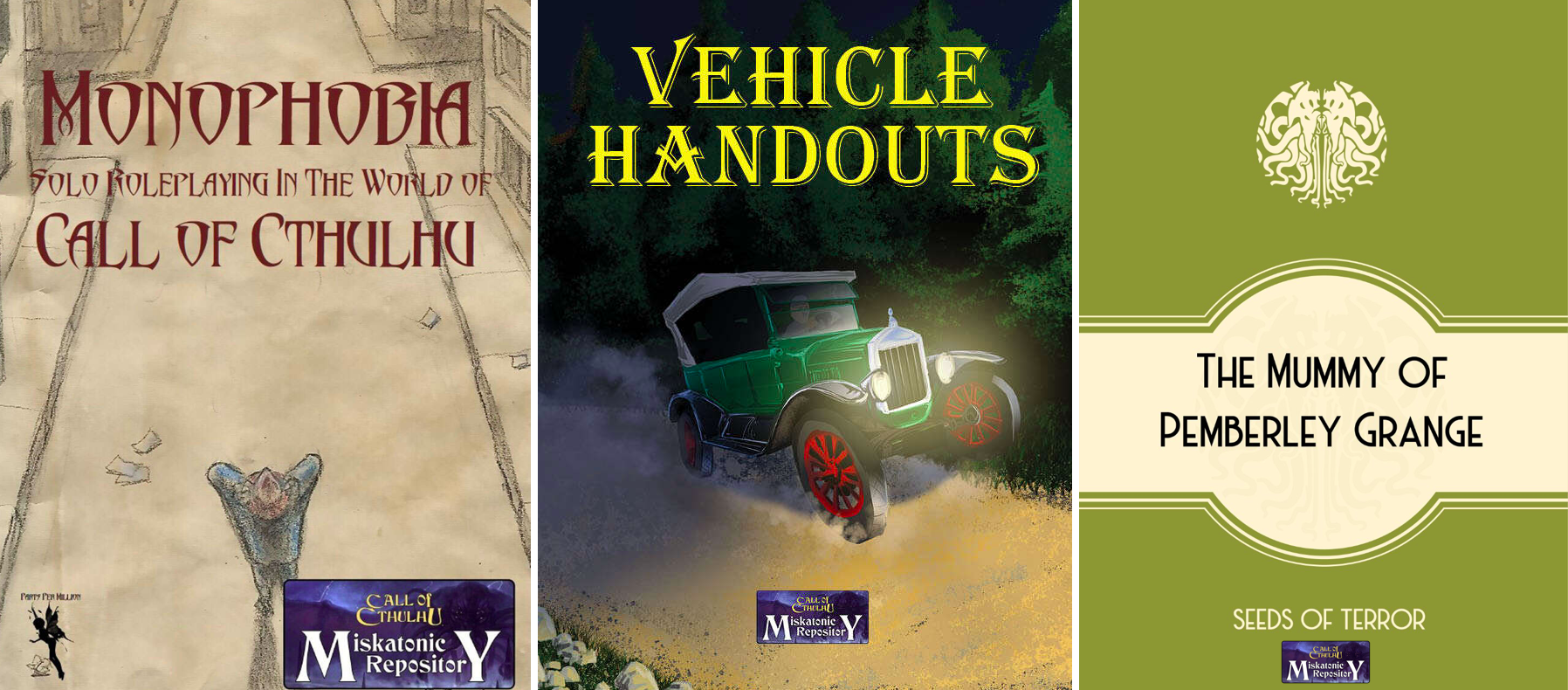 Monophobia - Rules Light Solo Roleplaying
Peter Rudin-Burgess ($4.95, 15 page PDF)
The solo rules in this booklet represent a light touch approach to solo play. There is one table for plot hooks to kick off a solo sandbox campaign.
Vehicle Handouts
Kevin Brethauer ($4.00, 12 page PDF)
Sixteen easy-to-use 1920s era vehicle handouts to enrich your game. Contains models from Dodge, Chevrolet, Ford, and more..
The Mummy of Pemberley Grange
Allan Carey, Nic Holland ($8.99, 22 page PDF)
Jessica Pemberley, rich socialite and Egyptophile, has shipped a mummy all the way from Cairo and has invited you to an exclusive "unwrapping party" at her manor house in the country.
This is the first in the concise and accessible 'Seeds of Terror' range by our friends at Type40. Ideal for introducing new players to Call of Cthulhu, they've been designed for people to pick up and play in one evening without hours of prep. Just have a quick read and dive right in, everything you need is provided including pre-gens!
The Mummy of Pemberley Grange actual play was put together for Melbourne International Games Week's Big Games Night In, Sunday October 4th 2020. The Keeper was the author, Type40's Allan Carey. Watch here on YouTube! :
Plus new titles from creators in Korean and Polish!
WANT TO TAKE PART IN THE MISKATONIC REPOSITORY COMMUNITY PROGRAM?
Under the Miskatonic Repository community content license, Call of Cthulhu fans can make their own work for use with the game line available to the public, using guidelines, templates, and art provided by Chaosium.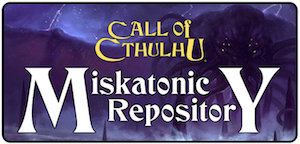 Whether you share your content for free or put it up for sale, this program is a digital home for terror that joins the dreamscapes of all who peruse it.