Miskatonic Monday: new titles for July 2020
Posted by Michael O'Brien on 27th Jul 2020

New Miskatonic Repository titles for July 2020! Check out the amazing community content being created for Call of Cthulhu!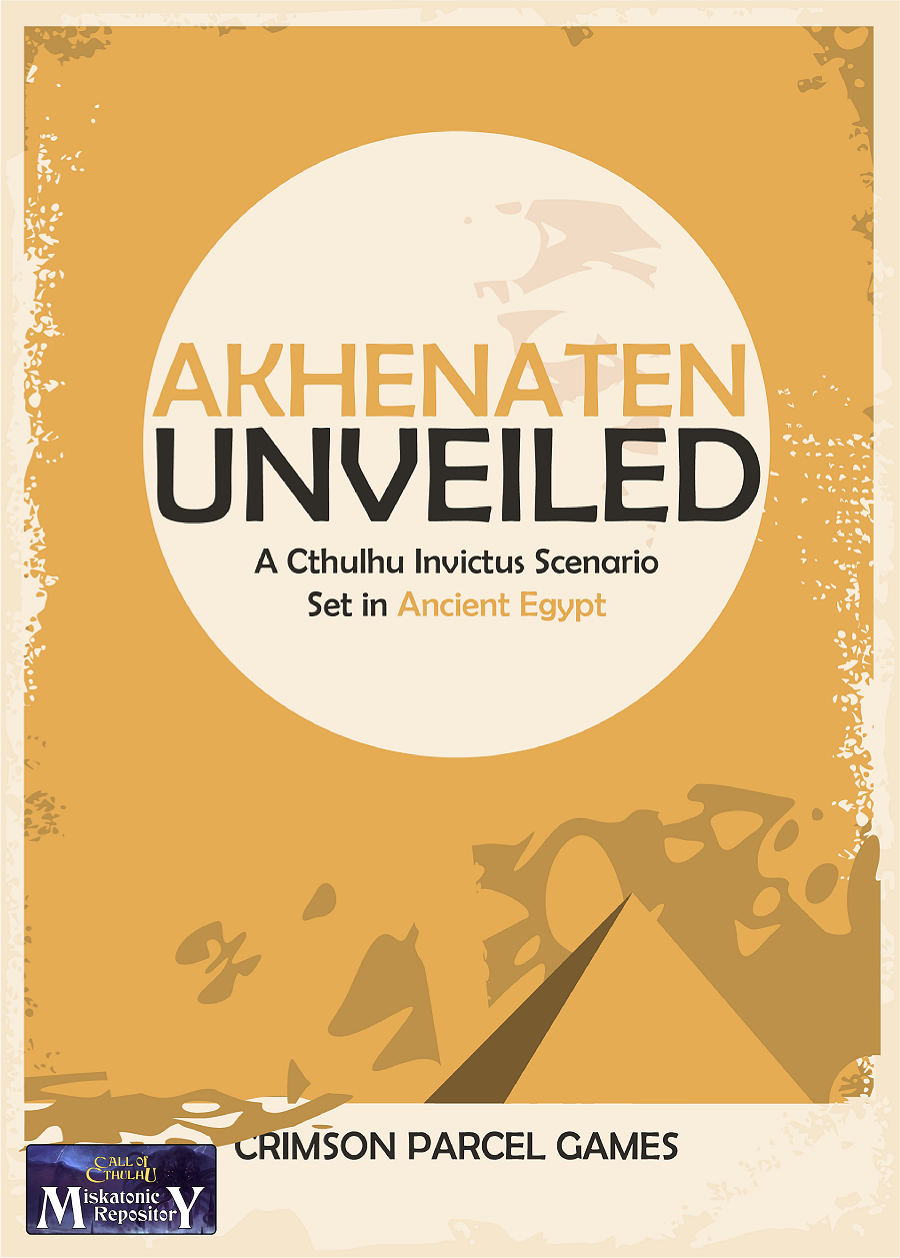 Akhenaten Unveiled
James Austin ($4.00, 35 page PDF)
In the year 1357 BCE, king Amenhotep IV rejected the Egyptian gods. In their place, there would be one new god: one he called Aten. Amenhotep became Akhenaten, the mysterious pariah-king of Egypt. Now it falls to you to kill this wretched heretic and save Egypt, and perhaps history itself, from the Cult of Aten.
Akhenaten Unveiled is a scenario for the Cthulhu Invictus ruleset. Set in 1336 BCE, in ancient Egypt's New Kingdom, the investigators will take on the role of a group of assassins.
The World of Necronomicon - a Zgrozy supplement
Marek Golonka, Piotr Kozioł, Keith Mageau ($1.99, 12 page PDF)
In Lovecraft's universe of cosmic horror, mysterious vistas or esoteric names like Cthulhu, Nyarlathotep, or Yog-Sothoth are the most terrifying to those who already grasp their connection to a greater, inhuman reality. Many of Lovecraft's heroes gain this grim awareness from one special book – "Kitab Al Azif" by an Arab poet Abdul Alhazred, a tome better known under its translated title "Necronomicon".
As a bonus when you buy this scenario you'll also receive two audio files with the Polish pronunciation of the word "Zgrozy", one of them calm and one slightly terrified.
Cinematic Environs: Survival [Call of Cthulhu Edition]
Alex Guillotte, Davae Breon Jaxon ($6.95, 62 page PDF)
In the world of Call of Cthulhu, where vast expanses of wilderness remain unexplored, the limits of the investigators are often tested when undertaking the simplest expedition. This book provides details regarding rations, finding potable water, starting fires, building a shelter, foraging for food, hunting, and caring for pack animals. Additionally, the book covers a variety of unique threats, from hypothermia to venomous insects, as well as natural solutions, such as herbal remedies, pest repellents, and securing a campsite. Also included a new occupation, new equipment, and 200 random events that can be added to almost any scenario to make things more interesting!
The Heat Heist of London: Article One, Blazing Infer-No
Ben Allsop ($5.12, 28 page PDF)
On the cold streets of London in winter, a hereto unseen malicious force is drawing the simple locals into a dark scheme, one which will see London city burn! Can the investigators find the true arsonist behind a market stall fire before the wrong man gets the noose? Will they find out what the culprit's disturbing motives truly are? Or will everything turn to ashes in their hands?
The first of a series of scenarios revolving around 20's London.
Nightmare in Providence
Justin Fanzo ($2.00, 32 page PDF)
The investigators have been recruited by the Providence police chief to investigate the coinciding disappearances of film director and nickelodeon owner Elias Hoffmann, as well as aspiring actress and local celebrity Marilyn Shepherd.
This adventure takes place in Providence, Rhode Island in the year 1928. This adventure contains a healthy mixture of combat and investigation, with a few puzzles as well.


Call of Cthulhu Occupation Kits: The Bundle
Phil O'Brien ($9.99, 55 page PDF)
13 easy-to-use guides for adding flash and depth to your Call of Cthuhu investigators and NPCs.
This bundle contains the following occupations:
Private Investigator, by Jon Hook
Journalist, by Dave Sokolowski
Bartender, by Bridgett Jeffries
Medical Doctor, by Geoffrey Groff
Actor, by Justine Wiesinger
Artist, by Alonso Aguilar
Undertaker, by Gail Clendenin
Professor, by Cameron Hays
Antiquarian, by Phil O'Brien
Explorer, by Heinrich D. Moore
Dilettante, by Maria Luihn
Hobo, by Steven Goodison
Occultist, by Evan Perlman
You can also purchase the pieces individually by searching for them separately. Just search for Call of Cthulhu Occupation Kit on DriveThruRPG.
Xebi Co
Joshua Callanta ($5.99, 45 page PDF)
It's a calm summer night in San Francisco. The usual night operator has passed away unexpectedly, and it's up to a group of telegraph operators to transmit the news from the top floor of the Xebi Co skyscraper to all corners of the world. Little do they know that something dark now stalks the quiet halls, and an unknowable evil sweeps in from the bay. Can they escape the horror that awaits them? Will they even survive the night?
An unsettling single session scenario inspired by the weird fiction tale The Night Wire.
Ultima Thule
Patrick Viggo Moeller ($3.95, 27 page PDF)
A mysterious island has risen from the depths of the Labrador Ocean between the coast of western Greenland and Canada. The investigators are a part of an expedition from the Miskatonic University lead by anthropologist Walter Hartmann to explore the island and to uncover how it has risen from the depths of the ocean.
Ultima Thule is a short 1-2 session scenario written for 3-5 investigators and pits the investigators against the island's aggressive inhabitants, a secret society dedicated to their demise, and one of the most dangerous creatures the mythos has to offer.
Hidden Within
Avery M. Viers ($0.99, 13 page PDF)
Earl and Lizbeth Lander are dog breeders who live near the city of Toledo, Ohio. Their nephew, Isaac Lander, has called for an investigation into the couple based on their state when he last visited. He found his Aunt and Uncle to have gained nearly twice their weight and acted in a strange manner. The police are no help, so he has called on outside aid before he leaves the area to return home. Little does he know that there are worms of another world hiding all around, giving secrets to their hosts in exchange for their bodies.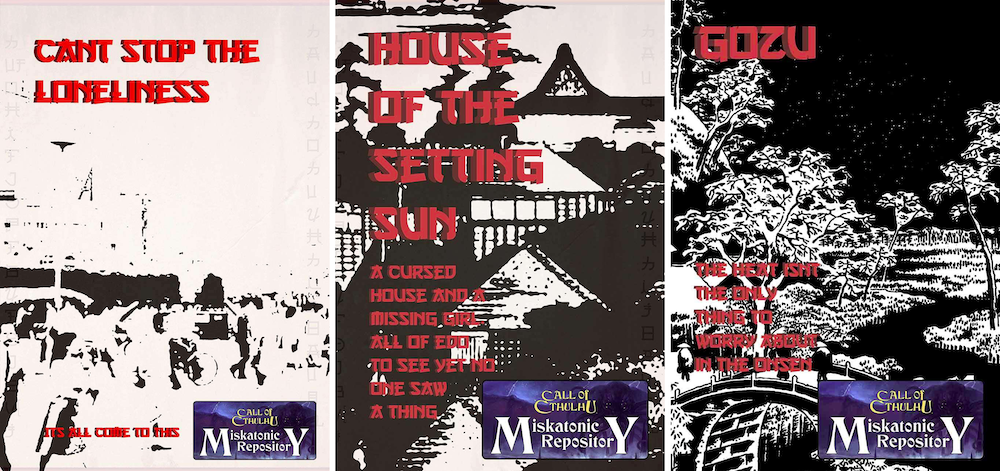 GOZU
Steven Goodison ($1.00, 25 page PDF)
After surviving the trials of Tanegashima and beyond, the Investigators are sent on a simple mission in comparisson. To relax. Gokana Izumi is a peaceful resort village famous for its onsen hot spring, just a single dip is said to rejuvinate the soul. What else do you think it can do?
The third part of the grand five part part Edo Japan campaign.
House of the setting sun
Steven Goodison ($1.00, 25 page PDF)
After 'Relaxing' in a peacful little mountain town, tragedy strikes and the investigators are called to the grand capital of Japan, Edo itself. A disgraced family, a missing girl and an indifferent emperor will take the investigators to the most devasting place yet. A house.
The penultimate chapter to the grand five part Edo Japan campaign.
Can't stop the loneliness
Steven Goodison ($2.00, 32 page PDF)
A troubled young man terrorizes the capital, an ancient curse rears its ugly head, horrors from before return and it all ends amongst a hazy night.
The final part to the grand five part Edo Japan campaign.
The Last Valley
Andy Miller ($3.99, 42 page PDF)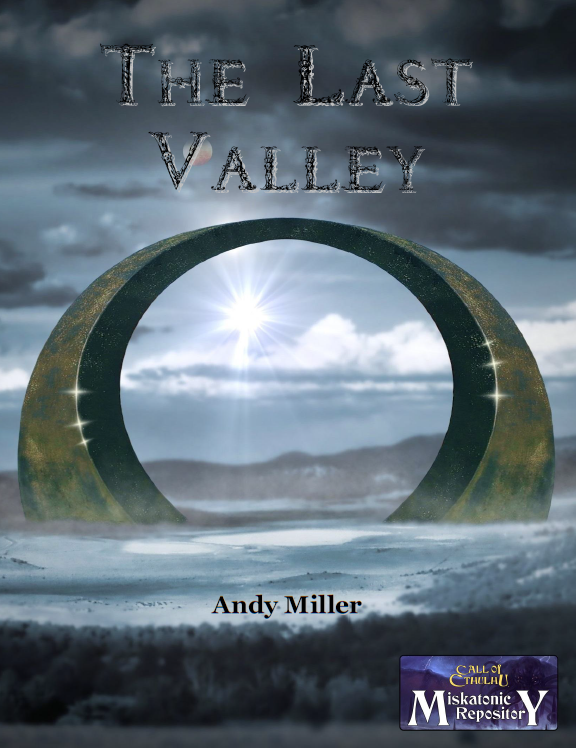 The wilds of northeastern Utah are empty for the most part...There are many dangers in the wilderness, normally, for a well-armed and equipped party, but something else is happening in the badlands east of the Rocky Mountains. The Mormons have no colonies out here, and anyone finding anything out of the ordinary is on their own. Sometimes, things might find you.
The Last Valley can be used either as an investigation-light standalone scenario set in the summer of 1875 or as an encounter for a group traveling through Utah in that year. With only a little modification the scenario can be adapted to different times or places. It was originally written for Down Darker Trails though that supplement is not required for play.
Plus eight new titles in Italian, Korean, and Polish!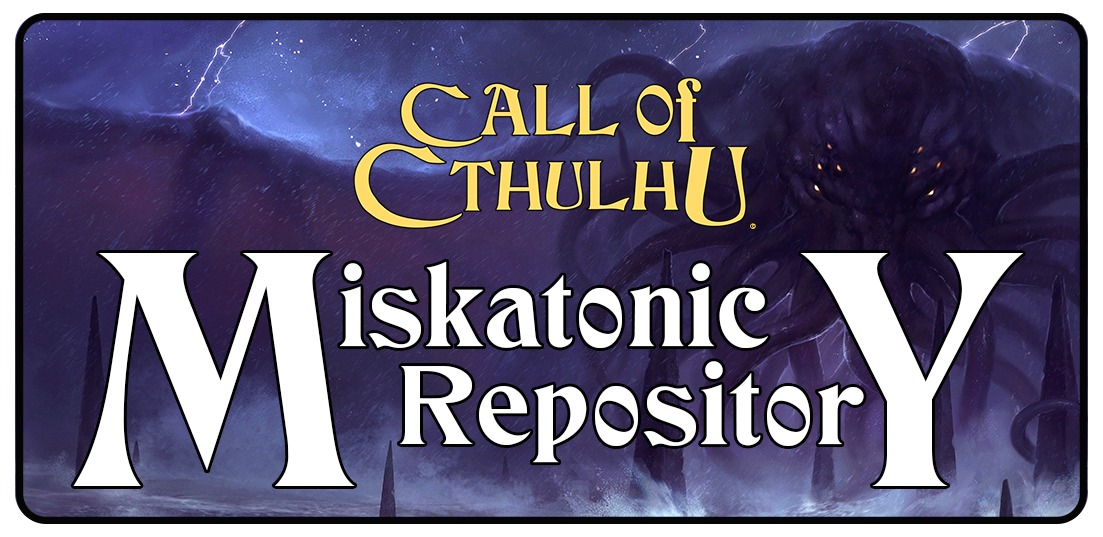 WHAT IS THE MISKATONIC REPOSITORY?
Are you a Keeper looking for new scenarios and story elements? A player looking for something mysterious to spark a character idea? Is your group looking for eerie ideas to use in your game? The Miskatonic Repository is where you can find —and create —self-published material for the Call of Cthulhu roleplaying game.
Interested in submitting content? Go here to see the guidelines, and here for the additional guidelines. No extra license is required. Get started and download the MS Word template or the InDesign template for Miskatonic Repository submissions, and check out our other free creator resources.