Miskatonic Monday: go solo, go sail on a voyage of terror, then traverse the desert, and finish with a little light housekeeping...
Posted by Michael O'Brien on 18th Feb 2019
It's #MiskatonicMonday! Check out these newly-released titles at the Miskatonic Repository, our community content site on DriveThruRPG: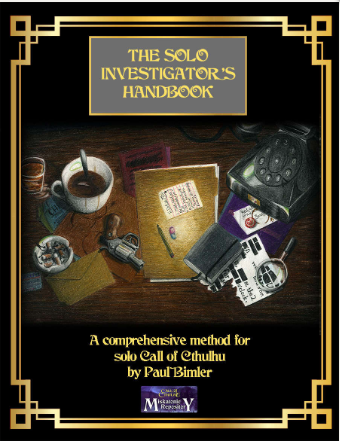 The Solo Investigator's Handbook
5e Solo Handbooks ($9.95, 95 page PDF)
Generate on-the-fly, immersive adventures for your investigator(s). Using paper, pen, dice, this system, and your fevered imagination, you can generate full scenarios for yourself without the need for a Keeper. This is great if you cannot find a group, or for creating little scenarios for yourself in between your regular group games.
Also a great source of adventure generation/inspiration for Keepers.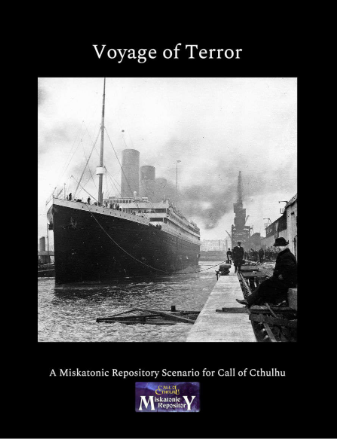 Voyage of Terror
Stephen J. Jones ($6.00, 35 page PDF)
This scenario is set around 1925, taking place on a transatlantic steam liner.
Voyage of Terror features an evil plan to shunt the entire liner into a hellish alien dimension; fishy Cthulhu cultists;14 non-player characters to help or hinder; 27 pages of outer dimensional horror; transdimensional engines and Deep One variants; and an outline of a new mythos fighting organisation: Section D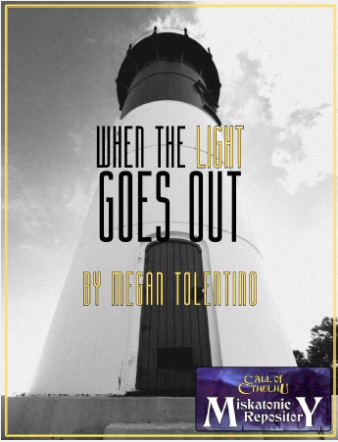 When the Last Light Goes Out
Megan Tolentino ($2.95, 17 page PDF)
Standing forgotten on the Oregon coast, a beacon for lost sailors helps conceal a town's secrets, and an insidious evil. The Widow's Peak Lighthouse has been a landmark for travelers near the Witch's Cauldron State Natural Area for nearly 150 years. Closed to the public, it's been the source of many local legends. Recently it went up for sale, and the bidding between the locals and a reclusive millionaire was vicious. However, money won out over local interests, and members of the party have been hired to help with the restoration and study of the lighthouse. As they work to restore the building, they find more and more things that should not be.
A modern stand alone adventure that can be incorporated into an ongoing campaign. It includes six pregenerated investigators.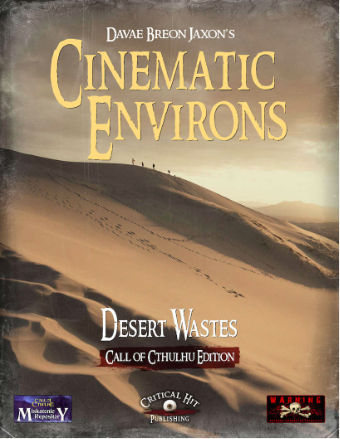 Cinematic Environs: Desert Wastes
Alex Guillotte, Davae Breon Jaxon ($4.95, 35 page PDF)
A new series of supplements designed to help Keepers paint vivid cinematic scenes for their players in a way that gives the environment its own unique character. These environs can take a mundane encounter or location and turn it into an epic scene that the players will be talking about for year to come.


Desert Environs discusses the effects of scorching heat, unending sand, sunstroke and generally lethal conditions one is likely to encounter in the shifting dunes, salt flats and badlands of your world.
Also in the Cinematic Environs series: Arctic Lands.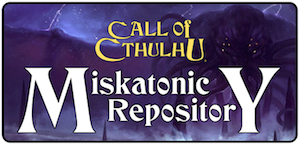 WHAT IS THE MISKATONIC REPOSITORY?
Are you a Keeper looking for new scenarios and story elements? A player looking for something mysterious to spark a character idea? Is your group looking for eerie ideas to use in your game? The Miskatonic Repositoryis where you can find —and create —self-published material for the Call of Cthulhu roleplaying game.
Interested in submitting content? Go here to see the guidelines, and here for the additional guidelines. No extra license is required. Get started and download the MS Word template or the InDesign template for Miskatonic Repository submissions, and check out our other free creator resources.