Miskatonic Monday #72: Bridgett announces 'Miskatonic May'
Posted by Michael O'Brien on 17th Apr 2023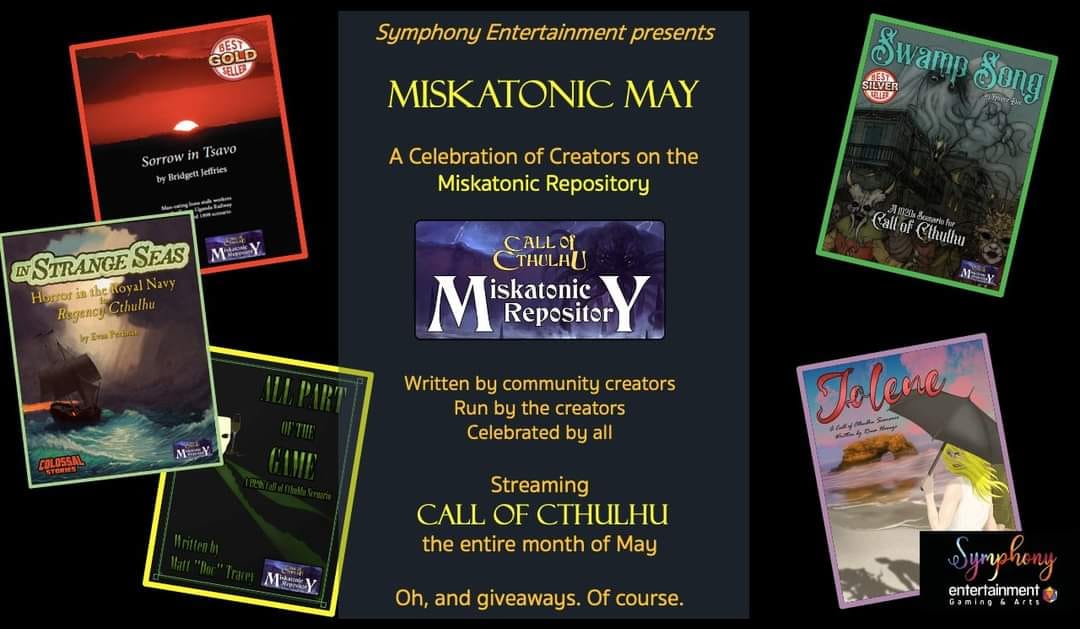 On her own channel Symphony Entertainment, our community content ambassador Bridgett Jeffries is planning something special next month...

"Here is your Miskatonic Monday PREVIEW of what to expect from Miskatonic May-- Symphony's Celebration of Miskatonic Repository Content!
The entire month of May we're running Miskatonic Repository content live on stream!

All content is written and run BY the creators! Come check us out for original Call of Cthluhu material, giveways, and fun!"
Schedule
Sorrow in Tsavo by Bridgett Jeffries - May 6th 1:00pm ET
In Strange Seas **Coming soon to DTRPG** by Evan Perlman - May 10th at 2:30pm ET
Jolene by Rina Haenze - May 13th at 7:00pm ET
Swamp Song by Keeper Doc- May 20th at 2:00pm ET
All Part of the Game by Matt Tracey - May 27th at 1:00pm ET
Bridgett's channel: Symphony Entertainment.