Miskatonic Monday #50 - the latest releases by talented community content creators!
Posted by Michael O'Brien on 25th Apr 2022
Are you a Keeper looking for new scenarios and story elements? A player looking for something mysterious to spark a character idea? Is your group looking for eerie ideas to use in your game? The Miskatonic Repository is where you can find —and create —self-published material for the Call of Cthulhu roleplaying game.
Here are the latest Miskatonic Repository releases by talented community content creators!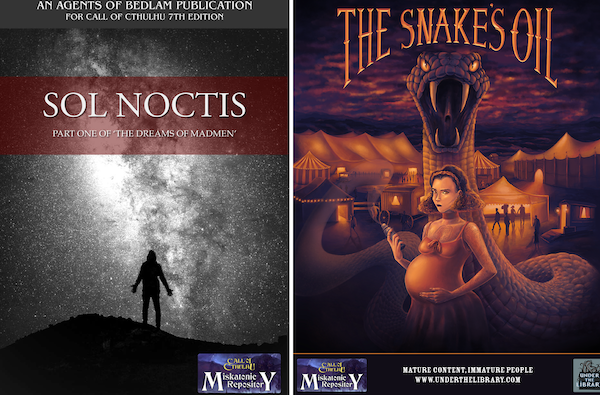 An Occurrence at Como Bluff
Dawson Wohler ($5.00, 9 page PDF)
Begins in 1878 as investigators disembark the train in Medicine Bow, a small railroad town in the Dakota Territory (present day Wyoming). With them is world renowned paleontologist Edward Drinker Cope. They have come to disrupt the work of Cope's rival, Charles Othniel Marsh. For the Down Darker Trails setting.
Sol Noctis - The Dreams of Madmen Part One
Carl Meister, Peter Madden (Pay-what-you-want, suggested price $1.28, 37 page PDF)
The Nazi war apparatus gathers momentum in Europe. Shadowy forces reach out to collude with dangerous allies and assemble nefarious weaponry to give them an advantage at any cost...
An unexpected death leads the Investigators on a train journey into the unwelcoming forests of the Appalachian mountains.
The Snake's Oil
Michael Frank, Arthur Rothfuss III, Emily Mills-Woodruff, Chris Hogan, Scott Stamper, Wayne Holt ($4.99, 25 page PDF)
Three years ago, a town healer helped Eleanor Yistler become pregnant with the aid of a poorly translated ritual. The incantations incorrectly called for the sacrifice of nine rattlesnakes, and as a result the ritual angered Yig...
The events take place in the late spring or summer of 1893 in the fictional town of Bloodstone, South Dakota. Can be used with the Down Darker Trails setting.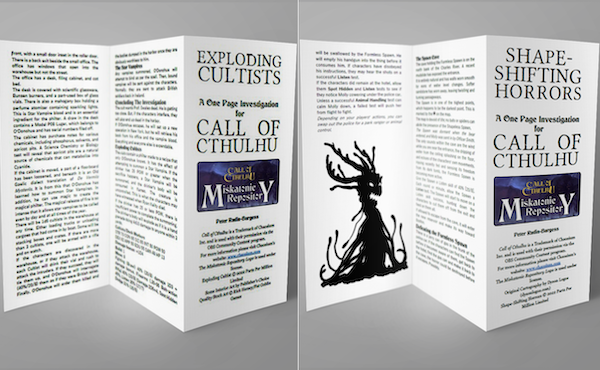 Exploding Cultists
Peter Rudin-Burgess ($1.99, 2 page PDF)
The characters witness a shocking spontaneous human combustion event, and are soon contacted by Professor Swales, who is researching this topic. It isn't long before Prof. Swales life is in danger. A One Page Investigation for Call of Cthulhu.
Shape-shifting Horrors
Peter Rudin-Burgess ($1.99, 2 page PDF)
Whilst staying at a hotel outside of Boston, the characters hear how the dam on the Charles River has washed up some historical finds and caused disruption along the way as the water rises to form the reservoir. A One Page Investigation for Call of Cthulhu.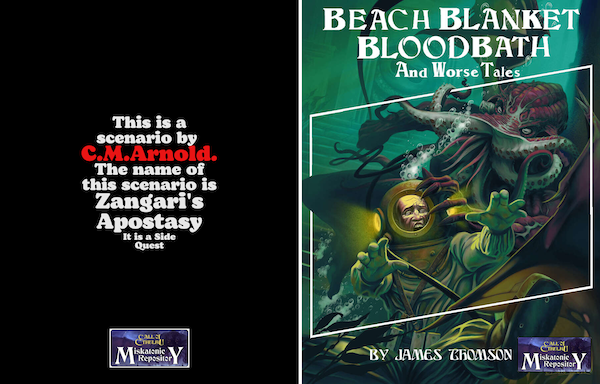 Zangari's Apostasy
C.M.Arnold ($0.99, 13 page PDF)
Lucky you! You have come into ownership of an antique violin. Furthermore, there is speculation that this violin could be worth as much or even more than a Stradivarius! But beware! There is a legend that this violin is an instrument for more than playing music on.
This is a short 2-3hr scenario built to fit into any campaign in any era from Gaslight to modern-day.
Into the Unknown
Sean Johnston ($2.00, 34 page PDF)
Recruited for a grand, scientific expedition, you arrive at a privately-owned research base in Antarctica on the 18th of August, 2052. Entering an unassuming teleporter, you're thrown across the universe to a hostile exoplanet where the truth of the expedition is revealed: Atlantis has been found and you have been selected to uncover the mysteries of the lost city.
Beach Blanket Bloodbath and Worse tales
James Thomson ($11.95, 374 page PDF)
Contains five foul and depraved Call of Cthulhu adventures. Feast your eyes upon this cornucopia of the loathly transmundane and be amazed! Check out the teaser trailer:
Keeper Reflections: Call of Cthulhu Campaigning
Michael Fryda ($3.00, 20 page PDF)
Highly-lethal, one-shot Call of Cthulhu is beloved for many reasons. While advice for running individual scenarios or short campaigns is widely available, many groups wonder how to run Call of Cthulhu in a longer framework.
These five short essays focus on insights, successes, and challenges from running a Call of Cthulhu campaign of 55 sessions (and counting). Many of the concepts discussed within could be very useful for any table-top role-playing game. The insights described within use Call of Cthulhu examples, but the methods could apply to and improve any lengthy campaign of any game.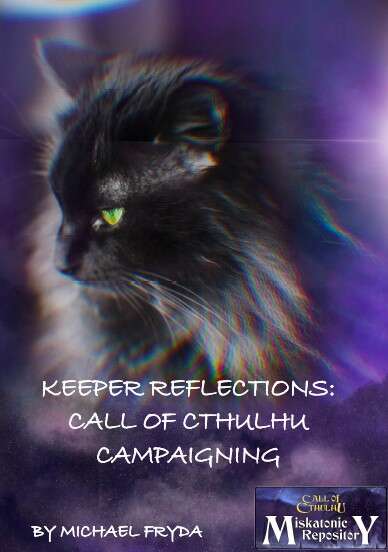 Plus new titles in Korean!

Under The Miskatonic Repository community content license, Call of Cthulhu fans can make their own work for use with the game line available to the public, using guidelines, templates, and art provided by Chaosium.
Whether you share your content for free or put it up for sale, this program is a digital home for terror that joins the dreamscapes of all who peruse it.