Miskatonic Monday #47: The Catcott Collection - now available in print, preserved forever in the Bristol Archives as "an unusual re-use of our holdings"
Posted by Michael O'Brien on 7th Mar 2022
By Nick Brooke, community content ambassador
Last November, Peter Willington of the Staying In Podcast signed up to the Storytelling Collective's month-long RPG Writer Workshop with the ambition of writing his first Call of Cthulhu scenario.
Aided and abetted by the course's rigorous deadlines, Peter published the digital edition of The Catcott Collection on the Miskatonic Repository, Chaosium's community content site for Call of Cthulhu at DriveThruRPG. Peter says he found the RPG Writer Workshop "a rewarding creative experience, one I thoroughly recommend other people trying out for themselves."
The Catcott Collection is an intimate one-to-one story set in 1920s Bristol, beautifully illustrated with period images sourced from the archives of the Bristol Museum.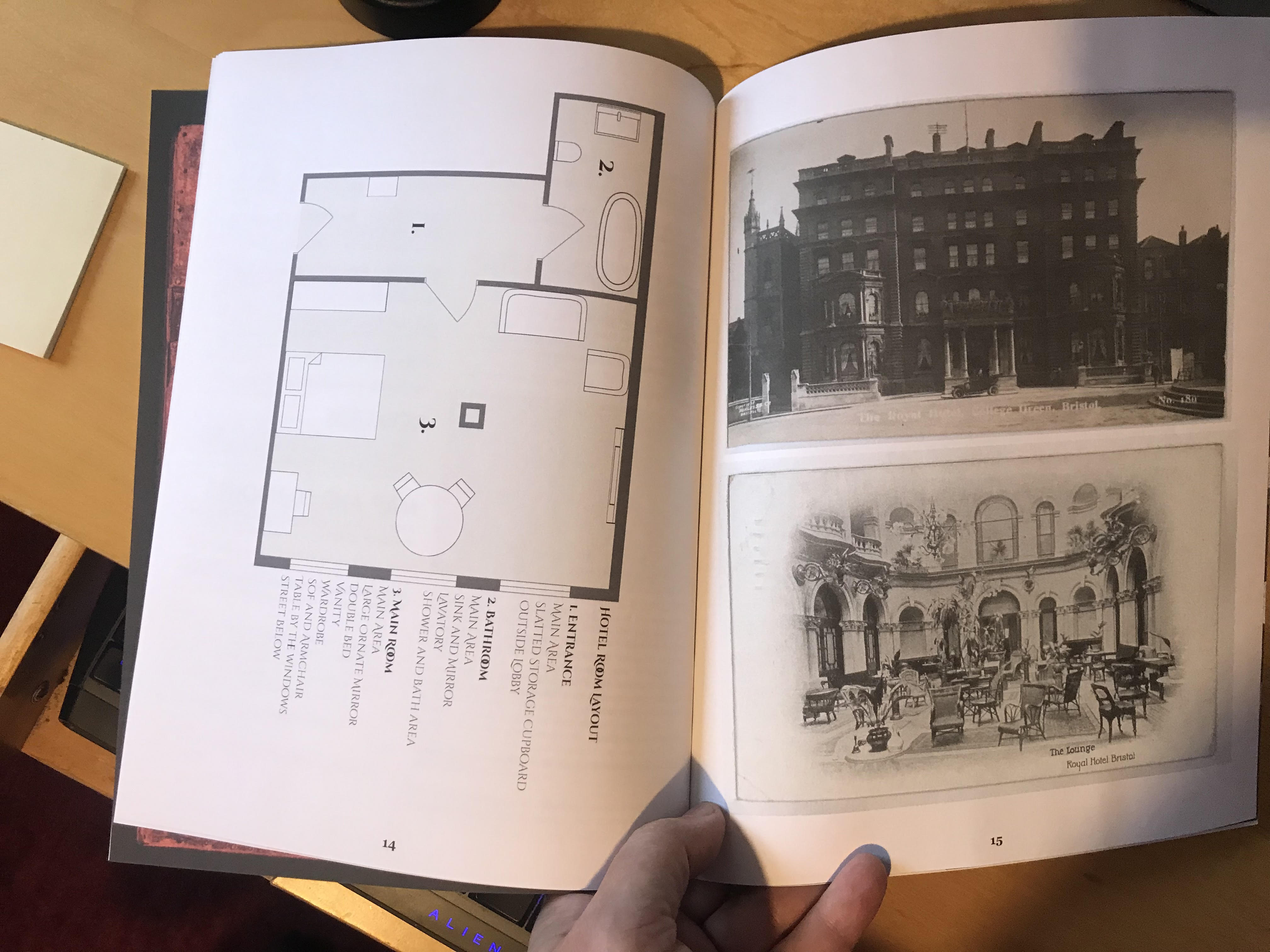 The Bristol Museum's Archivist, Graham Tratt, not remotely fazed that Peter's scenario depicted his employer exposing casual researchers to the perils of madness and death, made this request: "If you are able to supply a copy of the final version we would be happy to add it to our secondary material collections as an illustration of an unusual re-use of our holdings."

So Peter reached out to Chaosium, and found VP Michael O'Brien only too happy to authorise the creation of a print-on-demand edition. (A title usually needs to sell over 250 digital copies to be eligible for print, but at Chaosium we are happy to make special exceptions for cases like this). Community Ambassador Nick Brooke converted the digital edition to meet DriveThruRPG's rigorous print specification, and the scenario is now available in printed and digital formats from DriveThruRPG.
And next May, it'll be added to the Bristol Archive (category: "Pamphlets")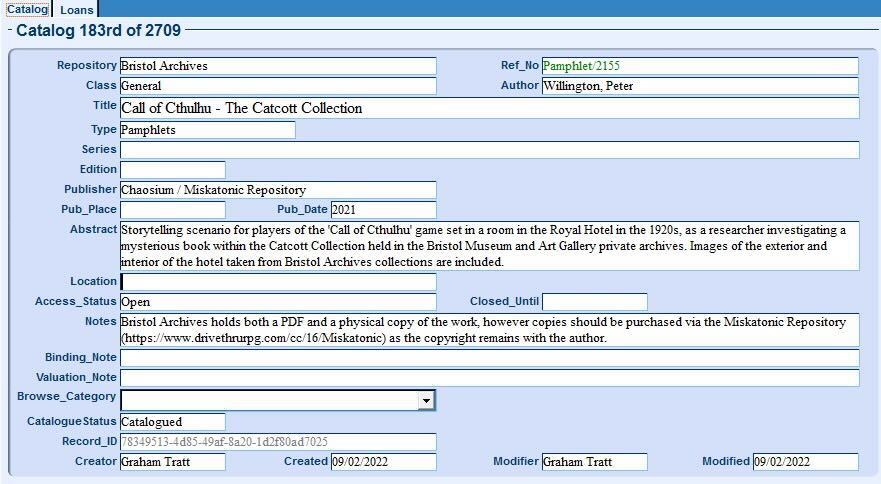 (Chaosium, of course, has previous form: we were delighted when the National Museum of Australia acquired our Call of Cthulhu release Terror Australis in 2019, designating it as a work "of national significance relating to Australia and the Australian people.")

WHAT IS THE MISKATONIC REPOSITORY?
Are you a Keeper looking for new scenarios and story elements? A player looking for something mysterious to spark a character idea? Is your group looking for eerie ideas to use in your game? The Miskatonic Repository is where you can find —and create —self-published material for the Call of Cthulhu roleplaying game
STOP PRESS!
The digital edition of The Catcott Collection is currently available for 15% off, as part of DriveThruRPG's GM's Day Sale (ends 12 March), along with many other Chaosium titles and community content releases.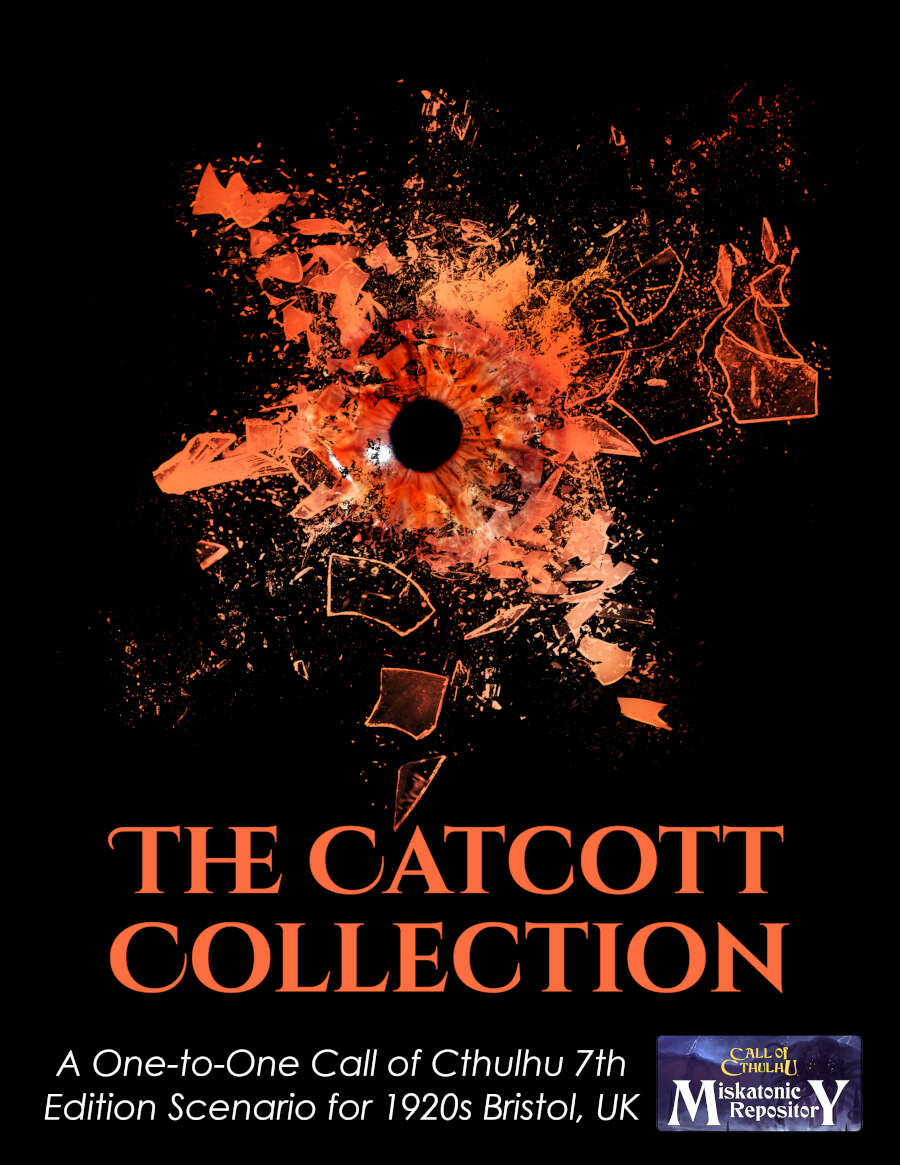 The Catcott Collection
Peter Willington (PDF $6.79 $5.77, PDF + Softcover Standard Color Book $13.58 $12.56, 15 pages)
A scholar working within the Catcott Collection in the Bristol Museum's archives has been plagued by headaches ever since their journey to the South West of England. When they find an untitled 13th Century text it begins a series of unusual events that sees them trapped in their rooms at The Royal Hotel, with seemingly no avenue for escape...