Miskatonic Monday #29: More April 2021 releases
Posted by Michael O'Brien on 26th Apr 2021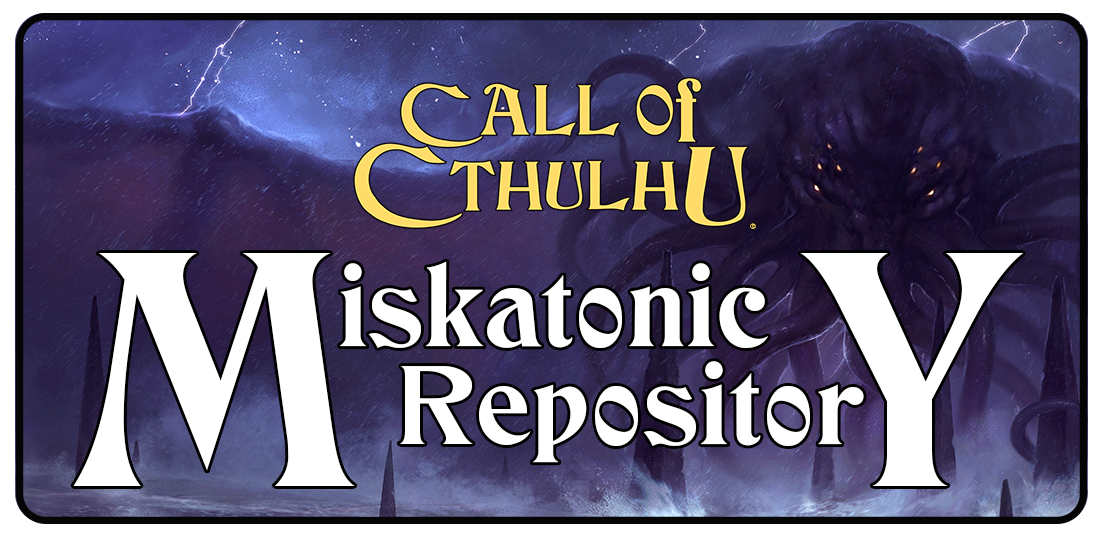 Under the Miskatonic Repository community content license, Call of Cthulhu fans can make their own work for use with the game line available to the public at DriveThruRPG, using guidelines, templates, and art provided by Chaosium. Here's more exciting new releases by community content creators this month: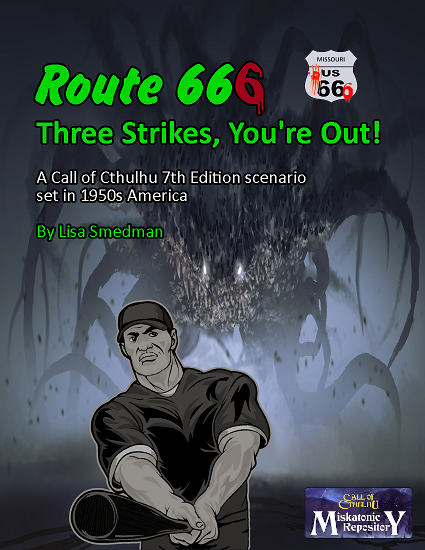 Route 666: Three Strikes You're Out
Lisa Smedman ($4.99, 30 page PDF)
Route 666: Three Strikes, You're Out is set in 1950s America. Players are Black Investigators making a road trip from Chicago to California, along the famous Route 66 highway. The first stop is St. Louis, where the Cardinals are playing a new team to the league, the Kingsport Kings. The scenario is a mix of real-world Black history and the fantastic monsters of H.P. Lovecraft.

Manoeuvres on the Moor
Paul Owen ($5.00, 7 page PDF)
A lost army squad in the remote regions of Dartmoor encounter more than they bargained for.
This is a short one shot modern day scenario designed to be used as an introduction to Call of Cthulhu or Convention Games.
La Recette
G. A. Patrick ($1.75, 15 page PDF)
This weekend isn't going to plan… As the Investigators drive down to Louisiana with a body festering in the trunk. A man, Zavar Magsi, turned up dead before they could speak with him. Magsi holds key information that could lead to an answer they desperately need, and now he won't be talking at all! At the end of their wits, the Investigators have found a contact, someone in New Orleans, who could possibly help; A Voodoo Queen, Lady Delassixe. She says she can raise the dead and let you converse with him once again. She will require payment, and for the Investigators to pick up a few items that she'll need to perform the ritual.
A short 2-3 hour scenario for 1-3 players, set during the 1920s.
The Evil on the East River
Ryan Graham Theobalds ($5.99, 21 page PDF)
The scenario offers a nice addition for those running the Masks of Nyarlathotep Campaign between Peru and New York. The investigators will be involved in a race to save NYC from destruction from the forces of Shub Niggurath. 21 pages od action and adventure awaits within. The scenario takes place in the 1920s.
Glimpses of Terrror BUNDLE
Nick Effingham ($14.97 $11.97, 3 x PDF titles)
'Glimpses of Terror' is a series of standalone one-off adventures. At a glance: Each scenario is wholly independent of the others. Designed to be run in one session. Suitable for convention play. In the 'purist', rather than the 'pulp', style of play. Includes notes on how to extend the scenario into a campaign. Includes full-colour handouts.
Also available separately; see below.
Glimpses of Terror: The Chanting
Nikk Effingham ($4.99, 24 page PDF)
October 1988. Peggy Lawler was an inveterate writer of murder mystery novels. It has been a year since she went missing and, two weeks ago, she was declared dead. Ash Wyatt has flown to New York to tidy up her affairs, taking the chance to catch-up with friends and family on the east coast. Perfectly suited for players with no experience of role-playing games. For 1 Keeper and 2-6 players.
Glimpses of Terror: The Works of I.G. Payne
Nikk Effingham ($4.99, 32 page PDF)
January 1895. The editor of the academic journal Mind, G.F. Stout, has received a manuscript from his friend, I. G. Payne. Entitled 'Perceptive mathematics in a thirty-two dimensional spacetime', it is a most disturbing read. Stout has asked the Investigators to travel to Payne, who is staying in the village of Moseley. There they are to ascertain his well-being and state of mind, acting accordingly if he is unfit to be on his own. For 1 Keeper and 1-6 players.
Glimpses of Terror: The Cabinets
Nikk Effingham ($4.99, 29 page PDF)
Summer 2004. Sun, sea, sex. The Investigators are college students travelling in Thailand, invited to a Moon Party on one of the nearby islands. There, they will learn of the darkest secret about humanity. For 1 Keeper and 2-6 players.
The Stars Aren't Right
Michael Bertolini ($3.50, 9 page PDF)
Humans have spread beyond the confines of Earth, colonizing and mining various planets. The material sought after most is the highly unstable mineral UE-31. Scientists have been working for nearly seventy years on the best way to transport UE-31 and, with any luck, how to synthesize it with mixed results; scientists have died, ships of scientists have gone missing, and none of the artificial versions of UE-31 have proven to be comparable in energy output versus mass.
Those people with the highest levels of influence hope to solve the mystery of UE-31, hoping that one of the missing scientist ships has solved the mystery; hence a lot of laws and backroom deals have been made to ensure that any lost ship is found and recovered.
Red Spill in the Sea
Michael Bertolini, livincrefcoeur ($3.00, 8 page PDF)
The Suez Canal was constructed between 1859 and 1869. Under the direction of the Ottoman Empire and with approval from the Egyptian government, this vital trade route was constructed; used primarily by cargo vessels it is also popular amongst passenger liners as a way to get from European ports like London to ports like Tokyo and Sydney without taking long voyages, saving those companies money. But there was a problem like many places that relied on exact schedules and somewhat complex procedures, delays were inevitable...
Rusty Cold
Davide Quatrini ($1.00, 7 page PDF)
Rusty Cold is "a narrative structure for playing out horror/conspiracy adventures in modern-day Call of Cthulhu". It includes an alternate history timeline in which Mythos horrors play a central role, together with a description of the current (winter 1992) situation and a staple of ideas for scenarios. Links to useful materials are provided as well.
The Spirit of Liberty
Laurence Tilley ($6.95, 24 page PDF)
London 1891. A lunatic in the Bethlem Royal Hospital claims to have seen fairies. Perhaps there is something in the Victorian fascination with them after all. She has seen them again in a most unlikely place. Perhaps it would be best to dismiss her ravings, and leave them well alone.

Noctiline - a Zgrozy scenario
Sylwester Gdela, Magdalena Świerczek-Gryboś, Marek Golonka, Keith Mageau
But this utter flood of cherish brought something more. In some really obscure venues one could often encounter some shady personalities muttering some words in fear, and that for sure was not just drunken gibberish. In dark alleys, in turn, complicated geometrical symbols appeared on the walls, drawn with chalk. According to the rumors, passer-by feel an irresistible urge to gaze upon the graffiti…
Noctiline is a psychedelic horror scenario. Its default setting is New York City in 1920' but it can be easily adapted to other settings and eras.
The Sosnovka Raid
Andy Miller ($4.99, 58 page PDF)
The Sosnovka Raid is set in World War II and involves the 588th Night Bomber Regiment, a group composed entirely of woman. The Soviet regiment was termed "Nachthexen" or "Night Witches" by the German soldiers for their tactic of gliding over enemy positions in antiquated biplanes to drop bombs, bricks, railroad ties, or whatever else they had on the invaders.
The Sosnovka Raid was originally written as a four-hour convention scenario. The scenario is set in December, 1942, as the 588th fly nightly in an attempt to drive the Germans from the Soviet Union. This raid is just like any other, isn't it?
Ira Incensa
Politely Evil Games ($6.66, 31 page PDF)
An unsettling yet slightly humorous tale of witchcraft and vengeance
Retired writer Emma Huntsworth has a rather enjoyable life in old age involving good wine, many books and even more cats. But a fair number of the latter recently disappeared – she is convinced someone kidnapped them. Luckily enough, she already identified the kidnapper: The devil himself. Thus, she hires the investigators to polish their soul-saving and ritual-making skills on this rather obscure rescue mission...
Crushed
Phil Anderson ($8.99, 18 page PDF)
"When a Miskatonic archeologist uncovers an ancient idol defaced with Viking runes, he knows it could be the crowning achievement of his career. When he discovers its true purpose, he won't be the only person who's crushed..."
Brought to you by award-winning Chaosium licensee, Type40, Crushed is the seventh Call of Cthulhu adventure in the monthly Seeds of Terror range of concise, easy-to-run adventures. Written by Phil Anderson, (Terror Australis).
Plus new releases in French, Korean, and Polish!
WHAT IS THE MISKATONIC REPOSITORY?
Are you a Keeper looking for new scenarios and story elements? A player looking for something mysterious to spark a character idea? Is your group looking for eerie ideas to use in your game? The Miskatonic Repository is where you can find —and create —self-published material for the Call of Cthulhu roleplaying game.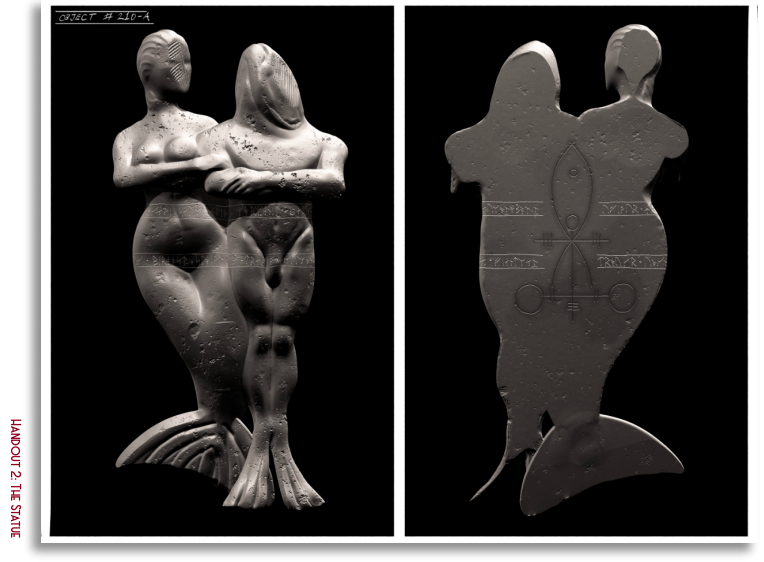 Handout from Crushed