Ennies 2019 Spotlight: Terror Australis, a work "of national significance relating to Australia and the Australian people" now also up for two ENnie awards
Posted by Michael O'Brien on 19th Jul 2019
Call of Cthulhu's new Australian supplement Terror Australis has already earned the distinction of being acquired by the National Library of Australia, as a work "of national significance relating to Australia and the Australian people". As Kotaku writes in their piece In His House At Australia's National Library, Dead Cthulhu Waits Dreaming, the NLA's acquisitions team reached out to us at Chaosium and we cheerfully obliged, considering it a great honour as well as a tremendous credit to all the talented authors and artists involved.
And now Terror Australis has also scored two ENnie nominations - for Best Setting, and for Best Cover Art!
Please support Chaosium and our licensees, partners and friends - ENnies voting is live now, and runs until 11.00PM EST on July 21st:
http://www.ennie-awards.com/vote/2019
What the critics have said about Terror Australis: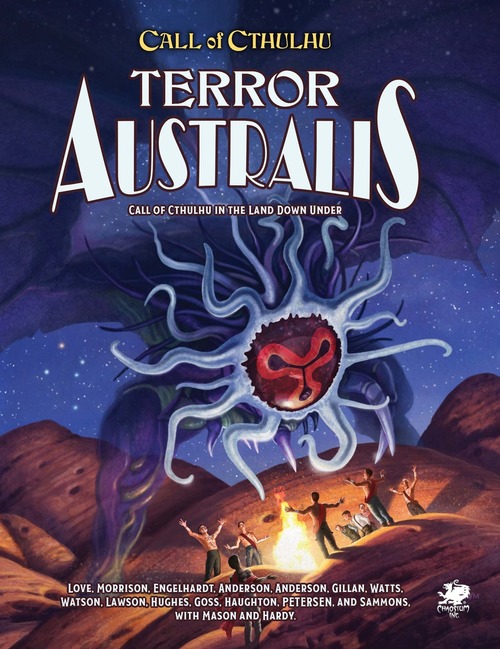 "A superbly produced update of one of the more original and fascinating settings for Call of Cthulhu, brought up to speed with the latest edition rules, with added cultural sensitivity, historical depth, and sheer atmosphere". Substance 5/5, Style 5/5—Paul StJohn Macintosh review, RPGNet.
"Terror Australis knows the strengths of the Mythos setting and plays them to the hilt… a sourcebook about a country that is instantly recognizable to all Americans and Brits, yet which differs in most of the details. This isn't just about a change of pace, but about a point of view that European or American adventures can never successfully produce. Be it because of the Alcheringa (Dreamtime chapter), of the tyranny of great distances, or of the last unexplored continent, this is a sourcebook I treasure."—Antonios S. review, RPGNet.
"…an incredible book filled with great information, beautiful art and lots of inspiration for Keepers and Players alike."—In Space No One Can Hear You Roll.