Does Love Forgive?: interview with Lynne Hardy
Posted by Michael O'Brien on 19th Aug 2020

Chaosium's Call of Cthulhu associate line editor Lynne Hardy worked on the English language version of Does Love Forgive?, our new collection of one-to-one scenarios that were originally published in Polish by our friends Black Monk Games. Here we talk to Lynne about the creative process of bringing the work of the Polish authors, Anna Maria Mazur and Airis Kamińska, to a new audience in English.
Q: How does playing a one-to-one scenario compare to playing with usual group of Investigators?
Lynne: One-to-one scenarios can be great fun but they can also be very intense experiences as there are literally just the two of you playing. That can be quite exhausting as there's nowhere to hide, so to speak—in a game with four or five people, there are times when you won't be setting the scene or acting in character, or even talking at all, which gives you the opportunity to step back from the action for a moment and relax a little. You don't have that in a one-to-one game, so we felt a little extra help on things like consent and safety was essential, especially given the underlying theme of love and relationships.
Both scenarios in Does Love Forgive? also include suggestions as to the most useful skills an investigator can take to help them navigate that story, and there are also support characters they can call on to assist with any skill gaps, should they need to.
Q: How does the English version of Does Love Forgive? differ to the original Polish version?
Lynne: The main differences are that we streamlined both scenarios to make them as accessible as possible to new Keepers and players. This included focusing on key elements of the plots and bringing them to the fore, as well as providing additional support and advice for those who might just be getting into gaming.
The names of the scenarios were tweaked a little, and Mask of Desire's location was moved to New York so it could potentially be slotted more easily into an ongoing US-based campaign as a side-track scenario, but that was pretty much it.
Q: Did you make any rules changes?
Lynne: We added the optional Luck spending rules for those who might be using the Call of Cthulhu Starter Set: when you have only one investigator, you don't have the luxury of being able to cover all the bases, skill-wise, so every little advantage helps!
Q: What was it like working on the translation?
Lynne: It was fascinating! Authors from different parts of the world have different influences and priorities, so it's always interesting to see what they're writing and where their focus lies in terms of story and structure. And as with scenarios originally written in English, my job as editor was to make Anna Maria and Airis's work shine and provide a clear, coherent gaming experience for Keeper and Player alike.
Q: Had you met either of the Polish authors before working on this project together?
Lynne: I haven't met Airis in person, but this project was fun because I got to work on one of Anna Maria's pieces instead of her working on mine! I met Anna Maria last year in Poland—first at CarcosaCon and then again at DNI Fantastyki, where we got to sit in the sunshine and discuss lots of Call of Cthulhu-related stuff, amongst other things, over some excellent Polish beer. She's worked on several English to Polish translations for Black Monk Games, including the Call of Cthulhu: Keeper Rulebook and the Call of Cthulhu Starter Set, and hopefully she'll be involved with many more in the future.
Previously, we interviewed Does Love Forgive? co-authors Anna Maria Mazur and Airis Kamińska about the book, their lives and careers in gaming, the RPG scene in Poland, and other creative projects they're involved in. Read those interviews here.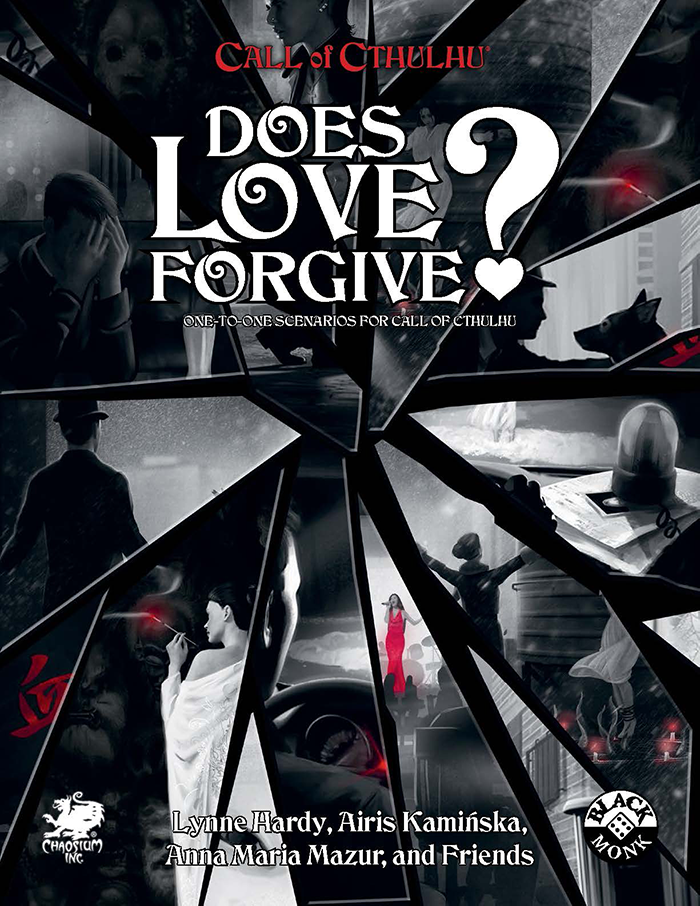 Does Love Forgive? is a collection of two special scenarios for Call of Cthulhu for one Keeper and one player that we launched at Gen Con Online earlier this month. Great for a fun evening of gaming for two people. And perfect if you're currently in lockdown or socially isolating with a friend or loved one.
Available in full colour softcover and PDF from Chaosium.
Also available from DriveThruRPG.
Art by Marcin Lesniak