Chaosium is taking part in Gen Con ONLINE 2023 (Aug 3-6)
Posted by Michael O'Brien on 8th Jun 2023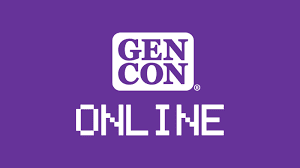 Gen Con ONLINE 2023 takes place at the same time as the in-person event in Indianapolis, August 3-6. And through our Cult of Chaos gamemaster program, we'll be running online gaming sessions. Gencon Online badges are free to all participants.
GMs Needed!
If you're interested in GMing one or more 4-hour online sessions during Gen Con Online 2023 — for any of our published systems, from anywhere in the world, at a time that suits you, as well as getting Cult of Chaos credit — then please contact our convention coordinator Andrew!
RSVP by emailing andrew@chaosium.com BEFORE June 14, 2023.
Learn more about the Cult of Chaos here.