Chaosium is at OrcaCon in Bellevue WA next weekend
Posted by Michael O'Brien on 6th Jan 2019

Chaosium is at OrcaCon in Bellevue WA next weekend, the inclusive tabletop gaming convention for novice and experienced gamers alike.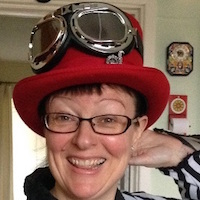 As well as Chaosium a stall in the Dealers' Hall, our Call of Cthulhu Assistant Line Editor, Lynne Hardy, is one of the convention's industry guests. You'll find Lynne taking part in the following panels:
Friday January 11
1.00pm—Being a Non-Mainstream Gaming Professional (Vancouver Room)
8.00pm—RPG's: Art, Education, or Entertainment? (Vancouver Room)
Saturday January 12
10.00am—Better Realism for Better Worlds: We Did the Research For You (Vancouver Room)
8.00pm—Something at Work in the Soul: Horror in Tabletop RPGs (Vancouver Room)
Sunday January 13
1.00pm—Charlatanry and Chicanery: Gamemastering on the Fly (Vancouver Room)
Lynne will also be running "After Dark," her modern-day Call of Cthulhu convention scenario. (The game is currently fully booked, but there is a reserve list in case of drop outs.)
Our Cult of Chaos members are also running numerous other Call of Cthulhu games over the course of the weekend, so there's plenty of Mythos madness going on.
We look forward to seeing you there! - ORCACON Hilton Bellevue, Washington State, Friday January 11 - Sunday January 13th.