Khan of Khans is world-renowned game designer Reiner Knizia's fast-paced family game for 2-5 players.
The game is set on the plains of Prax, the storied realm from Greg Stafford's mythic world of Glorantha (RuneQuest, King of Dragon Pass).
Players play khans of the great tribes of Prax; each tribe rides a fantastic animal (except the Morakanth, who herd humans) with unique special abilities. Each spring, as the grasses become green and the rivers swell, the khans lead raiders into the rich lands of Dragon Pass, ripe for plunder.
Yet this year is different. The High Priestess has decreed whichever khan brings back the most cattle from Dragon Pass will be declared "Khan of Khans", the greatest warlord of the Wastelands!
Players take turns to raid different locations, drawing cards from 10 different stacks. The player with the most cows—including those in corrals and in their herd—at the end of the game is the winner and acclaimed "Khan of Khans".
The Sanskrit word for war literally means "a desire for more cows". Our Khans would totally get that.
What's in the box?
10 Khan cards
90 Location cards
13 Corrals
2 Game tokens
Game rules
Location map.
Winner's token.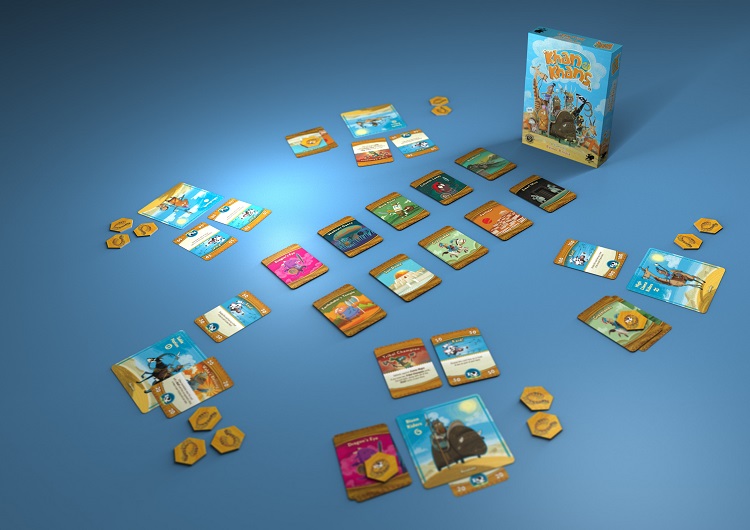 Each Khan has a different tactic!
As a tribal khan, each player will use their unique special ability to out-raid all the other khans. The devious Sable Nation play with their collected raid cards face down, hiding it with strange lunar magic. Other players have a much harder time stealing the best herds from them. The unyielding Rhino Riders can "push" the collected cattle into already closed corrals, but they can't do as many raids as the other tribes then.
Bison
High Llama
Impala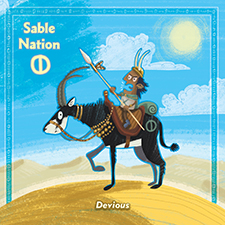 Sable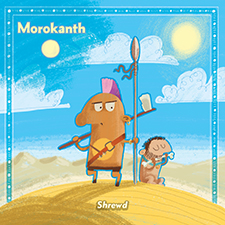 Morokanth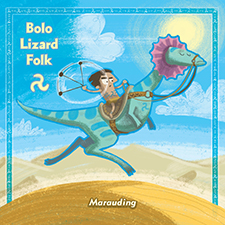 Bolo Lizard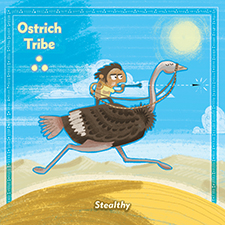 Ostrich
Pavis Survivors
Rhino Riders
Unicorn
Khan of Khan's distinctive art and design is by the award-winning graphic artist Ian O'Toole, whose work you might recognize from such games as 'The Gallerist', 'Vinhos Deluxe' and 'A Study in Emerald' 2nd edition.
Khan of Khans takes the setting and denizens of Glorantha, Chaosium's well-loved RPG setting, and reinterprets them visually for a family audience.
What are people saying about Khan of Khans?
"UDDERLY FANTASTIC... Reiner Knizia, the epochal board game designer who has won enough gaming awards to sink a boat, has a new game on Kickstarter that you need to know about."
—Geek & Sundry
"Khan Of Khans is simple, addictive, accessible to everybody, entertaining, and is bound to become a staple amongst short duration and filler games. I won't be particularly surprised if it receives nominations for major gaming awards next year, and even less if it wins them all."—
Antonios S. Review, RPGNet
"The artwork is fantastic. Each card bursts with charm and irreverence, the cartoonish artwork not only drawing the players in but providing a foil to the sometimes harsh game play. It is a really endearing and imaginative interpretation of the world of Glorantha... If you are looking for a quick and easy game that offers both challenges and entertainment then Khan of Khans is an excellent choice."—
The Campaigner
.
"Khan of Khans is light and quick and absolutely charming, thanks to the wonderful art of Ian O'Toole, the artist behind The Gallerist and Vinhos Deluxe Edition"—
The Dice Tower's Board Game Breakfast
"Fun for a whole range in the family"—Top Picks For Family Games:
Lake Effect's Top Games to Gift in 2017
"For a quick, family style game, this is fantastic. …it packs into a box about the size of a hardback book, so it can easily be stuffed in a backpack or other bag and taken on travel. It doesn't take long to learn, and whether you with children or strangers at a convention, Khan of Khans is easily something you can break out for 30 minutes of entertainment…
Do I Recommend? Yes! Emphatically, yes."—MWStephens.com
"A great party game... a great introduction to Glorantha. I recommend everyone pick it up, a great addition to your collection."—The Vintage RPG Podcast.
"Khan of Khans is a rare case of a game that is exactly as it advertises itself: family friendly, easy to learn, quick-paced, and offers a small glimpse into the world of Glorantha without ever feeling like it is bludgeoning you… It's simple enough to learn easily, but that simplicity hides really clever game design…. I think you'll get a lot of replayability out of it."—Bud's RPG Review (YouTube).
Want to discuss strategy or have other game questions?
Check out the Khan of Khans Forum at https://basicroleplaying.org/forum/60-khan-of-khans/
Our Khan of Khans forum also has the game's rulebook in Finnish, French, Italian, German, Spanish and Turkish!
Product Configuration
Physical Product Settings
Is Physical Product: [Y]
Has Inventory: [Y]
United States: [Y]
United Kingdom: [N]
Europe: [Y]
Australia: [N]
Canada: [Y]
Is PDF Available: [N]
PDF Product Name: [Down Darker Trails - PDF]
PDF Product Link: [/down-darker-trails-pdf/]
PDF Settings
Has Physical Product: [Y]
Is Physical Available: [N]
Physical Product Name: [Down Darker Trails - Hardcover]
Physical Product Link: [/down-darker-trails-hardcover/]
Product Footer
Footer Name:[ChaosBrandBoardGames]
Game Designer:

Reiner Knizia

Art & Graphic Design:

Ian O'Toole
One of the best boardgames i have played in years.

this game is so well designed, we have been playing it non stop day after day. it is so easy to learn, and yet you can still improve your skill and tactics, despite it seeming mostly random. It also keep all those playing engaged right until the end as you cant really tell who has one until all the cows are counted. I'm glad I a chance with this, as i did not know if my family would take to it. but it has been a great success. I also love that the box is really solid and robust, as i have seen so many other board games i own end up in ratty looking boxes after years of use and storage. I think this one will stand up to the test of time very well. Highly recommended.

Having been playing this non-stop with the family since it arrived. It quick and fun and most importantly re-playable. So glad I picked it up.