Product Lines
Product Lines
2017 Holiday Season Family Pack
2017 Holiday Season Family Pack
Product Description
Get a trio of family-fun Chaosium products this holiday season! Available only in the United States.
H.P. Lovecraft's The Call of Cthulhu for Beginning Readers takes the words of Lovecraft into anapestic tetrameter, weaving verses of terrible discovery with the original art of R.J. Ivankovic. While the meter may make one recall 'A Visit From Saint Nicholas,' this perfect for storytime book proposes a far stranger visitor to the cosmic neighborhood. With friendly art and an enjoyable cadence, this picture book makes for an enjoyable reprieve from the hectic holidays for children and adults alike.
102 pages, full color hardback.
"If you are a Lovecraft fan, The Call of Cthulhu for Beginning Readers is a must-have volume because it is may be the best adaptation of a Lovecraft story into another medium." - Geek and Sundry
---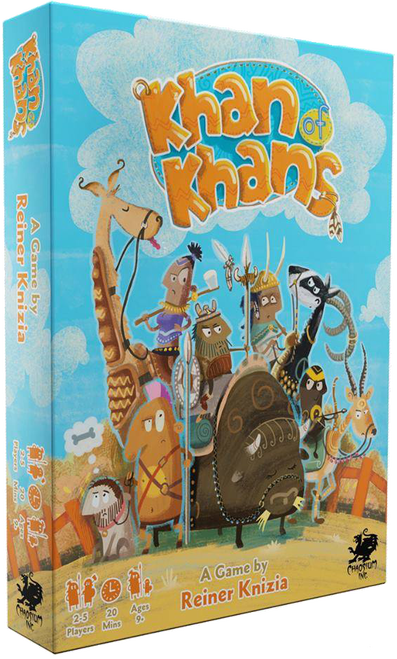 For every minute spent waiting between meals, family photos, or everyone waking up, there's the potential to be entertained. Khan of Khans is set in the mythical world of Greg Stafford's Glorantha, where tribes across the plains of Prax vie against each other, determined to make the warlord that leads their tribe the Khan of Khans, foretold by the High Priestess as the khan who amasses the most cattle in daring, dangerous raids! This card game accommodates 2-5 players, takes 20 minutes to play, and can be played anyone ages 9+.
Box contains 10 Khan cards, 90 Location cards, 13 Corrals, 2 Game tokens, Game rules, Location map, Winner's token.
"Khan Of Khans is simple, addictive, accessible to everybody, entertaining, and is bound to become a staple amongst short duration and filler games. I won't be particularly surprised if it receives nominations for major gaming awards next year, and even less if it wins them all."
- Antonios S. Review,
RPGNet
---
While away time bringing the eldritch and detailed illustrations of Andrey Fetisov alive through the pages of Call of Cthulhu: The Coloring Book. Lying open flat with ease from its staple binding, be mesmerized by the intricate line work. With 28 scenes, there's more than enough of this beautiful book to share between the artists among you.
38 pages, color softcover, B&W interior
"Artist Andrey Fetisov illustrates the madness-inducing horror of some of H.P. Lovecraft's best stories, including "The Dream-Quest of Unknown Kadath", "The Dunwich Horror", "The Shadow Over Innsmouth", and (of course) "The Call of Cthulhu." Just look at those colors! As vivid as our nightmares." - Tor.com
WINNER—"Best RPG Related Product" 2017 ENnie Awards
Only available in the United States - this bundle is available until January 7th, 2018 or while stocks last.
Unfortunately, this holiday special is only available for orders shipped within the United States.
Note that this bundle does not include PDFs.
Product Reviews
Find Similar Products by Category
Customers also viewed